November 14, 2022
At Levi Strauss & Co., we are committed to driving a culture of civic engagement for our employees, consumers and young people in all the communities we serve, encouraging participation in every election.
Driven by many years of declining voter turnout in the United States and employees' desire to make a difference in their communities, in 2018 LS&Co. rallied employees, the business community and consumers to participate in the democratic process. Since then, by working with nonpartisan nonprofit partners, we've continued to increase employee and community access to accurate, nonpartisan information and resources so that every eligible voter can participate in our democracy.
The 2018 midterms saw record youth turnout, a trend that continued over recent elections. And with more than 8 million 18- and 19-year-olds becoming newly eligible voters in 2022, we believed it was important to continue to engage and empower youth to make their voices heard. Community colleges account for just over 40% of U.S. undergraduates, but historically see lower voter registration and voting rates than four-year universities. With 54% of those students identifying as nonwhite, we saw a need to provide parity to students at these schools, targeting our efforts on community colleges.
So we worked with leading youth voter engagement organizations to engage our core audiences — employees and young consumers — making sure that they knew where, how and when to register and show up to the polls.
Driven by the Campus Takeover and the Students Learn Students Vote coalition, LS&Co. supported efforts on community colleges to engage students on more than 150 campuses in 40 states. Levi's® also partnered with Pizza to the Polls, Engage Miami and MOVE Texas to attract students to registration booths and polling locations from National Voter Registration Day through Election Day. Last month the brand enlisted the help of some friends including Hailey Bieber, Natalia Bryant, Nico Hiraga, Quannah Chasinghorse and Jeremy Lee Stone to launch a PSA to encourage young voters to show up and help them navigate the complexities of an election.
And these young voters did show up — early estimates indicate that the 2022 election was the second-highest youth voter turnout in a midterm in almost three decades.
We didn't stop there, either. Here are a few more highlights from our work this year:
We continued to lead, alongside PayPal and Patagonia, the Time To Vote business coalition, which welcomed its 2,000 member company offering time off to vote for employees.
LS&Co. provided employees with paid time off to volunteer with partners like Headcount and Power the Polls, register young voters at concerts, festivals and sporting events, and to be poll workers on Election Day.
Both LS&Co. and the Levi's® brand partnered with BallotReady to provide employees and consumers with nonpartisan information on how and where to vote, and to understand what's on their ballots.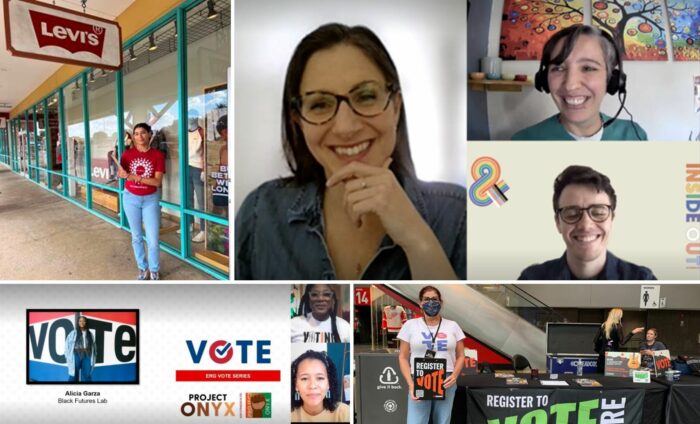 Our Employees in Action 
Our commitment to civic engagement continues to be rooted in employees' passion and shows up throughout the employee experience here at LS&Co. As Christy Saam at the Levi's® Outlet in Chicago put it, "It's absolutely critical for employers to support employees when it comes to voting. Many employers don't, and it prevents people from getting out to the polls and casting their ballots on Election Day. The policy we have to provide employees with paid time off to vote makes me super proud to work at Levi's!"
Christy went above and beyond voting in the midterms — she also volunteered at the polls, because "getting your voice heard is super important no matter who you believe the best candidate is." 
Christy wasn't the only employee to show their commitment to civic engagement, either. For example, Katherine Hallmark, Levi's® Store San Marcos 498, organized a voter registration drive for employees, and Maureen Harrington, Merchandise Coordinator, registered voters with Headcount in Detroit during the Panic! at the Disco show on National Voter Registration Day.
Ella Clausen and Project Onyx (LS&Co.'s Black ERG) hosted a conversation with one of the leading civil rights organizers of our time, Alicia Garza, principal of Black Futures Lab and cofounder of the #BlackLivesMatter Movement. In the discussion, Alicia shared that "the right to vote is the right to decide" and it shouldn't be taken for granted after generations of Indigenous, Black and women citizens fought for the right to vote, the right to decide.
"Alicia is one of the individuals who's helped me wrap my brain around the concept of 'building power,'" said Ella. "It's important to think about who holds 'power' in our systems and have conversations about how we can mobilize communities to vote."
And Beckett Doyle, cochair of InsideOut (LS&Co.'s LGBTQIA+ ERG) hosted a session with ACLU's Voter Rights Project to discuss the state of voting rights in the U.S. Danielle Silber from the ACLU stressed that every election is important: "LS&Co. does an amazing job of not just focusing on midterms and presidential elections, but saying every off cycle election is also important. It's like vote, vote early, vote often, vote whenever you have the opportunity."
There's still so much to do to help improve access to the polls, and we remain committed to encouraging participation in any and every election. We believe that democracy works best when every eligible voter has an opportunity to make their voice heard. It is good for democracy, and it is good for business.
Thank you for voting.