September 22, 2022
Last week we announced our intention to help community college students get more engaged in their democracy. Community colleges account for just over 40% of U.S. undergraduates, but historically see lower voter registration and voting rates than four-year universities. Through partnerships with Campus Takeover, the Students Learn Students Vote coalition, Pizza to the Polls and on the ground organizations, LS&Co. is working to close this gap by supporting voter registration efforts on over 150 community college campuses in 40 states.
Levi Strauss & Co. and Levi's® kicked off these efforts on Tuesday, National Voter Registration Day.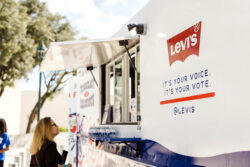 "This National Voter Registration Day helped prove that with deep collaboration and creativity, we can meet young people where they are and be an important part of the process as they get registered to vote," said Amirah Noaman, Executive Director of Pizza to the Polls. "Thanks to a combination of our national partnership with Levi's® to support Pizza to the Polls food trucks and pizza deliveries at community college campuses, we were able to hand out more than 10,000 free snacks at 34 college campuses across 13 states. We are excited for additional work together ahead this midterm cycle as we show everyone that democracy is in fact delicious!"
While the number of registrations are still being finalized, below are some pictures from the day highlighting work with Engage Miami at Miami Dade, MOVE Texas at Austin Community College and various community colleges where pizza was being served across the U.S.
Not sure if you're registered? Check your status through Levi's® partnership with BallotReady.