May 17, 2018
As historian for Levi Strauss & Co., I get to manage an amazing collection of garments — from miniature puppet-sized Levi's® jeans from the 1930s to a jumbo pair of Levi's® 501® jeans that hung on the wall of a London retail shop to attract customers.
With so many amazing pieces, I'd be hard-pressed to pick a favorite. So today I'm kicking off a new series where I'll get the low-down from LS&Co. insiders about their top pieces in the Archives. From their answers, you'll learn more about our collection and the folks who are the face of our company.
First up is Bart Sights, head of our Eureka Lab. When I popped the question, Bart didn't hesitate. His favorite Archives garment is Heath.
"We did Heath as an LVC [Levi's® Vintage Clothing] finish, one of the very first ones I ever did," Bart says. "I think it's very real. I remember I took one of them [LVC reproductions] and sewed the khaki on the pocket and wore it for a year."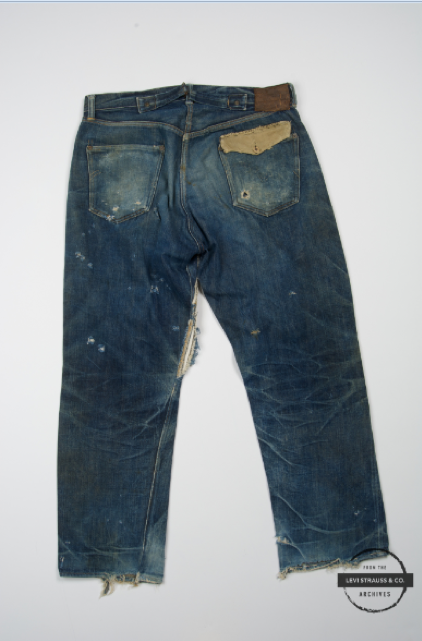 In 1993, Levi Strauss & Co. held a contest to find the oldest pair of Levi's® owned by a consumer. The winning pair, Heath, named for the man who found them, were discovered in a garbage dump near the mining town Gold Hill, Nevada and date to the late 1920s. Here are some details about the jean:
501® Jean
Khaki pocket flap and button stitched to the right back pocket
Back cinch
Belt loops
Single-needle Arcuate pocket design
Cone Mills denim with red-line selvage
Frayed hem
Button fly with copper rivet at the base
Copper-riveted pockets (including the small watch pocket)
Leather back patch
Want to keep up with the LS&Co. Archives and other cool LS&Co. heritage news? Follow Tracey on Twitter, @TraceyPanek, and stay tuned to Unzipped!