June 29, 2017
A quarter century ago, domestic partner benefits were almost nonexistent in corporate America —until Levi Strauss & Co. helped changed the landscape. As one of the first companies to offer these benefits, LS&Co. set the standard for recognizing that the wellbeing of its employees and their loved ones transcends sexual orientation or marital status.
As part of our oral history project, we talked to Maurice Kelly, who originally joined LS&Co. in 1991, about his recollections during that time. Shortly after starting at the company, he united with other employees on the Lesbian Gay Employees Association who supported domestic partner benefits. Maurice remembers the enthusiasm LS&Co. leaders had for the issue. "We are ahead of the curve on this issue," he recalled hearing. "We are not going to follow; we're going to lead."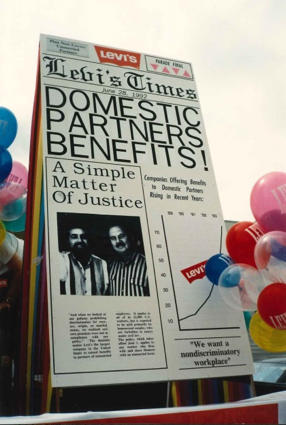 Inspired by supportive company leaders, including then-CEO Bob Haas, employees rallied around the issue. Levi Strauss & Co. announced domestic partner benefits for its employees in June 1992.
"In keeping with its progressive tradition, Levi Strauss was one of the very first major corporations to enact a policy making domestic partner benefits available to its employees," said Margot Canaday, an associate professor of history at Princeton University who is exploring the history of gay workers. "Now that it's a rather standard benefit for much of corporate America, it's easy to overlook what a big deal this was at the time. But the initial companies who bestowed these benefits took a risk to do so. Especially for a San Francisco-based company, it was not clear what the true cost of the AIDS epidemic would mean for the domestic partner benefits policy, nor was it clear what the reaction would be from shareholders or consumers."
LS&Co. employees celebrated the news at the San Francisco Pride Parade in late June of that year. "We did a big float for the parade that trumpeted this incredible win for the community. The company was fully supportive and we did a very grassroots, DIY parade float," Maurice said. "It was a big front page of a newspaper with the headline about domestic partner benefits … A Simple Matter of Justice."
Catharine Martin, an LS&Co. employee from 1989 through 2000, was among the earliest to sign up for the new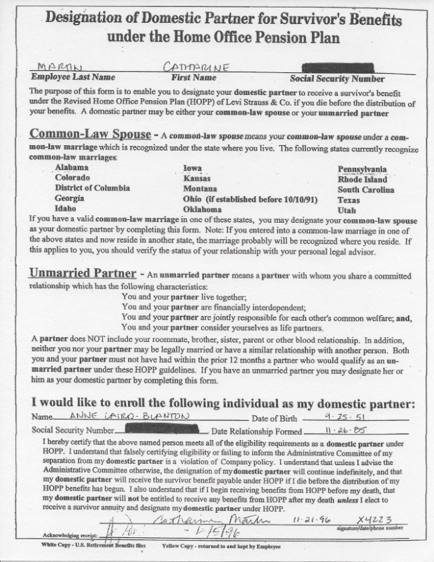 benefit. She recognized how important this new offering would be for her and her partner, Anne Laird-Blanton, who unofficially wed in 1990.
After LS&Co. announced the new benefit, Catharine designated Anne as her domestic partner, making her eligible to
receive her LS&Co. survivor retirement benefits in the event of her death. Catherine saved her form as a keepsake from her time at LS&Co. The document highlights how LS&Co. formalized the domestic partner benefits process.
Once California legalized same-sex marriage, Catharine and Anne were officially married on September 25, 2008, in Greenbrae, California, along with 18,000 other gay couples who wed between June and November 8, 2008.
Looking back at the milestone, Catharine is still feeling its positive effects today.
"[It was] quite revolutionary for any company to offer this," Catharine said. "Bless Levi Strauss & Co. as I now am able to leave my pension to my wife."
Want to keep up with the LS&Co. Archives and other cool LS&Co. heritage news? Follow Tracey on Twitter, @TraceyPanek, and stay tuned to Unzipped!