May 8, 2017
A group of U.C. Berkeley students crowded around a worn leather jacket on a recent afternoon in the Levi Strauss & Co. Archives, and stuck their heads in close for a smoke-scented whiff of history.
The jacket once belonged to Albert Einstein, and still harbors the faint smell of his pipe. "I'm not a superstitious person," said student Roger Garcia. "But I was trying to get some of those genius vibes."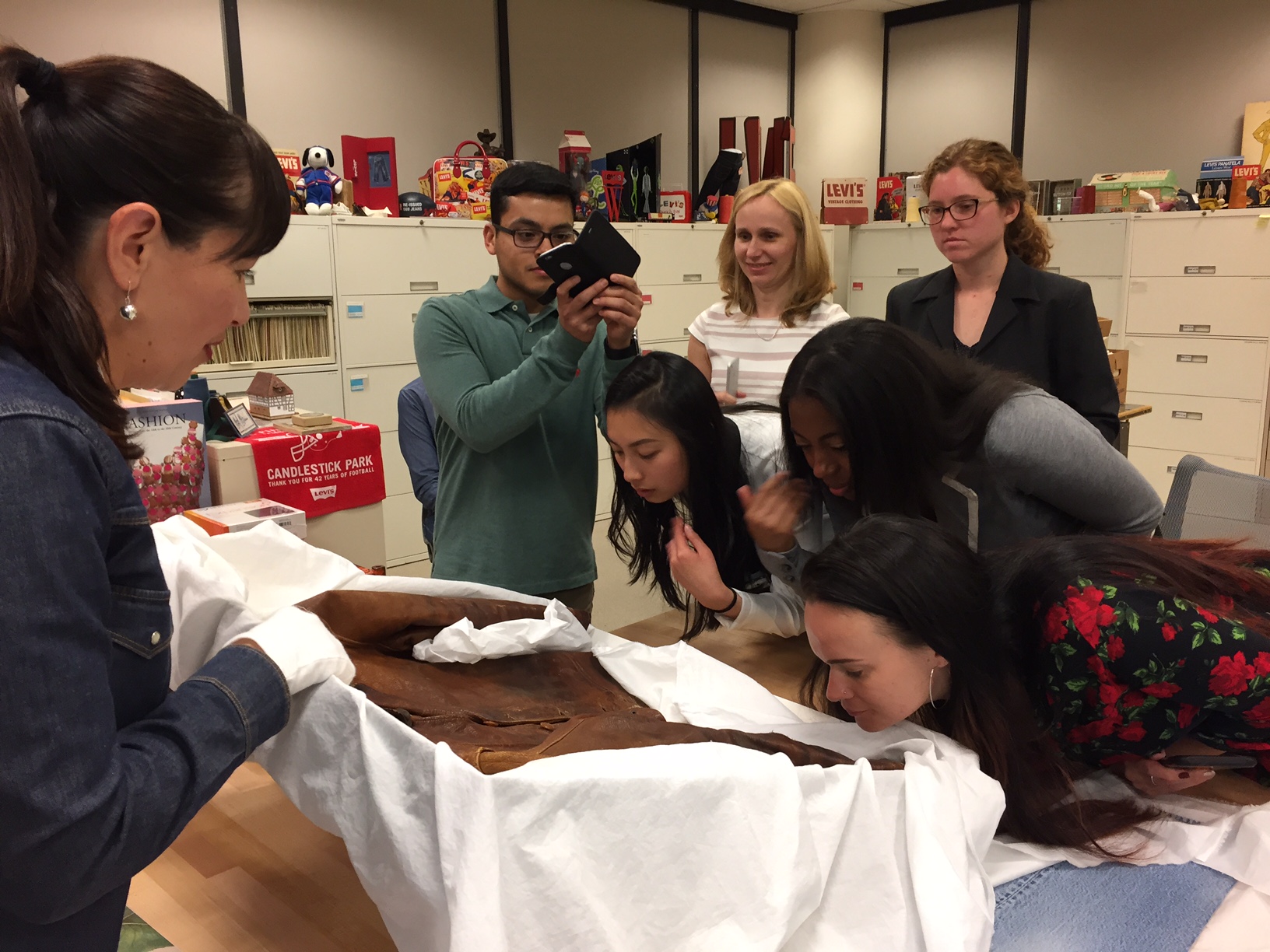 Roger and several of his fellow U.C. Berkeley students are recipients of the Levi Strauss Scholarship, which marks its 120th anniversary this year, and were invited to the LS&Co. headquarters to learn more about the company and the man behind it.
"In 1897, Levi Strauss personally matched the money put up by the California legislature to establish 28 scholarships at U.C. Berkeley – the university's first scholarships," said Bob Haas, chairman emeritus, former CEO of LS&Co. and former president of the Levi Strauss Foundation, who remains connected to the scholarship program.
Today, the scholarship provides crucial financial security, said Roger, a 33-year-old geography student who is returning to college after years in the blue-collar workforce. "Being at a place like Berkeley, with so much pressure … It's easy to just want to give up, and this scholarship has given me a lot of liberty to focus on my studies."
Gabby McNamara, a 22-year-old cognitive science major, was particularly inspired by what she learned about LS&Co.'s long-time commitment to workers' rights and sustainability.
Her family struggled to afford housing and food when she was in high school, she said. "So the only way I could have gone to college at all was with this scholarship."
For 18-year-old Leilah Talukder, an art practice major who plans to pursue fashion design, the tour was a chance to interact intimately with a piece of iconic fashion history.
"As a fashion designer, it means the world to me to be able to have access to such a wealth of knowledge about the birth of blue jeans," Leilah said. Seeing the oldest known pair of blue jeans, another unique entry in the LS&Co. collection, "was completely mind blowing for me," she said.
The same pioneering spirit that drove Levi Strauss to become such an innovator in the apparel industry has informed the scholarship program from the beginning.
"What was remarkable was that half of the initial scholarships were awarded to women, at a time when it was rare for women to attend college," Bob added. "Many of today's Levi Strauss Scholars are immigrants or the children of immigrants, often the first in their families to attend college. As an immigrant himself, and a person who never attended college, Levi Strauss would be pleased to know that his scholarships continue to provide otherwise unattainable opportunities for talented, striving young people."
As the students said their goodbyes to LS&Co., they posed in a parade of selfies with their tour guide, Bob.
"Filter or no filter?" one student asked as she lifted her cell phone.
Bob paused before answering, "Do I need one?"