August 26, 2015
As my youngest son returns to high school this fall, I'm reminded of when my older son and I both went back to school years ago — he as a kindergartener and me as a graduate student in History. I remember the butterflies in my stomach as I wondered how I was going to balance my Master's program studies, work, and taking care of two children.
I anticipated the curious stares of my (much younger) fellow students. I envied their short walks to campus, while I commuted an hour and an half. Their simpler schedules seemed like a luxury as I struggled to juggle work, a carpool, bag lunches, and homework — for two. Going back to school was incredibly challenging, but it taught me invaluable life lessons. As I look back at the opportunities I've had since then, there isn't a doubt in my mind I would do it all over again.
As a graduate student, I worked during the day and attended classes in the evening. Homework occupied my weekends, early mornings and late nights. On the whole, I found the classes stimulating and the homework challenging. I asked questions, got to know my professors, and managed my schedule meticulously on my Franklin Planner (PDAs were just an idea back then). I had to adjust my schedule to attend important events for my children, such as the school nursery rhyme program and parent-teacher conferences. I even kept my kids' birthday parties simple, with seven friends, seven Happy Meals and one large play structure!
What advice would I give my younger self about going back to school? Relax and enjoy the ride. Here are a few lessons that going back to school as an adult have taught me:
Experiment to figure out what you're passionate about. When you go to graduate school, your job is to fall in love. Not with a person, but with your passions. How do you find your passions? By taking up a hobby, by talking to people who work at different companies and in different industries, and by throwing yourself into projects related to your interests. Before pursuing my Master's program, I had a brief stint as a law student. I quickly realized law school wasn't for me, and instead followed my interest in history by volunteering at a historic site, taking on a family history projects and meeting with people in my intended career. These activities helped me forge a path back to school and eventually find a job I love.
Sign up to play and don't be afraid to take risks. When my son was afraid to try out for the school basketball team, my husband drove him to tryouts and stayed with him, to show his support and tell him that he had nothing to lose and everything to gain in trying out for the team. Adults can be afraid of putting themselves out there too. Going back to school can seem overwhelming. Don't let fear stop you from taking a risk and surround yourself with your biggest supporters. Taking the first step can be the hardest. Accept this and keep moving forward.
Check your backpack, stay organized. Checking my son's backpack every day for homework, parent papers, and supplies was key to staying on top of his schoolwork. The same principle applies to graduate school (and to the professional world). Stay organized by regularly reviewing your goals and setting concrete plans for how to get there. Planning and completing daily, weekly and monthly tasks ensure that you complete assignments and graduate on time. Make sure your goals are realistic, though, because time management is essential for working students — especially for those with children.
Complete your emergency card. Anticipate emergencies and find creative solutions. When the historiography class I needed to graduate was not offered, I went to my graduate advisor. Together we arranged a one-to-one Saturday class with an accomodating professor. Although it required an extra day of commuting during one semester, it kept me on track to graduate on time. Building a support system is also essential. Get to know your coworkers and fellow students, your children's friends, and their parents. They can assist when you hit bumps in the road — like the time my car broke down on campus, or when my son contracted chicken pox and I had coursework to complete.
Recess is essential. Working and attending school simultaneously can be exhausting. Don't forget to take a break and "go outside for recess" whenever the opportunity presents itself. During an arduous second year of graduate school, I anticipated seeing an exhibit of the Dead Sea Scrolls. Unfortunately, it conflicted with one of my classes. My attendance record was near perfect and my coursework up-to-date when I asked my professor for a reprieve one night to attend the exhibit. He agreed. I reveled in the chance to see the exhibit, savoring the experience as a much-needed break in the middle of a strenuous schedule.
So when did my "I did it" moment finally hit me? At graduation. I felt a sense of pride wash over me the moment I looked at myself in the mirror, wearing my cap and gown. My two children, a proud husband and a mother who never finished high school were beside me on that day. Starting my first professional job the next month was the only thing better than receiving my diploma. AirTouch Communication, a cellular provider who had launched service at the 1984 Olympics, hired me to establish an Archives. I worked in a tiny cubicle with a window overlooking the San Francisco Bay Bridge — my little piece of heaven made possible by going back to school.
ABOUT THE AUTHOR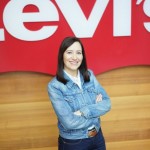 Tracey Panek is the Historian for Levi Strauss & Co. where she manages the day-to-day workings of the Levi Strauss & Co. Archives as a key corporate asset, answering historical questions, assisting designers, brand managers, executives and other employees whose work requires historical materials in the Archives.
Prior to joining LS&Co., Tracey spent 14 years as Historian and Archivist at AAA Northern California, Nevada & Utah where she managed a corporate history program for the 100+ year old company. She began her corporate history career at AirTouch Communications—today Verizon and Vodafone—a San Francisco based company that launched cellular service at the Los Angeles Olympics in 1984.
Like this story?
Sign up for the Unzipped newsletter to get the best of the Unzipped blog — company news and views, employee profiles, innovation and sustainability stories, behind-the-scenes and Archives highlights — sent straight to your inbox weekly.
This article also was published on LinkedIn, where LS&Co. leaders periodically share their perspectives and expertise on business trends, industry issues, careers and the workplace.