June 24, 2015
Q&A with Kate Kendell, Executive Director, NCLR
As the world anxiously awaits the Supreme Court's blockbuster ruling that could legalize same-sex marriage across the United States, we know one thing for certain: Reaching the point where our highest court agrees to take up the issue of marriage equality hasn't been quick and it hasn't been easy. In fact, it's taken the work of many thousands of passionate people and organizations — pioneers who haven't been afraid to stand up, speak out and take action.
Unzipped had the opportunity to speak with one such group that's been on the front lines through it all. NCLR has been advancing the civil and human rights of lesbian, gay, bisexual, and transgender people and their families through litigation, policy, and public education since it was founded in 1977.
The San Francisco-based nonprofit was involved in early efforts to gain relationship recognition through domestic partnership and civil unions, both in California and nationally. These efforts continue today as NCLR represents three same-sex couples from Tennessee (pictured below) whose cases are being considered via the Supreme Court marriage case.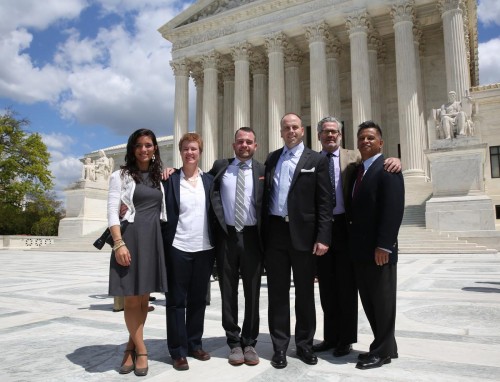 As part of our long-standing commitment to equality and support for the LGBT community, LS&Co. has been honored to provide grants to support the important efforts of NCLR and others. Kate Kendell, NCLR's executive director, offered her thoughts on the impending marriage equality ruling and what comes next in the fight for equality.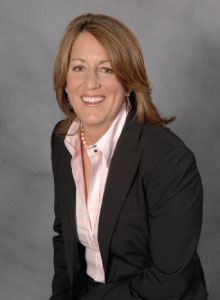 Why is NCLR's work related to marriage equality important?
Marriage equality matters because our humanity is attacked when our government and our society tell same-sex couples that our relationships are inferior and threatening. The denial of our freedom to marry the person we love has been deeply stigmatizing, not only to same-sex couples, but to all LGBT people. Marriage equality has both a huge practical and symbolic impact for the LGBT community.
As an organization, what are you most proud of?
At NCLR, we always try to ask ourselves what we can do to advance equality for the most vulnerable members of our community—those who face the most barriers and have the least control over their lives. Even as we celebrate successes, we always work to understand who is left out of our victories and what we can do to ensure equality and inclusion.
What's next after the Supreme Court decision?
Marriage equality is important, and securing it nationally will be a huge victory, yet there will still be critical work on a range of LGBT issues. In the area of family law, marriage equality alone will not automatically ensure that parent-child relationships will be recognized in our families.
And of course, NCLR will continue other areas of work that have been happening alongside our marriage litigation and public education. This includes our work on ending conversion therapy; protecting LGBT youth from abuses in schools, foster care, and the juvenile justice system; advancing immigration reform that fully includes our community; representing LGBT asylum-seekers; ensuring that our community is fully included in federal policies and programs; and supporting LGBT athletes and coaches, just to name a handful of key ongoing efforts.
What kind of work will the grant from LS&Co. support?

Our partnership with Levi Strauss & Co. will support public education and communications work to protect LGBT families. Regardless of how the U.S. Supreme Court rules on marriage equality, there is still an urgent need to ensure that family laws across the country include LGBT parents and their children. A marriage victory alone will not fully protect many or most LGBT parents and their children.
NCLR's Family Law Project—one of the only projects of its kind that is exclusively devoted to LGBT family law—has been at the forefront of protecting families through litigation, legislation, policy, and public education. This summer, we will launch a multi-pronged campaign—using litigation, legislation, and public education—to build awareness about critical legal protections and ensure to that every state embraces and supports all parents and their children.
Why are grants like this important to NCLR?
So often complex LGBT rights issues are discussed and understood only in the abstract. But when people understand the real impact of laws and policies on real people, they are more willing to support positive change. Having the resources to tell these compelling stories and build public understanding makes a real difference. It's also incredibly valuable to be able to rely on supporters who understand that in the wake of a high profile, big media case, there is still much work to do to realize the promise of equality.
If you could ask everyone in the U.S. to do one thing to support the fight for equality, what would it be? 
Take risks, be willing to have difficult conversations, stand up for your values and support your vision of a country where everyone lives fully and freely. And donate to NCLR…;)
This story is part of an ongoing series designed to feature people who are changing the world. Our Modern Day Pioneers are impacting everything from culture to social issues to the environment, and they're challenging the status quo in a unique way. We hope these stories will inspire and empower you to live your life to its fullest in Levi's.
Want more stories like this? Sign up for our weekly Unzipped email or view more stories from our Modern Day Pioneers series.