November 8, 2023
It's hard to believe that Beyond Yoga® has been part of the Levi Strauss & Co. brand portfolio for only two years. Since its launch 18 years ago, the brand has been focused on bringing its body positive, premium athleisure products to even more consumers around the world. This strategy has been paying off, with the brand seeing significant growth — up 25% just in Q3 of 2023.
Key to this growth? Expansion — from the brand's brick-and-mortar footprint to its presence on college campuses and partnerships.
Beyond Yoga® Expands to More College Campuses
Last summer, Beyond Yoga® partnered with Follett Higher Education, a premier provider of physical and online store solutions for colleges and universities and athletic departments across the U.S. and Canada, to provide collegiate branding on Beyond Yoga® leggings, sweatshirts, tanks and more. Originally available at 29 colleges across the U.S., the partnership has more than doubled in the last year. Now students, facility, staff and alumni at 76 campuses — including Texas Tech, Pepperdine, Michigan State, Wake Forest and more — can rep their favorite university logo on their favorite athleisure products.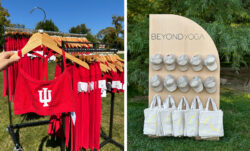 "We are proud to partner with Beyond Yoga® as their official collegiate licensed partner," said Carrie Majewski, Follett's vice president of apparel and gifts. "School-branded Beyond Yoga® merchandise was introduced to our campuses in July 2022, and has more than doubled in store count since then."
The Beyond Yoga® team recently visited Texas Christian University and Indiana University to promote the expanded partnership, marking the brand's first official events on college campuses. At the events, students were invited to participate in a fitness class with the brand's partner The Sculpt Society, play lawn games in the quad and, most importantly, get to know the Beyond Yoga® brand and its buttery-soft products. The two activations led to hundreds of email sign-ups and piqued the interest of countless students wanting to learn even more about the brand.
"It was an amazing experience," said Ashley Hart, vice president of marketing, Beyond Yoga®. "Beyond Yoga® is the perfect staple at school, whether you are lounging in the dorms, getting in a workout or attending class. It was incredible to connect with a new audience and introduce them to our leggings, dresses and loungewear."
Store Openings Outside Southern California
When Beyond Yoga® initially joined LS&Co., the team was excited about how the partnership could both raise brand awareness and enter the brick-and-mortar space, opening physical storefronts where consumers could touch, feel and experience the brand.
Beyond Yoga® will end the year with six stores, including its most recent store at Broadway Plaza in Walnut Creek, California, the brand's first store outside of Southern California. They're not stopping in Northern California, either. This month, Beyond Yoga® will open its first store outside of California at Fulton Market in Chicago, Illinois.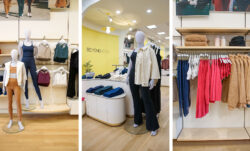 "We are thrilled to expand beyond Southern California and meet our consumers in their local market," said Michelle Wahler, co-founder and CEO of Beyond Yoga®. "Many of the people who walk through the door are first-time shoppers, and we can't wait for them, as well as established fans of the brand, to experience the magic firsthand." 
Stay tuned for more updates from the brand and be sure to shop the current Beyond Yoga® product assortment on their website or at a store or campus near you.