September 1, 2022
This fall, students aren't the only ones heading back to class. Beyond Yoga® apparel is making its way onto 28 U.S. college campuses. Students, alumni, faculty, staff and fans of each school can now get their favorite university's logo on Beyond Yoga's signature, buttery soft fabrics. 
Beyond Yoga teamed up with Follett On-Demand, a premier provider of online store solutions for academic institutions and athletic departments across the country, to print university logos on Beyond Yoga® apparel. The licensed Beyond Yoga products include Spacedye joggers, biker shorts, leggings, sweatpants, cropped tanks, bras, crews, pullovers, Featherweight tees and more. 
"Beyond Yoga is known for its incredibly soft, high-quality materials, and we can't wait to bring these women's athleisure products into campus stores for the upcoming school year," said Meredith Crowder, senior buyer for women and children's apparel at Follett. "Students, faculty, staff and the surrounding community of these schools will be able to showcase their school pride while maintaining both style and comfort — it's a win-win!"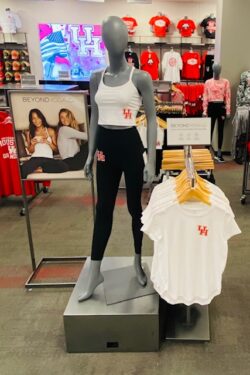 "We are so excited to partner with Follett and bring Beyond Yoga apparel to schools throughout the U.S.," said Michelle Wahler, chief executive officer of Beyond Yoga. "People love Beyond Yoga for its buttery soft fabric that is perfect for lounging, getting in a challenging workout, or cheering on your favorite team on game day. We have been working with Follett for more than a year to bring Beyond Yoga's signature products to campuses around the country and are incredibly proud of the outcome." 
Beyond Yoga apparel is live at 28 college campuses in their bookstores and their ecommerce sites and is already having great success. Having product available on campus gives people a unique opportunity to touch the fabric and fall in love with its feel, all while repping their favorite university's logo. In the future, the brand will expand to even more campus stores throughout Follett's 1,100-location network.  
Beyond Yoga branded apparel is currently available at Baylor University, New York University, Stanford University, Tennessee State University, Washington State University, The George Washington University, James Madison University, Northern Arizona University, Boston College, Gonzaga University, Villanova University, Texas Christian University, University of South Florida, Virginia Polytechnic Institute and State University, Indiana University, Purdue University, University of Iowa, Butler University, American University, Seton Hall University, Quinnipiac University, Fairfield University, Sacred Heart University, Cal Poly San Luis Obispo, Sacramento State University, Washington University, University of Houston and St. John's University.