September 17, 2019
For 30 years, the Levi Strauss & Co. Archives has preserved the legacy of a brand that revolutionized apparel and has influenced culture across the globe.
Of course, that preservation hasn't come easy. The loss of records and artifacts in the San Francisco earthquake of 1906 left a dearth of early company documentation. "Levi Strauss & Co. has a rich history, [but] before the Archives were created, all we had to validate the authenticity of our brand and heritage was word-of-mouth anecdotes," said former Levi Strauss & Co. CEO Bob Haas, who founded the Archives in 1989.
When Haas established the Archives, he also brought on the company's first historian, Lynn Downey.
Thirty years ago, Bob Haas and the management of Levi Strauss & Co. made history. – Lynn Downey
In the first years of the Archives, Lynn searched for garments and records all over the world, amassing a now-enviable collection. 
"Thirty years ago, Bob Haas and the management of Levi Strauss & Co. made history," Lynn said. "They created the Archives, a place where the original blue jean could be housed, studied, photographed and shared with the world, along with its fabulous fellow garments: Lady Levi's (the first jeans for women), denim and leather jackets, striped bell bottoms, children's Koveralls and Dude Ranch Duds."
Over the years, new donations and acquisitions – like Albert Einstein's Levi Strauss leather jacket and an 1880s ledger of gold certificates – expanded LS&Co.'s historical collection. After I came on board, we brought the Archives into the digital age with the introduction of The Virtual Vault in 2015 – LS&Co.'s online Archives that now holds over 135,000 digital assets, like a 1951 photo of Bing Crosby in a Levi's® denim tuxedo jacket and an 1899 sales flier featuring our copper-riveted clothing.
As a symbolic blending of old and new – and just in time for our 30th anniversary this year – our Archives went through a recent renovation, boasting a new blue look inspired by our famous blue fireproof safe.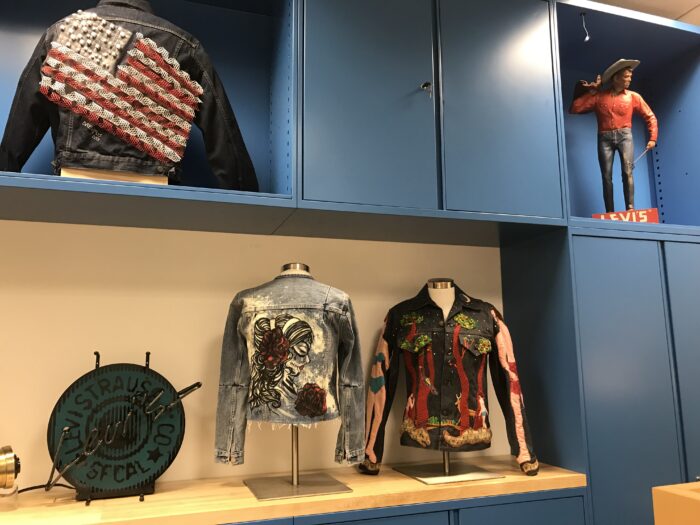 In another recognition of our longstanding heritage, we are hosting this year's International Archives Conference, convening other businesses who have similarly changed the world. Participating companies include tech giants Apple, IBM and Microsoft, iconic car makers BMW AG and Ford, and other big names like Pixar Animation Studios and Walt Disney, Swarovski, Proctor & Gamble, Reebok, Wells Fargo, Facebook, Airbnb, and many more.
Themed Business Archives & the Next Gold Rush, the event chronicles the history of innovations from the birth of blue jeans to the creation of computing, exploring topics from today's "gold standard" practices in business archives to tomorrow's new technologies harnessing data and AI. Our San Francisco headquarters serves as the perfect conference backdrop – located in the heart of where the 1850s California Gold Rush took place and near Silicon Valley. Now that's historical!