August 9, 2017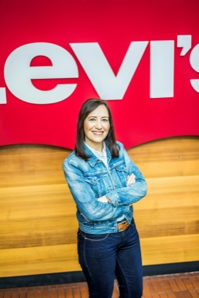 Welcome to our fall 2017 issue of From the Archives, a behind-the-scenes look at the ins and outs of the work we do here, and the unusual, amazing and always-interesting fun facts and tidbits we discover along the way.
The exhibition Revolution, featuring our '67 patched 505® jeans and other Levi's®, opened in Canada to great reviews at the Montreal Museum of Fine Arts. I interviewed Eureka Lab Sewing Technician My Hyuhn about how to craft a pair of 501® jeans; added new items to the Archives like a women's 1940s short-horn shirt; and still found time to dig into the collection with designers for inspiration. Here's a peek at LS&Co.'s latest heritage happenings.
-Tracey
Now Showing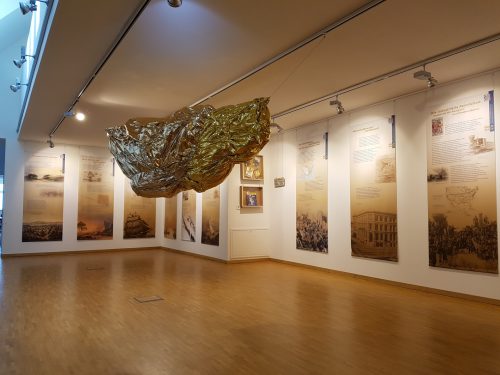 Goldrush
Levi Strauss Museum | Buttenheim, Bavaria
Through November 5, 2017
At the Levi Strauss Museum Buttenheim, the birthplace of Levi Strauss, the special exhibit Goldrush – The Boom of the American West focuses on the Californian gold rush, which – beginning in 1848 – changed a whole continent.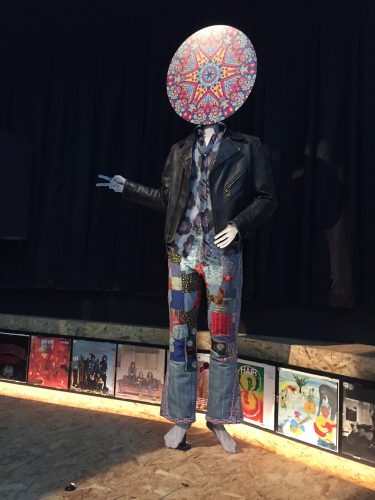 Revolution
Montreal Museum of Fine Arts | Montreal, Canada
Through October 9, 2017
A musical odyssey that explores the ideals and aspirations of the late 1960s as expressed in music, film, design and fashion—like Levi's® garments.
New Arrivals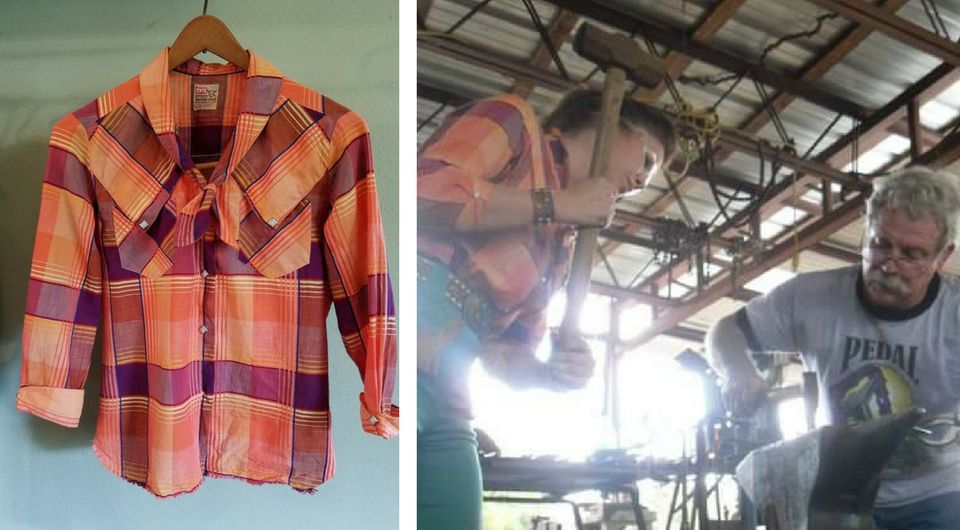 Western Short-Horn Shirt. Vintage Collector Erin Zabel found this colorful 1940s Levi's® Western short-horn shirt, which she once made a stylish impression wearing it at a Blacksmithing Competition many moons ago.  The shirt is the latest addition to our Archives. Erin owns an organic farm in Texas, where she and her husband craft bronze artwork.
 You Asked, We Investigated…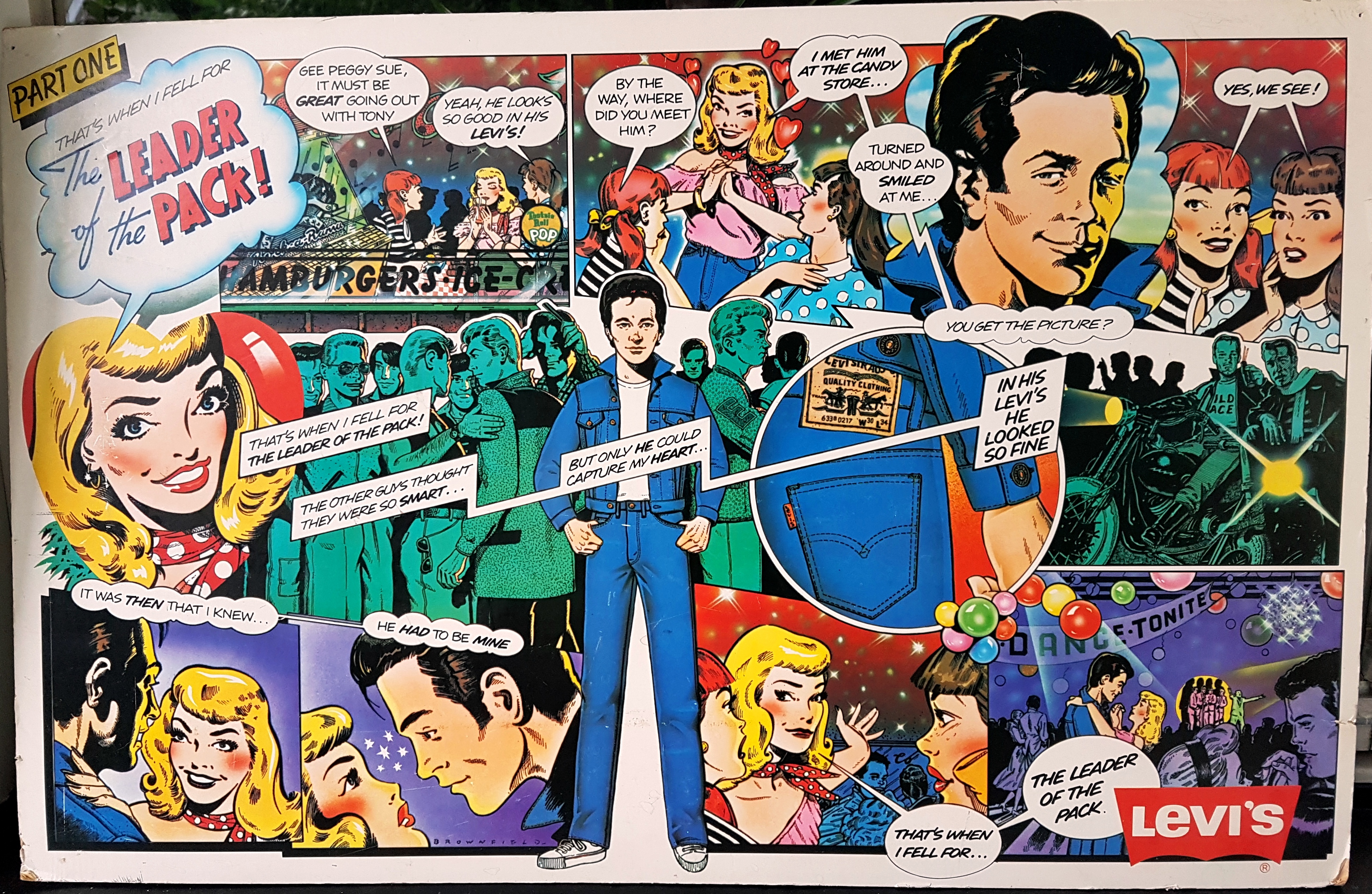 Q. I bought this [screen print] in a secondhand store here in Stockholm, Sweden. I was so surprised at the detailed artwork on the print and the colors. I researched and have found that the style must be around 1967 – 1969, so in the time Levi's® expanded to Europe, but could also be 1976-1977 when Levi's® made the commercial advertising of the, Leader of the Pack. Any ideas?
A. This piece dates to 1976. It was created by London-based Illustrator Mick Brownfield who created a series to accompany the Leader of the Pack television commercial (and song) of the same name. "They now seem prehistoric in style and execution," says Mick, "they really are a period piece." See the advertisement here.
Fan Mail—Little Levi's® Span Generations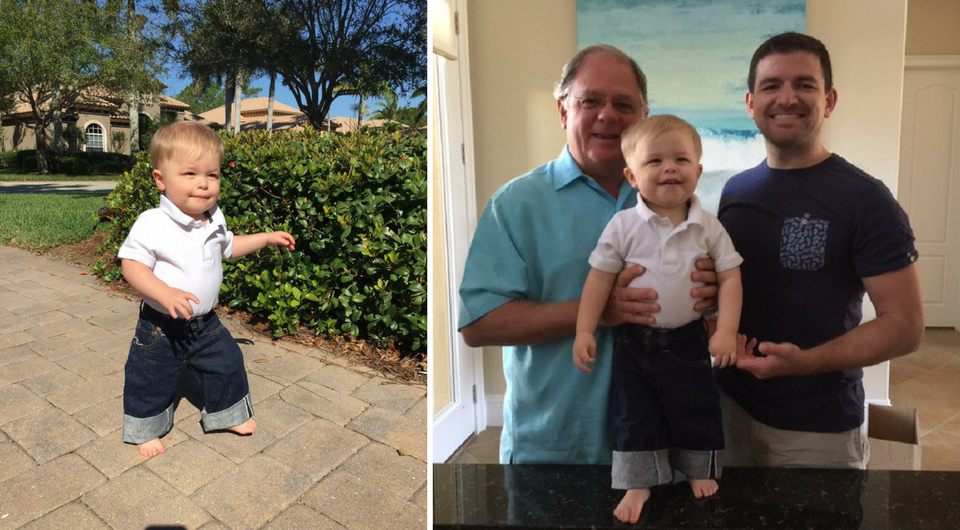 Lifelong Levi's® fan Ken Newell of Virginia sent us photos of a pair of Levi's® jeans his parents purchased for him in the mid-1950s. When he outgrew them, they were stored away until his son Brennan was born in 1984. "The same jeans were taken out of storage and he wore them as well," said Ken. The Newells pulled out the jeans when Grandson Grayson turned 2 years old this year. Says Ken, "Just thought you'd like to know about a 61-year-old pair of your jeans that have been worn by three generations and are still going strong."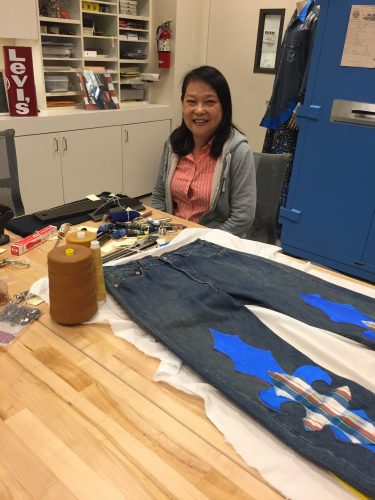 Employees On Record
Eureka Lab Sewing Technician My Huynh spent a morning in the Archives demonstrating how to use a collection of historic tools. She also explained why it takes eight machines (from an overlock to a riveting machine) and three different colors of thread to make a pair of 501® jeans. A native of Vietnam, My worked briefly at our Valencia Street Factory.

This Year in Levi Strauss & Co. History
35th Anniversary of Levi's Plaza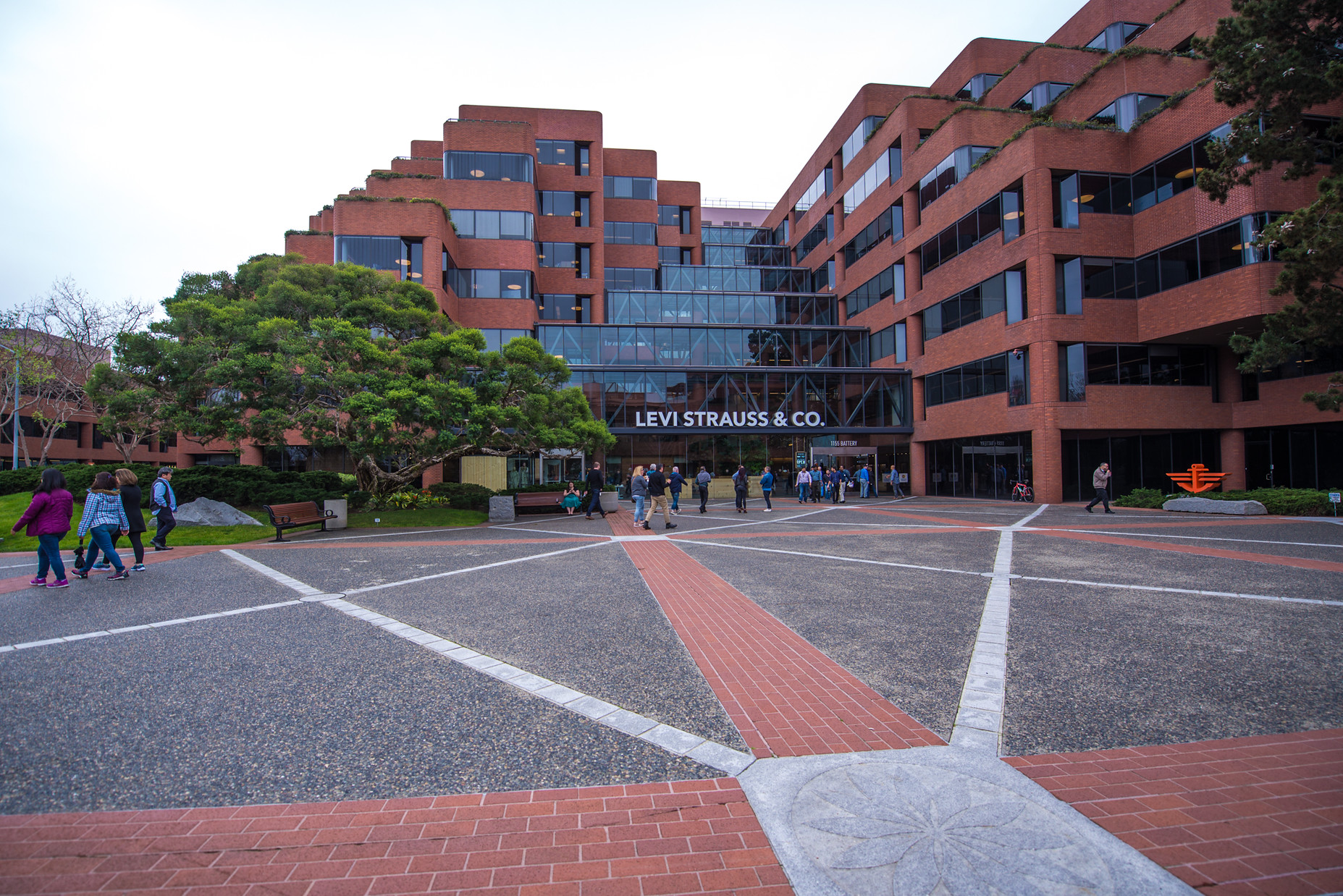 This year marks the 35th Anniversary of Levi's® Plaza, our headquarters in San Francisco. Landscape architect Lawrence Halprin, who also designed Ghirardelli Square, U.C. Berkeley's Sproul Plaza and the FDR Memorial in Washington, D.C., created a setting that was inspired by Yosemite and other natural areas.
Want to keep up with the LS&Co. Archives and other cool LS&Co. heritage news? Follow Tracey on Twitter, @TraceyPanek, and stay tuned to Unzipped!