May 25, 2017
Levi Strauss & Co. has long taken pride in its commitment to standing up for the rights of the LGBTQ community.
In honor of that fight for equality, Levi's® is launching the 2017 Pride collection, the fourth installment of this limited edition line. The collection features gender neutral T-shirts and tanks emblazoned with "Fight Stigma," a T-shirt with a rainbow version of the Levi's® batwing logo, and cutoff shorts.
"Fighting stigma on any level is important. We feel that it's our responsibility to stand up for the issues of our time," said Grant Barth, chief merchandising officer, LS&Co. "Levi's® has always been on this journey: fighting for equality, human rights, and giving everyone a voice."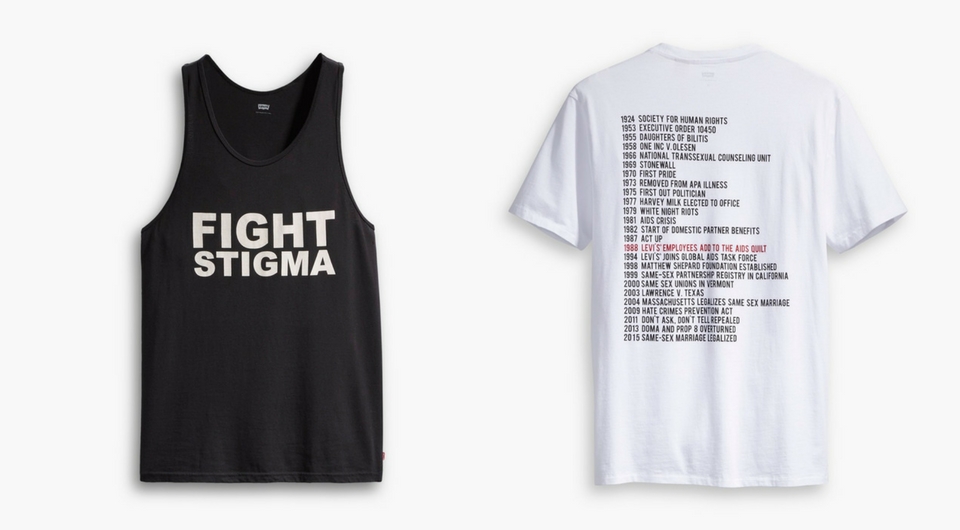 All of the proceeds from the 2017 Pride collection will be donated to support the work of LS&Co. partner organizations Harvey Milk Foundation and Stonewall Community Foundation.
For LS&Co., this is about more than just merchandise and marketing. The company is a vocal advocate of equality and non-discrimination, with a long history of supporting the LGBTQ community. In 1992, LS&Co. was the first Fortune 500 company to offer benefits to same sex couples and in 2007 it was the only California business to file an amicus brief with the state Supreme Court supporting same-sex marriage. In 2013, LS&Co. joined the "friend of the court" briefs for both the United States v. Windsor case on the constitutionality of the federal Defense of Marriage Act (DOMA) and the Hollingsworth v. Perry case on the constitutionality of California's Proposition 8.
This year's collection was also inspired by the AIDS Memorial Quilt. In 1988, LS&Co. employees added their panel to the quilt as a tribute to their colleagues and friends. Our designers drew inspiration from that moment in creating the collection – a reminder that we can never forget the people, including our friends and colleagues in the LGBTQ community, who lost their lives to this devastating disease.
Over the years, LS&Co. and the Levi Strauss Foundation have contributed more than $70 million in grants to HIV/AIDS organizations in more than 40 countries.
The foundation also gives broad support to organizations supporting the LGBTQ community – including the Transgender Law Center, which LSF announced last week would be one of the recipients of a new $1 million grant pool to support marginalized populations.
The Levi's® Pride 2017 Collection will be available on www.levi.com and at select Levi's® retail locations beginning today.