April 20, 2017
The address 557 Ashbury may not ring a bell for most, but its location and place in counterculture history as the movement's first "hippie headquarters" certainly does. Here's an inside look at the building within San Francisco's Haight Ashbury district that houses, among other things, some unexpected Levi Strauss & Co. links.
Haight's long history with Levi's®
Fifty years after the Summer of Love spilled onto the street, Haight Ashbury still retains a certain energy: a flower child mural, stores teeming with tie-dye, and a legacy of peace-loving young people — many dressed in Levi's® — who flocked here in 1967.
Norman Larson now owns 557 Ashbury. Under his guardianship, the two-story building has been restored to its 1903-era interior and houses plenty of '60s memorabilia. We pored over Norman's photos, records, and posters of Janis Joplin, The Grateful Dead, and Jefferson Airplane, which brought to mind the radio ad for White Levi's® that band recorded in 1967. The most notable image? Jerry Garcia, Phil Lesh, Bobby Weir, Bill Kreutzman and Ron McKernan—the young Grateful Dead—posed at the famous street sign with the palladium windows of 557 as a backdrop.
But I was most drawn to an artifact from an earlier era, with a Levi Strauss & Co. link – a Singer sewing machine.
"My great-grandmother Annie Carroll Abrams was once a seamstress for Levi Strauss," Norman says, placing her with the company approximately around 1880. LS&Co. posted an ad in the San Francisco Chronicle for female workers like Annie just a few years earlier, when the company began manufacturing the world's first blue jeans. It read:
Wanted—Fifty First-Class Female sewing machine operators, who can bring their own machines with them; either Singer's No. 2 or Grover & Baker's No. 1, for sewing heavy work. Steady and remunerative employment, at 415 Market street, upstairs. — July 19, 1873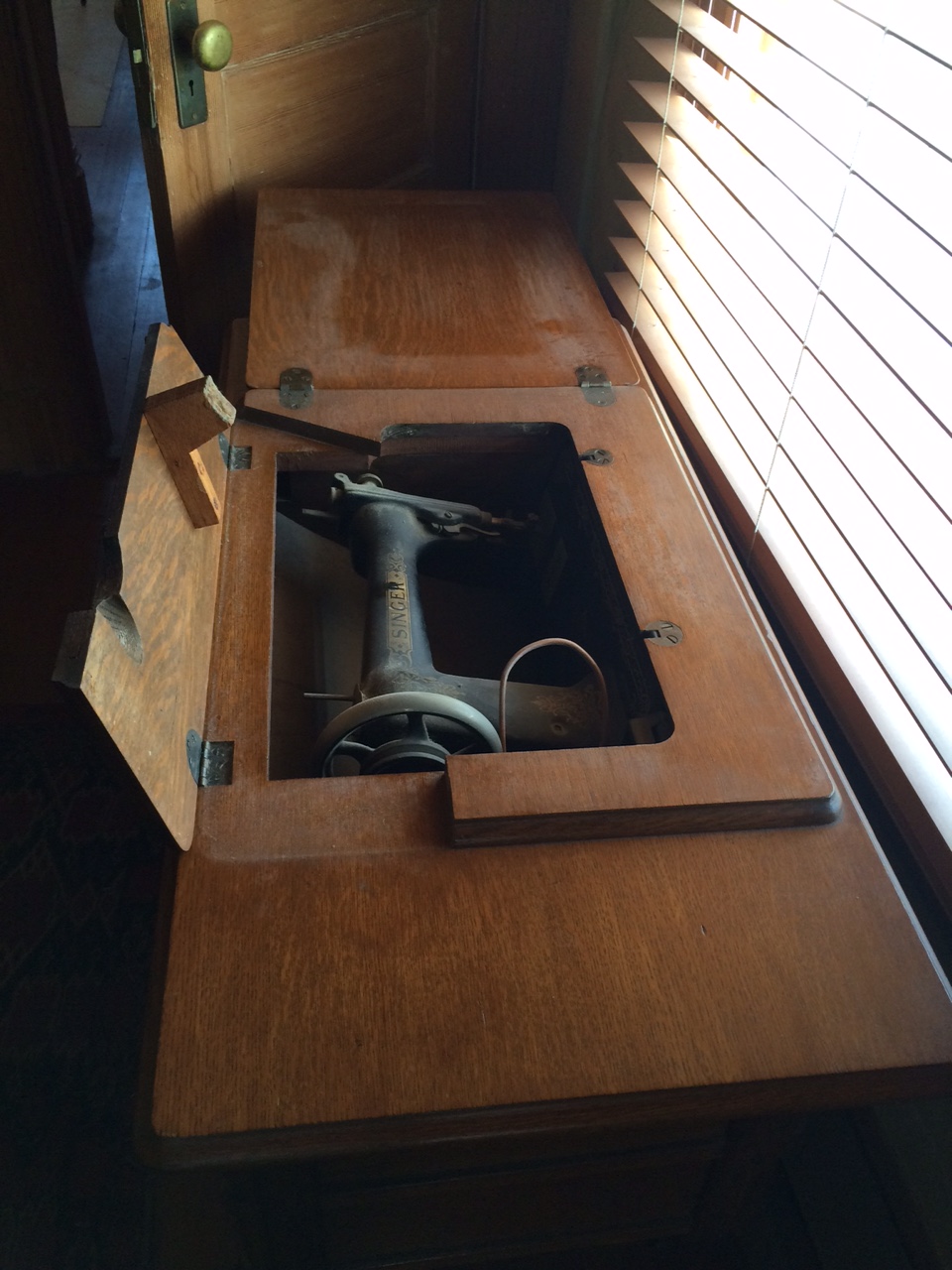 Workers bringing their own machines would have reduced the cost of setting up a factory for Levi Strauss in those early years.
The Gold Rush drew thousands like Annie to San Francisco, a pattern repeated on a smaller scale a century later by hundreds who hitchhiked to the Haight.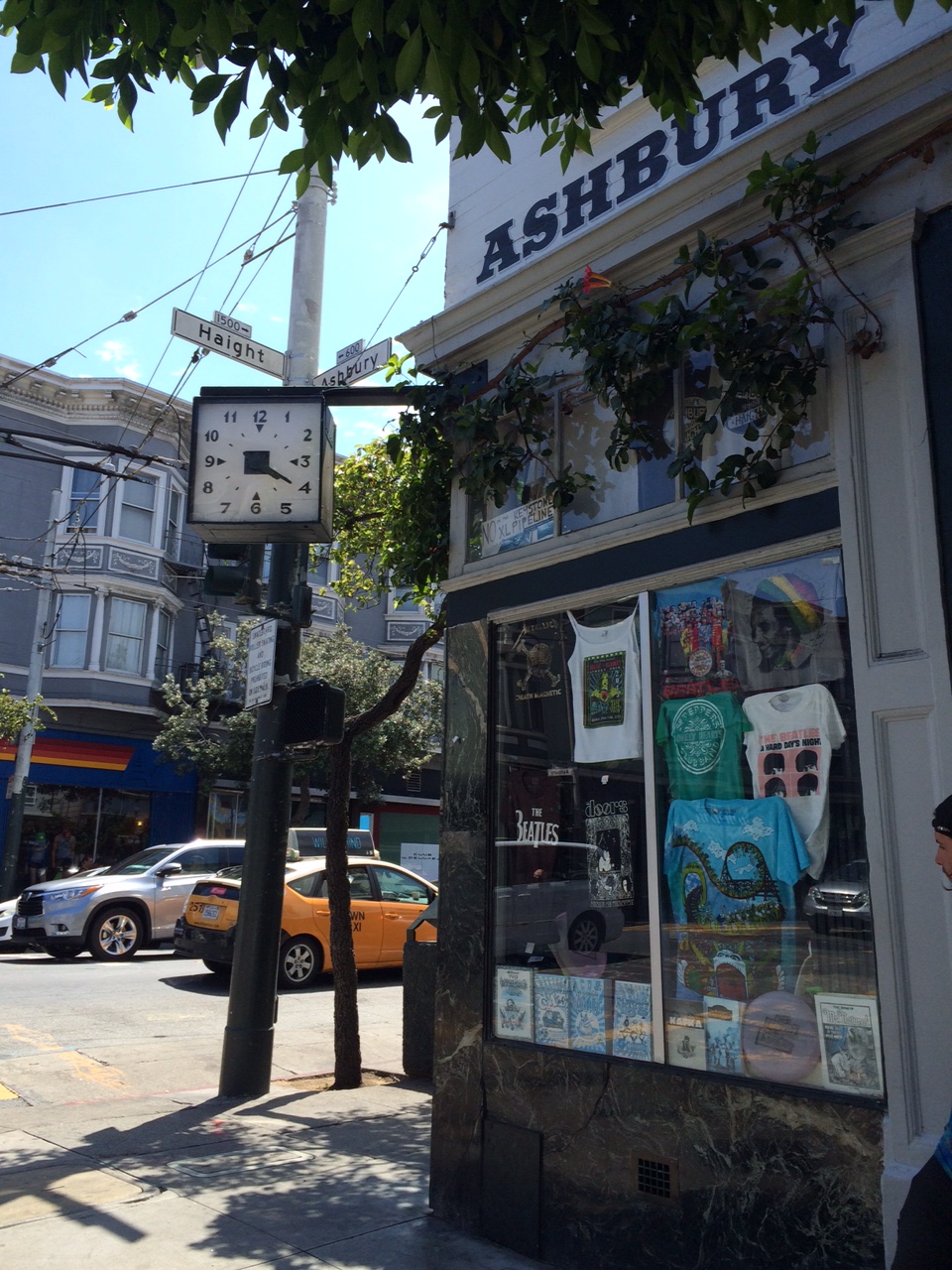 The summer that was in Levi's®
Hippie clothing shops were filled with "funky chic," a term Tom Wolfe used in Rolling Stone to describe the popularity of Levi's® and other denim that revitalized the Haight's commercial strip. One particular shop, Mnasidika, was run by a woman named Peggy Caserta from 1965 to 1968. It was at her shop that she met Janis Joplin, who became her best friend. Jimi Hendrix also came out of the shop rocking his infamous style—bell bottoms and a vest.
Peggy's story is included in a National Register of Historic Places draft application, which Norman still has, detailing Peggy's connection to Levi Strauss & Co. It's said that she convinced the company to change its production lines to manufacture the hot new bell bottoms taking over the Haight. Though we are unable to verify Peggy's role in the lore, I can confirm that LS&Co. launched its Orange tab line, and Lot 646 bell bottom jeans, in 1969.
Between that 1800s-era Singer machine and the 1960s remnants and fashion roots in Haight Ashbury, I am reminded of the thread that ties these periods together: Levi's®. The brand has been at the center of culture for decades and remains that way today.
Be sure to keep up with the LS&Co. Archives and other cool LS&Co. heritage news, follow Tracey on Twitter, @TraceyPanek.