April 5, 2016
When it comes to crafting confidence, Sawhorse Revolution is helping teens lay the right groundwork mentally and physically.
The Seattle-based nonprofit carpentry program provides high school students with the skills to build custom tree houses, bridges, and "literally, the fort of their dreams," while emphasizing the significance of using eco-friendly materials. The goal is to foster confident, community-oriented youth through the power of carpentry and craft.
Co-founded by Adam Nishimura, Micah Stanovsky and Sarah Smith, the hands-on program teams students with a deep bench of volunteer architects, professional builders and teachers who lend their time to revealing the excitement of design and construction.
"There's an aspect of overcoming fear and trying something new. There's risk involved," said Smith. "But you can see it in a kid's face when they shift into a newfound sense of confidence in using a new tool."
For its co-founders, Sawhorse Revolution came from the joy of learning new skills and sharing it with others, along with the excitement around the concept of experiential education.
"There was a real root of educational theory around what it meant for young folks who mostly had classroom experiences to get outdoors and learn," said Stanovsky, who also serves as the program's operations director.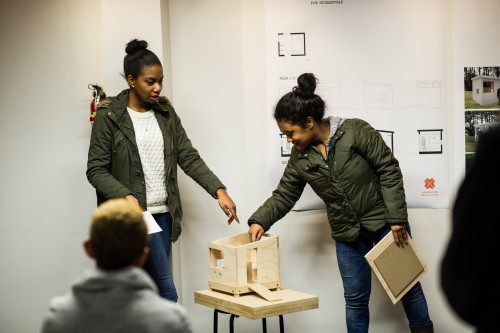 Sawhorse students present their design process and details of a home-to-be. Photo by Nate Watters
Building Confidence, Building Community
Since its 2010 inception, the organization has evolved from a side project for its co-founders – friends who initially organized summer camps and other educational workshops – to a year-round curriculum, with programming, including design/builds, summer camp programs at Smoke Farm, and carpentry vocational training.
Last year, the program helped build Impossible City, an "eco-village" for the homeless in Seattle. Through the use of sustainable materials, the students were able to be of service in their communities while being environmentally conscious.
"This project was a great opportunity to introduce young people to sustainable materials and sustainable practices," said Smith, who also serves as the program's director. "It showed them that, with a little bit of know-how and a willingness to research and consider their design decisions, it could make a difference in how efficient a house was or how much carbon footprint their lumber used."
A Sustainable Revolution, One Hammer and Nail at A Time
Both Smith and Stanovsky are enthusiastic, not just about teaching kids new skills, but setting up a system for students to understand the importance of supporting the community.
For Stanovsky, it's all about helping kids feel like they can have an impact on the direction of a project, and their lives.
"The most inspiring part of our work for me is the amazing confluence of pragmatism, practicality and idealism," he said. "At its core – it's just about a hammer and nail – it's very simple and direct, but it's also tied up in the question of: How do you want your world to be shaped? And how can you be a part of shaping it in that way?"
Header image: Photo by Alec Gardner
This is part of an ongoing series designed to feature people who are changing the world. Our Modern Day Pioneers are impacting everything from culture to social issues to the environment, and they're challenging the status quo in a unique way. We hope these stories will inspire and empower you to live your life to its fullest in Levi's®. 

Want more stories like this? Sign up for our weekly Unzipped email or view more stories from our Modern Day Pioneers series.