March 31, 2016
After interviewing former rodeo bull rider Shawn Edwards, whose final ride sent him into a 7-day coma, I was convinced that a bullring was the last place on earth that anyone—especially a clown—would want to enter.
Watch the new FX comedy series "Baskets" and you'll see why. Chip Baskets dreams of becoming an artistic, poetic clown but flunks out of clown school in France. He returns home to Bakersfield, California where the only clown job he lands is in a rodeo. Chip learns the hard way that jumping into a bullring is not for the faint-of-heart. He is ready to quit after a pummeling.
In contrast to the television drama, real-life Rodeo Clown George Doak, often called the "Fearless Funnyman," stepped into the ring regularly to face down bulls with brashness, cool reserve, and an unusual pair of customized Levi's® jeans.
Although they were not featured in the earliest arenas, clowns became essential to rodeo over time. They first became important when spectators began to leave during rodeo delays. Cowboys who kept audiences laughing between events could engage crowds and deter them from wandering off. These cowboys eventually starred as the first rodeo clowns.
Clowns took on a new role when Brahma bulls were introduced to rodeo in the 1920s. The clowns could protect cowboys by distracting bulls from riders who may have fallen. This gave cowboys, like bull rider Shawn, a chance to get to safety. "Bull riding aboard the ferocious Brahma breed provides some of the rodeo's most chilling moments," described a report from the 1940s, "The tremendously agile beasts can practically tie themselves in knots trying to dislodge the cowhand. When the man hits the turf, the bull may try to trample or gore him."
Distracting bulls away from the cowhand is not only tricky; it can be extremely dangerous. Here's how a 1950s reporter described the life-saving work of the rodeo clown:
Baiting the bull with a human target, the rodeo clown moves in close to draw a murder-minded Brahma away from the fallen bull rider it sought to gore. This life-saving side of their work in the arena is the true measure of the clown's worth, far outweighing his ability to tickle the funny bone of the spectators. Since Brahmas will gore a horse without hesitation, mounted pick-up men can't be used to help the rider down. It's up to the clown to face the bull — on foot.
George, dubbed "Oki Doak," dodged danger as he navigated around the bulls on foot. "I was killed twice," George told me in a recent interview, "but nothing serious." He laughed and explained it was just a bit of clown humor.
Born in Ft. Worth, Texas in 1937, George grew up loving horses and rodeo. Dressed in a red nose and heavy face makeup, he was a master at entertaining the crowd and getting bulls away from fallen riders. During his nearly 30-year rodeo career, he rounded up a host of awards, from his induction into the Pendleton, Oregon Rodeo Hall of Fame in 1983, the Pro Rodeo Hall of Fame in 2000 and the National Cowboy Hall of Fame in 2001, among others.
In the 1970s, Levi Strauss & Co. fashioned a singular pair of jeans for George. The denim duds were oversized and baggy with an enormous Red tab featuring LEVIS in all capital letters. To keep the loose-fitting jeans from slipping, George fitted the Levi's® jeans with green suspenders and tied colorful bandanas to the waistband. The bright scarves may also have distracted the bulls.
Today George's Levi's® clown pants are preserved in the Levi Strauss & Co. Archives in San Francisco. Other clown artifacts? One of George's red bandanas and a photograph of George on foot in an arena outfitted in the jeans, bending down near a bull's head. "If I can get up, I can enjoy a little bit of [life] every day," George joked. George finds it easy to laugh and is still having fun in his retirement. But retirement doesn't mean he isn't active. When I spoke with him, George was taking care of chickens who feature in a game called, "Chick, Tac, Toe." Guests at an Oklahoma casino can challenge the chickens to a game of Tic Tac Toe. If they beat the chickens, they take home a $100 prize.
"I've had so much fun it's a shame," George told me. With April Fool's Day tomorrow, George's motto is a good reminder that having fun is the key to a long and happy life.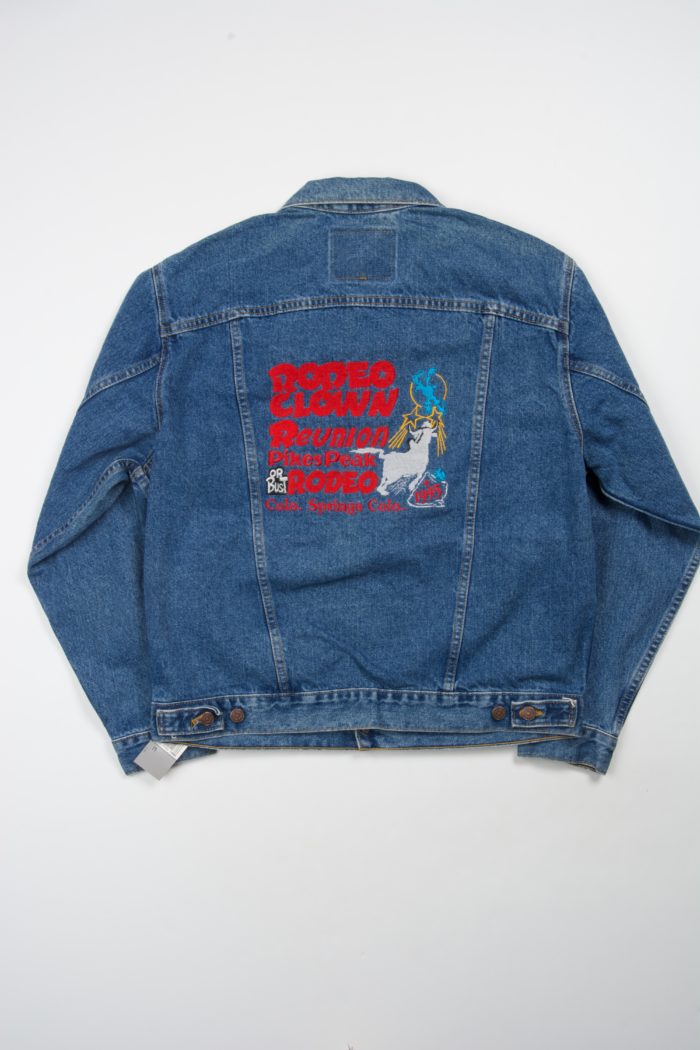 Photo Caption: In 1995, LS&Co. came to the rescue during a reunion of rodeo clowns in Colorado Springs. After another jeans maker had dropped the ball, LS&Co. came through with customized mugs, Levi's® trucker jackets, and t-shirts. The Levi Strauss & Co. Archives maintains one of the trucker jackets in its collection.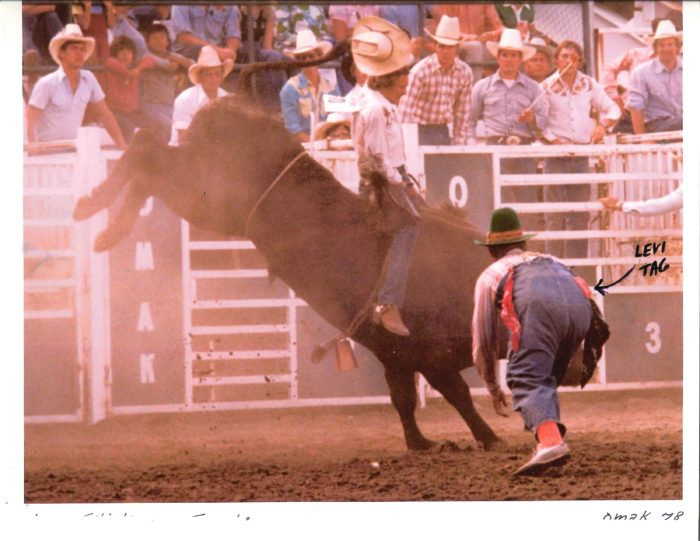 Photo Caption: Rodeo clown George Doak, pictured in his Levi's® jeans with an oversized Red tab, entered the arena on foot to distract a bull from a fallen rider, coming face-to-face with the massive animal (1978).
ABOUT THE AUTHOR
Tracey Panek is the Historian for Levi Strauss & Co. where she manages the day-to-day workings of the Levi Strauss & Co. Archives as a key corporate asset, answering historical questions, assisting designers, brand managers, executives and other employees whose work requires historical materials in the Archives.
Prior to joining LS&Co., Tracey spent 14 years as Historian and Archivist at AAA Northern California, Nevada & Utah where she managed a corporate history program for the 100+ year old company. She began her corporate history career at AirTouch Communications—today Verizon and Vodafone—a San Francisco based company that launched cellular service at the Los Angeles Olympics in 1984.