March 3, 2016
I recently traveled to Moscow to share the story of the 501®—the world's first blue jeans, and the blueprint for every blue jean today. The 501® began in the American West as a working man's waist overall. Levi Strauss and Jacob Davis patented the idea for these riveted work pants in 1873 in San Francisco. Over 140 years later, 501® jeans can be found all over the globe from Mumbai to Moscow, although the history of the 501® in Russia—the former Soviet Union—is unusual.
Cold War Blues
During the Cold War, the United States and the Soviet Union signed an agreement to increase cultural contact between the two countries. The 1958 order aimed to ease tension between the rivals through exhibitions, "an effective means of developing mutual understanding." Both nations agreed to host exhibitions from the other country. In 1959 the United States Information Agency coordinated the American National Exhibition, which was sent to Moscow. Vice President Richard Nixon opened the exhibition on July 25.
Included in the displays of American culture, science, and technology was a booth created by Levi Strauss & Co. filled with 501® jeans and Western-themed advertising. Staffers wore jeans and cowboy shirts, and entertainers in 501® jeans were hired to treat the crowds to some down-home American music.
Although jeans were frowned upon by Soviet officials as symbols of decadence and western imperialism, the products on display had to be replaced almost daily. As described in a September 1959 press release by the international press service R&F Features, "Eager Soviet visitors handled – and occasionally helped themselves to – display samples of the all-American denim pants."
Black Market Jeans
Levi's® jeans were a coveted, but forbidden, capitalist item in the Soviet Union for the next thirty years. A 1984 Christian Science Monitor article described the demand for 501® jeans that helped fuel a black market:
It is not unusual to enter a subway car and see the majority of men and women – and 80 to 90 percent of the young generation – wearing blue jeans. Of those wearing American brands, Levi's seem to be the most in evidence…
"Dad bought his first 501®s on the black market in the 1970s," a young man named Dmitri, who I met after my presentation to employees at LS&Co.'s Moscow office, told me proudly.
Buying blue jeans on the black market was also a common experience for my tour guide through the Kremlin. After a stop at Red Square and a quick photo in front of colorful St. Basil's Cathedral with an 1890 501® jean from the Levi Strauss & Co. Archives, I headed to GUM, Moscow's famous department store. A family eating ice cream stood next to several shopping bags: hot pink, aqua, black, and a familiar indigo blue with a red Levi's® logo. GUM boasts a Levi's® store and this family was stocking up on 501®s—something possible in Russia once the Berlin Wall fell in 1989.
Meet Me in Moscow
Meeting with journalists in Moscow, I showed off several 501® jeans that I hand carried from the Archives in San Francisco. The 1944 501® Commodore jeans with an unusual "chap shadow," the imprint left from leather chaps often worn by cowboys, seemed appropriate to share after reading a recent New York Times article describing how Russians are learning the art of the cowboy from American ranch hands. Perhaps today's Russian cowboys could take a cue from American cowboys of yesteryear and dress in Levi's® 501®s. The durable denim could also insulate against the bitter Russian winters that I experienced during my visit.
I ended my press interviews in Russia by sharing a letter from a happy Moscow customer, a woman named Larisa Popik, who wrote us in August of 1991:
A man hasn't very much happy minutes in his life, but every happy moment remains in his memory for a long time. I'm not the fanatic of clothes, but the buying of Levi's® jeans (501) is one of such moments in my life. I'm 24, but while wearing your jeans I feel myself like a 15-years-school-girl, I feel myself like a graceful, slender and beautiful girl. Thank you very much for such comfortable, soft, light, and nice jeans. Good luck to your kind and necessary business!
ABOUT THE AUTHOR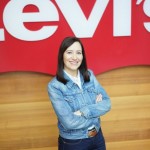 Tracey Panek is the Historian for Levi Strauss & Co. where she manages the day-to-day workings of the Levi Strauss & Co. Archives as a key corporate asset, answering historical questions, assisting designers, brand managers, executives and other employees whose work requires historical materials in the Archives.
Prior to joining LS&Co., Tracey spent 14 years as Historian and Archivist at AAA Northern California, Nevada & Utah where she managed a corporate history program for the 100+ year old company. She began her corporate history career at AirTouch Communications—today Verizon and Vodafone—a San Francisco based company that launched cellular service at the Los Angeles Olympics in 1984.
Like this story?
Sign up for the Unzipped newsletter to get the best of the Unzipped blog — company news and views, employee profiles, innovation and sustainability stories, behind-the-scenes and Archives highlights — sent straight to your inbox weekly.