February 4, 2016
Before digging into the chips and salsa for Sunday's Super Bowl 50, take a trip down memory lane with your favorite jeans company. At Levi Strauss & Co., we've celebrated the All-American game of football with our unique style and flare for decades. Here's a look at a few fun football flashbacks:

Frankie Albert—the first 49ers quarterback—was featured in a Levi's® promotion.
In 1950, LS&Co. created a promotion featuring a smiling sports star dressed in a red and black plaid Levi's® shirt. "Today's best buy in a wool shirt," the advertisement touted, "tailored by the makers of Levi's® Overalls." The model? Frankie Albert—the San Francisco 49ers' first quarterback. In college, Frank Cullen "Frankie" Albert led the 1940 Stanford University football team to an undefeated season and the Rose Bowl. After serving in the Navy during World War II, he returned to join the 49ers in their 1946 opening season. He also threw left-handed.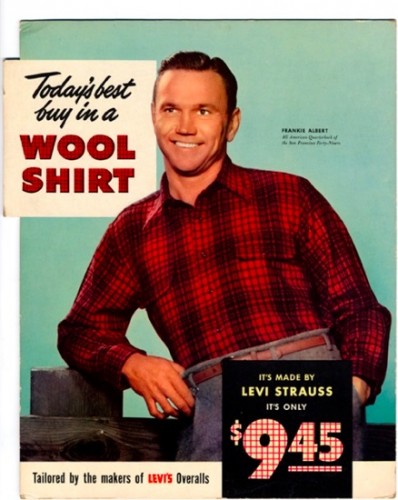 Don't Mess With Denim
In 1956, the Hardin-Simmons University Football Team from Abilene, Texas travelled via plane—a novelty in those days—to a game outfitted in Levi's® jeans. The team gathered on the tarmac in front of an American Flyers plane to pose for a photo dressed in blue denim. Many players traded out their letterman's jackets in favor of Levi's® denim jackets and most players also sported cowboy hats.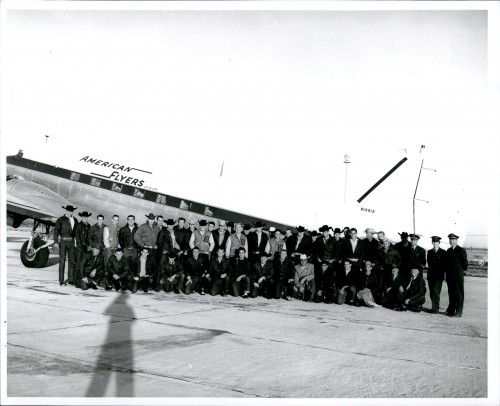 Playing Football in Jeans… 
In the 1950s, Levi Strauss & Co. appealed to a growing youth market by promoting Levi's® jeans as appropriate wear for football and other sports. Into the 1960s, teenagers began appearing frequently in advertisements. Promotions featured teens dressed in original 501® jeans, stretch Levi's® jeans and pre-shrunk jeans. One 1963 teen promotion challenged football players to test their "passing arm" in the "Levi's Quarterback Contest." Sportswear catalogs also highlighted blue jeans for teen football players.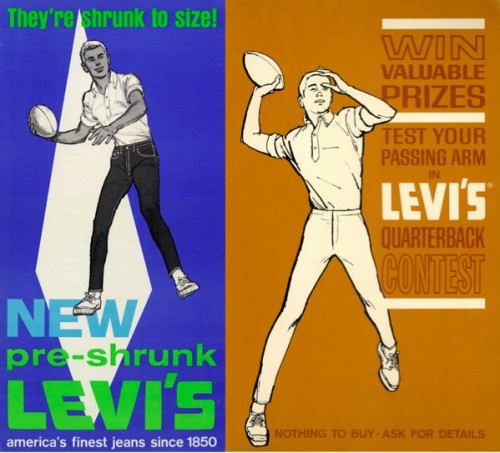 …And Watching Football in Jeans, too.
Flash forward to the 1980s, when Levi Strauss & Co. introduced the Stadium Pant. The fit fashioned a zipper fly, comfortable elastic waist with drawstring, on-seam side pockets, easy care fabric and a wallet-sized back pocket. It was the perfect pant for the comfort-seeking football fan. In 2016, we have a few more options for fan gear.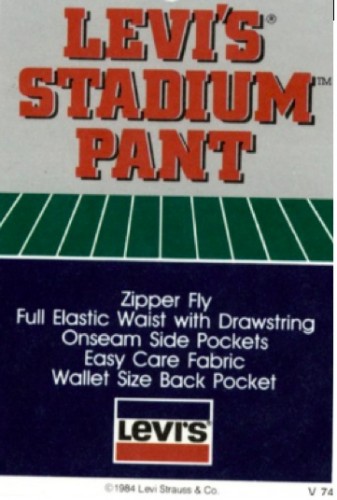 The Dockers® Brand Game-Changing Super Bowl Ads
The Dockers® brand has launched a number of innovative commercials during Super Bowls past. During the 2002 Super Bowl, The Little Black Dress commercial aired, showing men at a cocktail party all wearing black dresses except for one lone man dressed in Dockers®. During the same year, a survey revealed that 7 out of 10 American males owned at least one pair of Dockers®. Dockers®, the ad implied, had become as essential to the man's wardrobe as the little black dress was in a woman's wardrobe.
Dockers® aired its Wear the Pants® advertisement at another Super Bowl eight years later. The 2010 ad features men dressed only in underwear and shirts as they march over a hill singing, "We Wear No Pants." The memorable Dockers® commercial became the most searched term on Google for two straight days after the Super Bowl.


ABOUT THE AUTHOR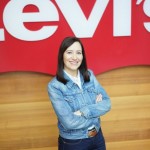 Tracey Panek is the Historian for Levi Strauss & Co. where she manages the day-to-day workings of the Levi Strauss & Co. Archives as a key corporate asset, answering historical questions, assisting designers, brand managers, executives and other employees whose work requires historical materials in the Archives.
Prior to joining LS&Co., Tracey spent 14 years as Historian and Archivist at AAA Northern California, Nevada & Utah where she managed a corporate history program for the 100+ year old company. She began her corporate history career at AirTouch Communications—today Verizon and Vodafone—a San Francisco based company that launched cellular service at the Los Angeles Olympics in 1984.
Like this story?
Sign up for the Unzipped newsletter to get the best of the Unzipped blog — company news and views, employee profiles, innovation and sustainability stories, behind-the-scenes and Archives highlights — sent straight to your inbox weekly.