December 21, 2015
For cycling aficionados, or believers in the "bicycle-as-art" school of thought, it's likely that you've heard of Ira Ryan and Tony Pereira. For everyone else, they are the two-man team behind Breadwinner Cycles, a Portland-based business with a fervent international fan base for their award-wining handcrafted frames.
Ira and Tony build high-end customized steel bicycle frames, and they both believe they've gotten to where they are by following their passions. Or perhaps more aptly put, by biking after them.
Ira grew up in the Midwest and started biking at a young age: "Cycling was my first sense of freedom, and is a huge part of who I am." As a teenager, he worked in bike shops, learning the mechanics and getting hands-on experience in repairing and building frames.
Ira has done a little bit of everything in the cycling world, from road racing to cyclocross to grueling long-distance tours. He has ridden in – and won – long-distance races on bikes that he built himself. After moving to Portland in 2005, Ira worked as a bike messenger for five years; however, he found that he missed creating things with his hands.
"I started off with no intentions of creating a business or starting a brand, but I built one frame, and ended up building a couple more for customers and friends, and just built from there." He set up a one-man shop, Ira Ryan Cycles, and was building bikes one at a time, from start to finish, until 2010 when the cycling clothing brand Rapha came knocking on his door with a proposition.
Meanwhile, Tony had followed a similar path to becoming a frame builder. With a background in BMX and mountain biking, he worked for many years in retail bike and ski shops. But eventually, he felt he needed a change: "I found myself working in a bike shop in my 30s and getting burnt out. At some point, I realized I had the skills and some of the tools to start building bicycles. Once I realized I could do it, I knew that this is what I wanted to be doing with my life. It was an exciting moment." Similar to Ira, Tony's first orders for Pereira Cycles soon began flowing in through word of mouth.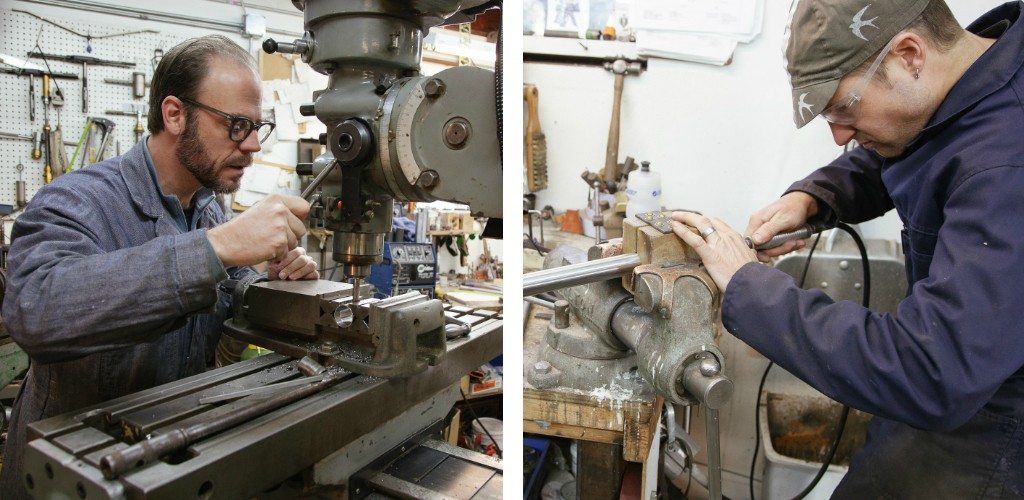 Photo: Tony (left), Ira (right), photos, including feature photo, by Daniel Wakefield Pasley
Bringing Home the Breadwinners
While both Ira and Tony had separately starting building bikes around 2005 in Portland, each gaining solid reputations for being high-quality frame builders, it wasn't until Rapha brought them together to collaborate on a bike in 2010 that they realized that building a bike business could be a team sport. "Originally, we didn't really have intentions of striking it out as a full-blown brand and company. It was just an exercise to collaborate on this project, but we found we liked working together as a team," said Ira.
The union of two of Portland's most respected and well-known "master-builders" naturally piqued the community's interest. Together, they have decades of experience in the bike industry and have personally designed hundreds of bikes. Tony and Ira unveiled Breadwinner Cycles in 2013, and today operate out of two small shops in North Portland. Working together, they are proud to be bringing a small part of bicycle manufacturing back to the United States, and are poised to become Portland's flagship bicycle company.
The Nuts and Bolts of Custom Bikes
Describing the custom bike process, Ira and Tony seem to have seen it all. "People love making bikes their own," said Tony. "The more you get into biking, the more you tend to get into customizing. And a fully customized bike is the ultimate extension. People come to us pretty far along in their bicycle nerdom." For others, a custom-made bike is not just about wanting something cool, but a necessity, built to fit a variety of physical types, including people who are above average height or have back problems.
The process starts with an interview with the bike-owner-to-be, and Breadwinner offers nine base models. "A lot of the process is just as custom as the bikes are," said Ira. "Some people really want to know and be involved in every step of the process, whereas others are much more hands-off and a little lower maintenance. It really varies."
Working in a small team, it takes about 10-15 hours to build each bike, whereas Ira estimates it took about thirty hours per bike back when he was doing it all on his own. The growth in orders and extra hands means the process can also be made more efficient and streamlined. In one week, the Breadwinner team builds about 10 bikes at a time in batches, instead of one bike start to finish. From the time of order, completely customized bikes are shipped in 8-12 weeks.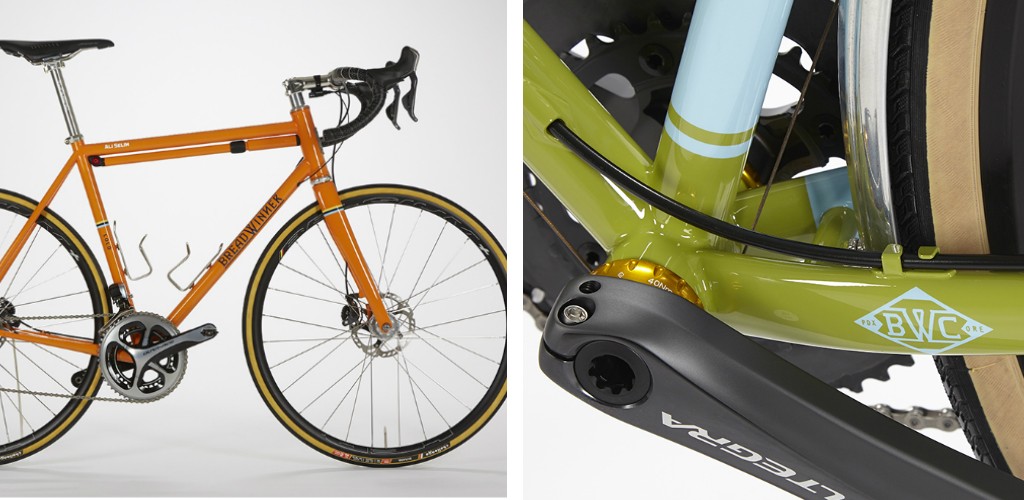 Photos courtesy of Breadwinner Cycles
Steel is Real
Another unique aspect of Breadwinner Cycles is that they build their frames entirely out of steel. "Some people see steel as a very old technology, but there are a lot of really interesting inroads being made in steel technologies," said Tony.
"Steel is relatively light. It's easy to work with. It's relatively inexpensive. And it's repairable, which is a big part of it," said Ira. "We want to design our bikes to have the best and the latest technology available, so that people can own them for a really long time. If you're buying a bike and it can only fit parts that were made 10 years ago, it's affecting how you're going to live with that bike. And the steel that we use on our bikes is amazing. It's like a rocket ship compared to what was available 70 years ago, or even 30 years ago." Tony cites that metallurgy keeps advancing in large part due to the automotive and aerospace industry, a fortuitous result for steel bike builders.
In addition, Ira adds that there's more at stake when it comes to using materials other than steel: "Aluminum requires a lot of energy to make, and it's the same with titanium. It's dense and it scratches. Carbon fiber frames are mass-produced and are not recyclable, so what will you do with once it breaks? Ours just aren't as disposable."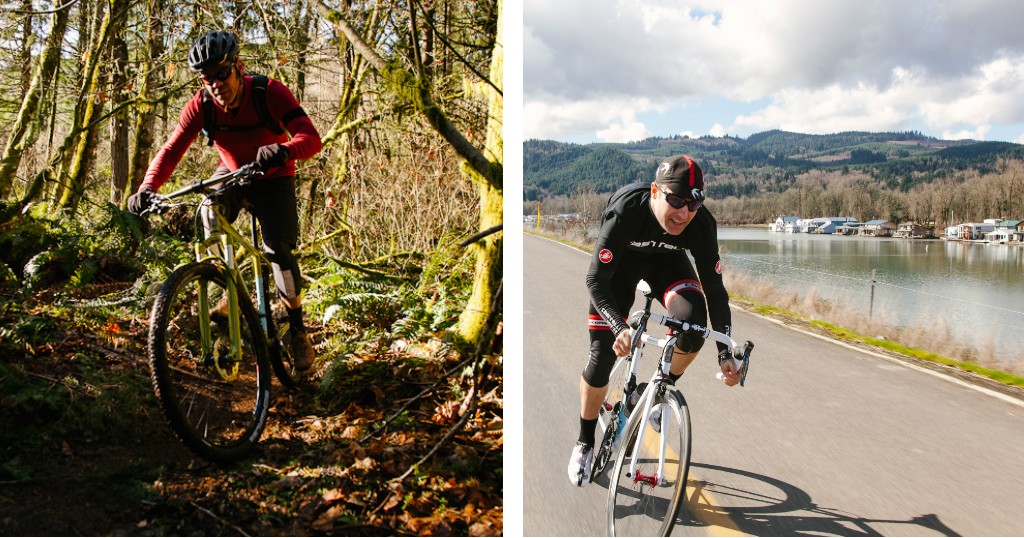 Photos courtesy of Breadwinner Cycles
For the Love of Biking (and Levi's®)
What continues to fuel their passion and craft of this Levi's®-wearing duo (both Ira and Tony are big fans of their Levi's® Commuter™ jeans, and wear them day in and out — whether out riding or working in the shop)? "It sounds corny, but a bicycle really does give you this freedom," said Tony. "People are realizing that instead of getting angry and road-raging on their way to work, they can be free from their cars, and it's such a refreshing feeling."
Ira agrees: "I love the idea of building something that somebody can have an amazing adventure on, whether they're riding just a couple of hours from the house or around the world on a bicycle tour. It's a powerful thing to know that I had a small hand in how that person is experiencing the world around them."
For Tony, it also comes back to the moment he first rode a bike he built: "We can talk about how efficient bikes are as a form of human transportation, but what it really comes down to is they're just fun to ride. We love sharing that thrill with people. I still remember vividly the first time I rode the first bike that I made — it was just magic to have that feeling, and I feel like we're passing that on to our customers every time we send a bike out the door."
This is part of an ongoing series designed to feature people who are changing the world. Our Modern Day Pioneers are impacting everything from culture to social issues to the environment, and they're challenging the status quo in unique ways. We hope these stories will inspire and empower you to live your life to its fullest in Levi's®. 
Want more stories like this? Sign up for our weekly Unzipped email or view more stories from our Modern Day Pioneers series.