November 20, 2015
Imagine a mother, lovingly raising her young son. Her name appears on his birth certificate, and she's cared for him since the day he was born. And then, abruptly, she's no longer allowed to care for the child she loves so dearly — simply because the laws in her state don't fully protect LGBT families.
Stories like this one can be found in states across the country. National Center for Lesbian Rights (NCLR), through its #Equality4Families campaign, is trying to reverse this injustice. Launched in August, following the United States Supreme Court's decision affirming the right to marry nationwide, the campaign aims to raise awareness about parental rights and recognition that many LGBT parents are still struggling to achieve despite this landmark ruling.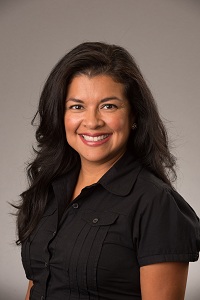 Storytelling is an integral element of the #Equality4Families campaign because it brings to life the everyday struggles LGBT families encounter due to the country's patchwork of family laws that vary by state. That's why Arcelia Hurtado (pictured right), NCLR's senior policy advisor is lending her voice — and her story — to the campaign. A five-year participant in Levi Strauss Foundation's Pioneers in Justice initiative, Arcelia embraces an unerring commitment to embracing marginalized groups and widening the contours of justice.
"Personal stories are powerful because they connect us to a common human experience," Arcelia said. "This makes it harder to rob any person of that humanity. All parents can identify with the sacrifice and love that it takes to raise children. Highlighting real stories of parents facing additional challenges illustrates in a concrete way what we mean when we say 'equal protection' or 'due process.'"
In some cases, LGBT families face challenges in publicly discussing personal experiences and struggles — sometimes it's not safe or it may not be prudent due to ongoing litigation. NCLR is sensitive to these issues and, where necessary, has used anonymous forms of storytelling to protect families.
Arcelia doesn't face the constraints faced by many other parents, and is sharing her perspective as a recently divorced parent of two young boys.
"Telling my personal story illustrates the rights we all deserve in a concrete way. My hope is that it will also spur change where it is needed most," she said.
Arcelia will publish a blog post on the Huffington Post, which also will be translated into Spanish and disseminated to Spanish-language media to reach rural and Spanish speaking audiences.
"My goal is to inform Spanish-speaking audiences that our community cannot rely on marriage to protect their parental rights," she said. "The Huffington Post piece also seeks to reach allies and the general public and educate them about the fact that state laws still discriminate against LGBT parents despite marriage equality and is an important issue that we must all still fight to rectify."
The issues NCLR's campaign addresses impact Arcelia in a deeply personal way, but she also believes equality is important for all families because the experience of parenthood is so universal.
"Every person can understand that it's not fair for LGBT parents to receive less parental protections than other parents simply because they lived in a state where they were not able to get married until after their children were born, or because they are non-biological parents traveling to a state with lesser protections than their home state," Arcelia said. "None of us wants children to be discriminated against simply because of who their parents are."
Arcelia hopes her stories and others like it will help people realize that this is an important issue that will require collaboration to remedy, regardless of being gay or straight, married or unmarried, biological parent or non-biological parent, or living in a state with greater protections than another.
"I am privileged to live in a state where I am afforded full and equal protections as a parent and my children will never have to worry about being robbed of a parent for any arbitrary reason," she said. "But this privilege means that I have a responsibility to ensure that no other parent or child is discriminated against. Telling my personal story illustrates the rights we all deserve in a concrete way. My hope is that it will also spur change where it is needed most."
Want to support LGBTQ parental rights?
Get informed by visiting NCLR's website at www.nclrights.org and read about the #Equality4Families Campaign. The Campaign page has multiple resources, information and the number for a helpline for those needing assistance. People can also donate to NCLR to support this important and ongoing work to achieve equality for all families. Finally, people can lobby legislators and support legislation to bring their state's laws into compliance with our Constitution.
Feature photo provided by NCLR: Debbie Chin is among NCLR's plaintiffs challenging the State of Florida's refusal to acknowledge them as parents on their children's birth certificates.
Like this story?
Sign up for the Unzipped newsletter to get the best of the Unzipped blog — company news and views, employee profiles, innovation and sustainability stories, behind-the-scenes and Archives highlights — sent straight to your inbox weekly.