October 22, 2015
When curator Mark Jensen began working at the historic Dangberg Home Ranch in Minden, Nevada, he spent days inventorying artifacts, ultimately uncovering a large trunk in the attic that had remained locked for a century. The trunk was a time capsule, revealing a moment in a family's history that was both touching and heartbreaking. I recently visited the park near Reno to see the trunk and its Levi's® contents firsthand.
Dangberg Home Ranch was founded by German immigrant Heinrich F. Dangberg where generations of his family lived and prospered. Set in Carson Valley — east of Lake Tahoe and one hour south of Reno, Nevada — the park is surrounded by open fields and mountains. The homestead is adjacent to a working cattle ranch, and I missed the turn-off on my first pass. I finally spotted the dirt road entrance, passing by two tractors plowing the neighboring fields.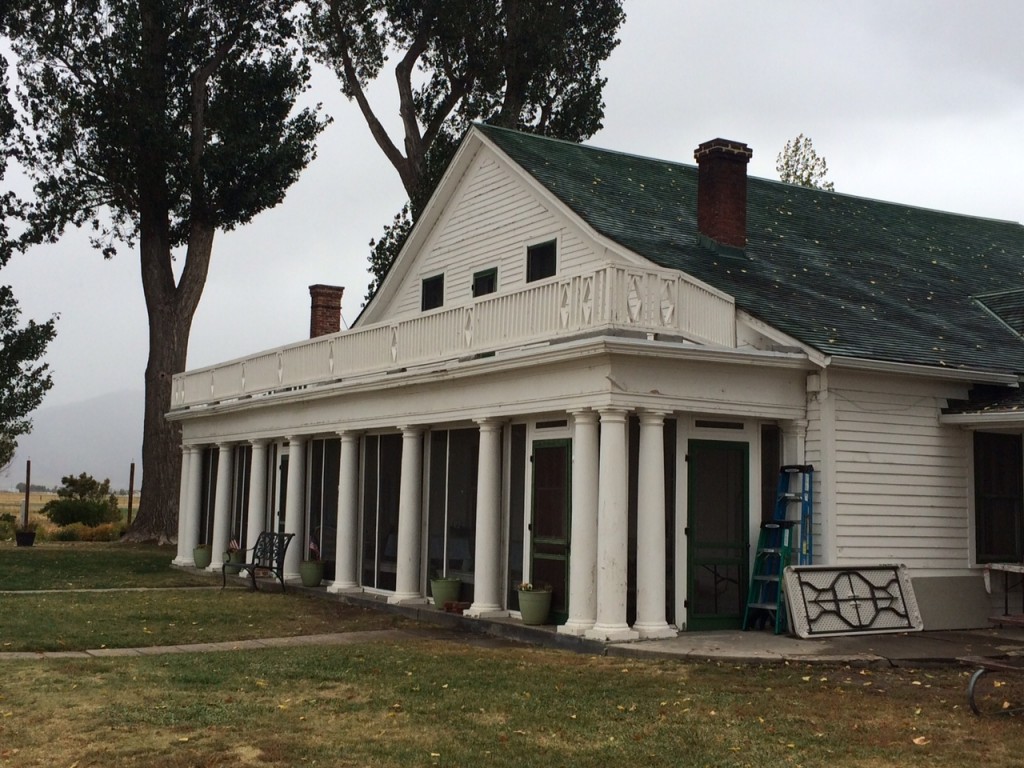 H.F.'s story of immigrating to America parallels the story of Levi Strauss. Born in Germany, both men settled in the western United States in 1853. While Levi Strauss established a dry goods wholesale business, H.F. built a ranching empire. His children went on to found the town of Minden, provide capital for a bank and hotel, and they even financed the expansion of the railroad from Virginia City, Nevada — home of the Comstock Lode — to Minden.
Mark took me through the ranch house, pointing out clothes on display that were typical of a successful ranching family. The women wore dresses from fashionable stores like I. Magnin in San Francisco along with stylish hats and jewelry. In contrast, ranch hands rounding up cattle dressed in sturdy Levi's® jeans for their rough physical work. By the 1940s, one of H.F.'s descendants, Katrina, followed suit by dressing in her own Levi's® blue jeans, a decade after LS&Co. introduced the first blue jeans for women, in 1934.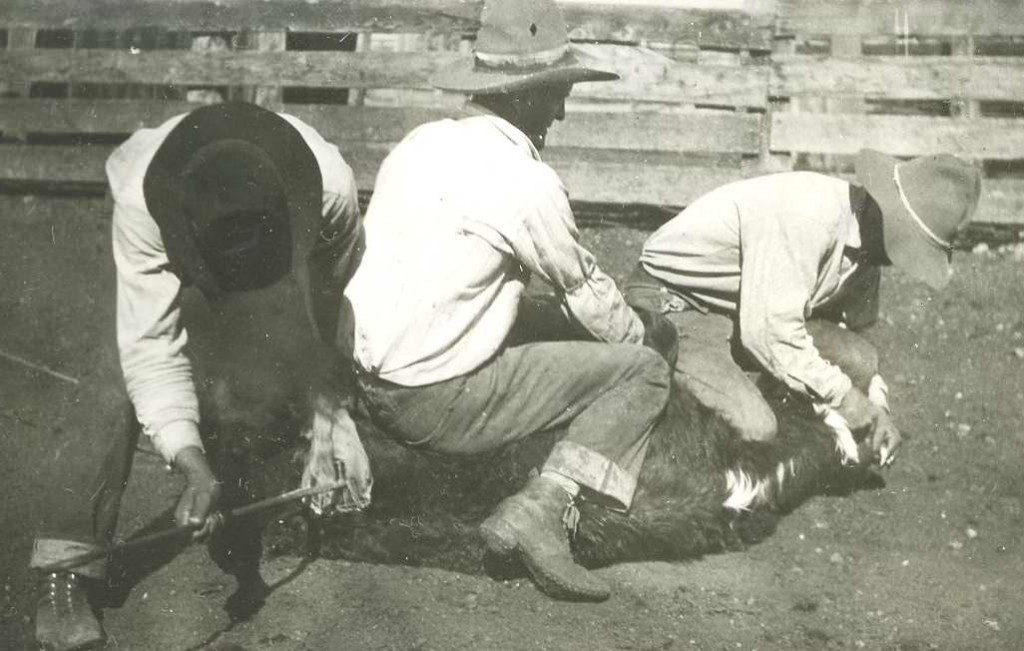 Mark did a great job of telling the Dangbergs' story through the clothes and artifacts on display, but I wanted to see the vintage Levi's® overalls he had found in the trunk. I spotted the trunk on the floor of a bedroom filled with photographs, children's toys and books. A small mannequin stood close by, dressed in a red striped shirt and blue denim overalls. The clothes belonged to Dwight Dangberg, oldest child of Fred and Gertrude Dangberg, who died in 1904 of scarlet fever at the age of five. The family must have been devastated. After Dwight's passing, they packed his belongings in the trunk, storing it out of sight in the attic, where it remained for a century.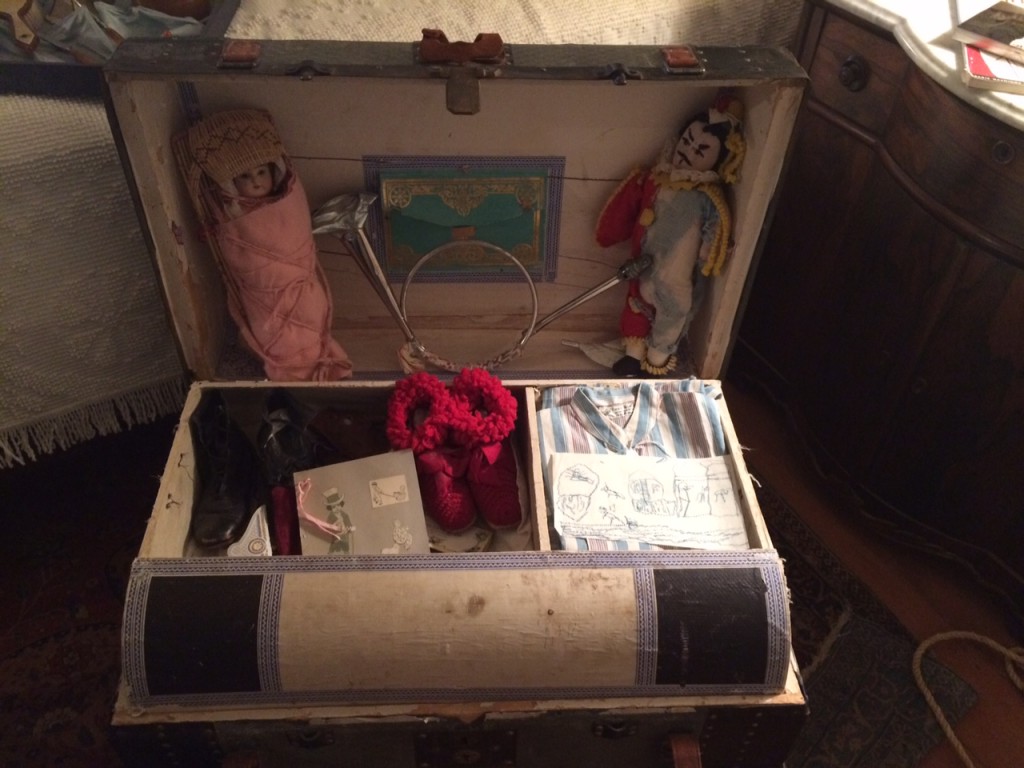 The hidden Levi's® overalls typify early Levi Strauss & Co. children's wear while also revealing the story of young Dwight. The overalls show wear, patched on both knees where the youngster may have knelt. Dwight would have played with the same toys in the room, from board games to a wooden rocking horse. A photo of Dwight wearing the overalls outdoors, holding a friend's hand, filled me with melancholy. I imagined the youngster running through the open fields, chasing after a dog or a cat. Whatever his activities, Dwight's overalls were worn, mended and worn again, holding up almost as good as new.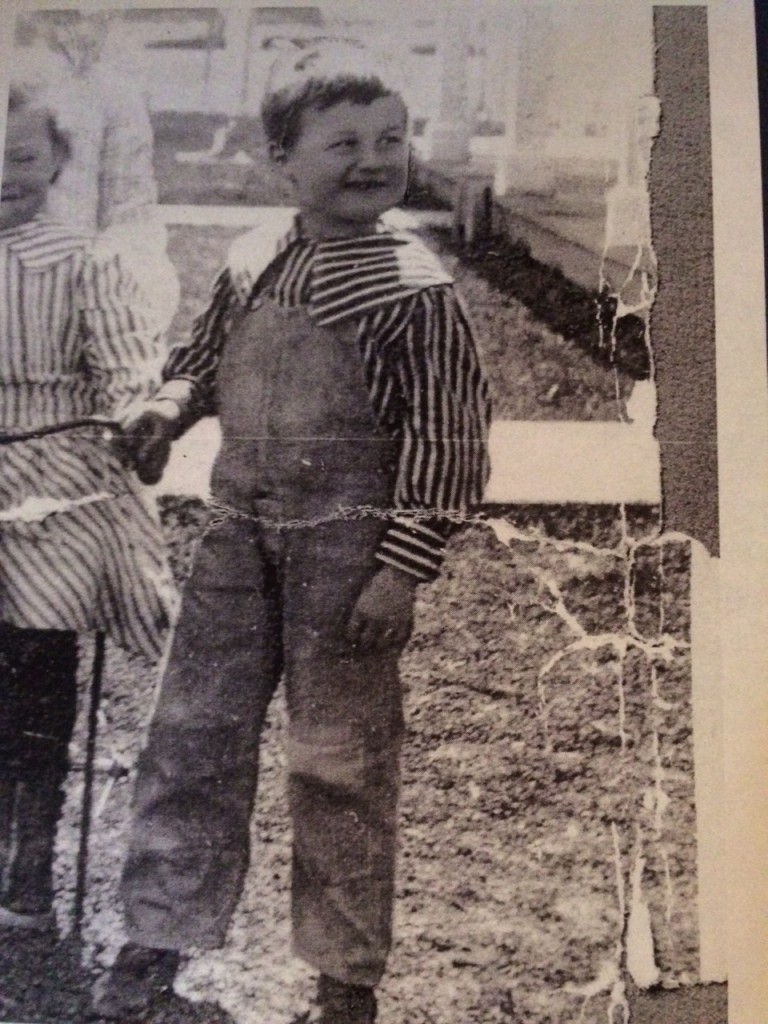 Here are the details of the Levi's® overalls locked away in an attic trunk for 100 years at Dangberg Home Ranch:
Lot 271 Children's Bib Overalls (Lot 201® was first introduced in 1890 as a second-tier value product compared with the 501®), rivets on the top and bottom of the fly, patches on the knees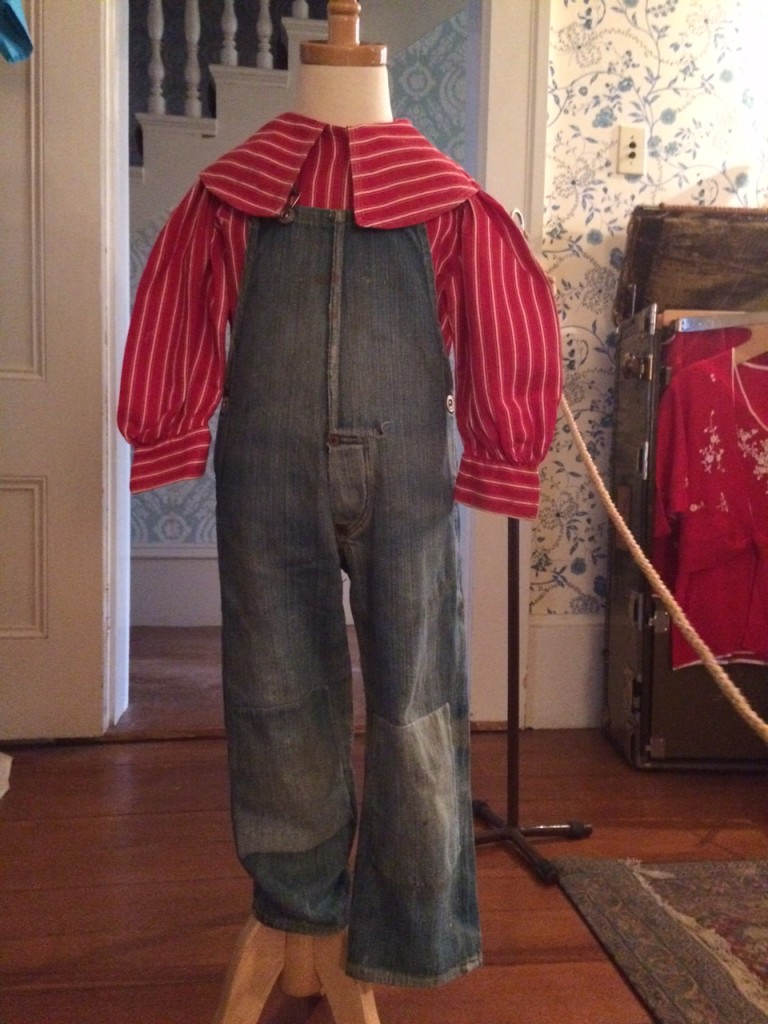 White linen patch with LS&Co.'s Two-Horse Pull trademark, size 23×18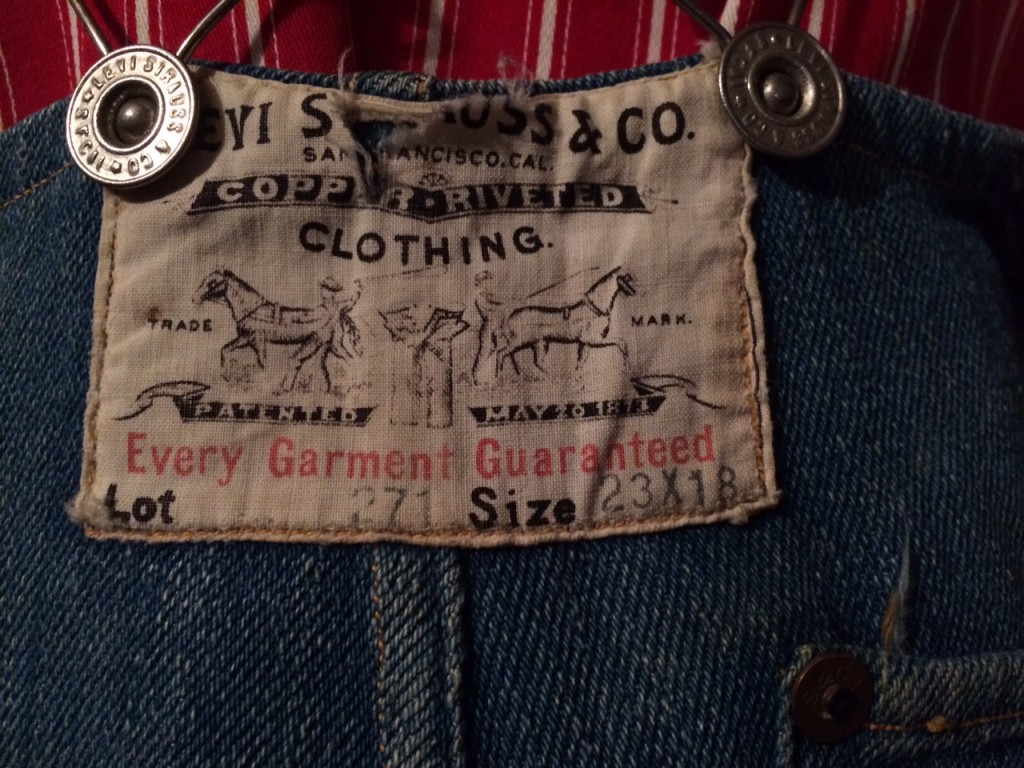 One riveted back pocket (customized by the family with an added vertical seam — perhaps a slot for a stick or toy)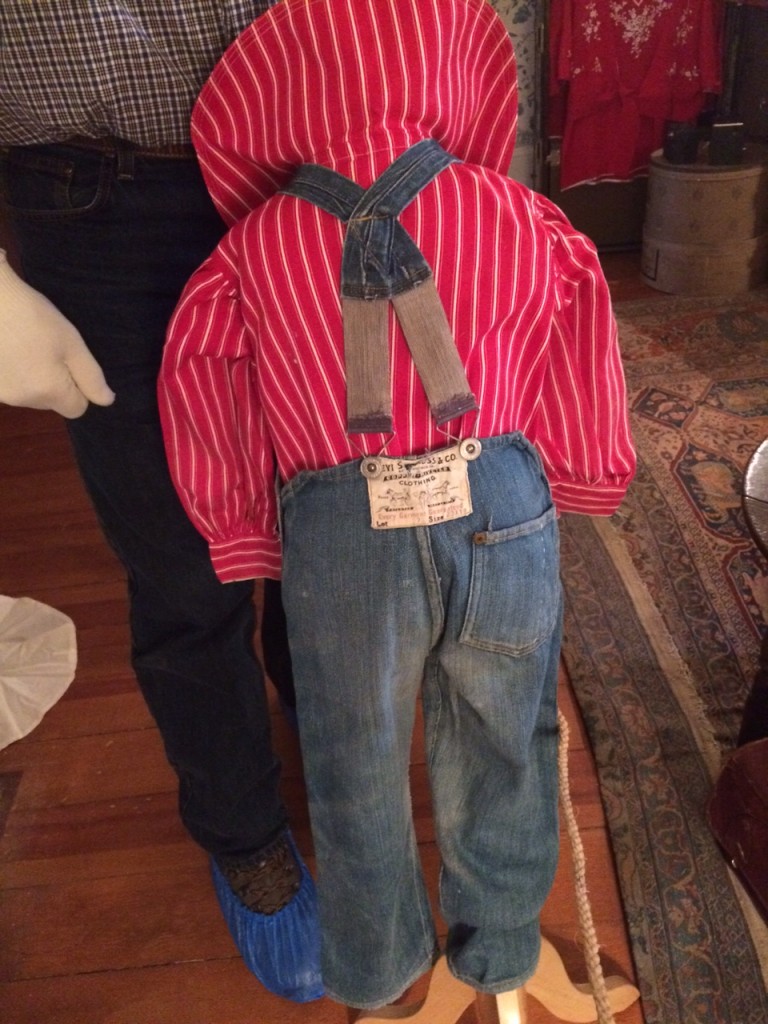 ABOUT THE AUTHOR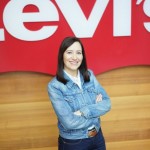 Tracey Panek is the Historian for Levi Strauss & Co. where she manages the day-to-day workings of the Levi Strauss & Co. Archives as a key corporate asset, answering historical questions, assisting designers, brand managers, executives and other employees whose work requires historical materials in the Archives.
Prior to joining LS&Co., Tracey spent 14 years as Historian and Archivist at AAA Northern California, Nevada & Utah where she managed a corporate history program for the 100+ year old company. She began her corporate history career at AirTouch Communications—today Verizon and Vodafone—a San Francisco based company that launched cellular service at the Los Angeles Olympics in 1984.
Like this story?
Sign up for the Unzipped newsletter to get the best of the Unzipped blog — company news and views, employee profiles, innovation and sustainability stories, behind-the-scenes and Archives highlights — sent straight to your inbox weekly.