October 1, 2015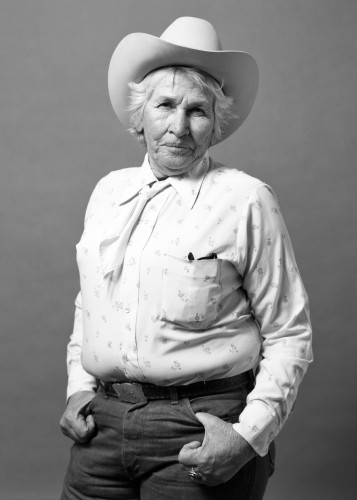 Cowgirl poet Georgie Connell Sicking's life reads like a Louis L 'Amour Western novel. She was born and raised on a ranch in Arizona 40 miles from the nearest town. "I broke my first horse when I was nine," she recalled. "I've been bucked off, drug and fell on." I recently interviewed Georgie, who opened up about taming wild mustangs, raising cattle, wrangling dudes and writing cowboy poetry — all while wearing Levi's® jeans. Recovering from a broken back at 93, Georgie inspired me with her no-nonsense attitude, fearless demeanor and philosophy about the importance of simply being yourself.
Georgie Connell was born May 20, 1921 — exactly 48 years to the day after Levi's® blue jeans were patented. This happenstance is appropriate for a Western woman who has lived in Levi's® jeans. "I always wore Levi's®," she said. "That's what I grew up in. Mother wore Levi's as well." The Connell family shopped for their jeans at their hometown merchant, Commercial, in Kingman, Arizona, east of Laughlin. "We'd wear them once new, and after that, then we'd wash them," Georgie explained. "Riding horses bareback sometimes, the underside of the Levi's® would get sweaty."
Although dresses were expected for women of her generation, Georgie loathed them. "My grandmother would make us dresses, and once in a while I'd have to wear those stupid things," she reminisced. "I still don't like them. Plus, you can't climb a fence without someone seeing your butt."
When Georgie was growing up, her mom saddled mounts and towed her three children around the ranch on horseback. "We'd go all day exploring Indian caves and swimming in the creek," Georgie remembered. "It was a free life, and never short of things to do." This sense of freedom and adventure as a child colored Georgie's future life.
A self-described tomboy, she learned to rope, ride and do everything boys her age did. "I fought my way through grammar school with my fists," said Georgie. "I fought the boys. I'm not easy to put down." This fearlessness and hard work earned Georgie a reputation as a tough cowhand. In Just More Thinking, Georgie describes a hair-raising experience roping a bull:
I have worked cattle on many different types of range. The rugged, brushy mountains of Arizona, the boggy Sinks of Nevada, and the spiney Joshua forests of California. However the worst country I ever worked in is the screw bean mesquite and cat-claw on the Colorado River on the Arizona side of the river across from Needles, California. … I went down there to brand our calves and sell a few head. There were some fellows there, all Mexicans, no women. I thought to myself, I had better prove that I was a cowgirl and capable or I'm in trouble. … A brahma cross two-year-old broke out on my side. They hollered, "Catch him!" I hit Old Blue over and under with my rope and into the tulles we flew. I roped the steer about 200 yards out in the middle of that mess. … Due to a lucky catch, for the next two weeks I was there, I was treated as a hand and a lady.
Georgie wrangled dudes for a time on a ranch in Victorville, California, saddling mounts and helping vacationers onto their horses. "Some guys would say, 'I'd rather have Georgie as a hand,' " she boasted. Wearing Levi's® jeans was popular on dude ranches in the 1930s and 1940s. In 1934, Levi Strauss & Co. introduced the first blue jeans for women. Lady Levi's®, also known as Lot 701, offered women a feminine fit with the same features as the men's Levi's® 501® jean. Despite this option, Georgie chose men's jeans. When I asked Georgie's son, Joe Sicking, about his mother's jeans, he said, "Mom has always worn men's Levi's®."
While her strength brought kudos from men, it elicited jealousy and derision among some women who openly criticized her. "They said I'd never find anyone to marry and that I would be in a wheelchair by the time I was 40," Georgie remembered. Other women warned her that her cowboy ways would leave her childless. "They'd look at me and then they'd look at my sister and say, 'Isn't it a shame?'"
Despite their predictions, Georgie married cowboy Frank Sicking and raised three children. Throughout her life, Georgie has shrugged off critics and challenges like she shrugs off her Levi's® jeans every night. "As long as I had a pair of jeans and a shirt to wear," she said, "I was all right." Georgie is unapologetic about her clothes and her looks. "I didn't have to have an evening gown or any fancy dresses," Georgie explained. "People have to accept the way that I look."
Georgie's philosophy and experiences inspired her to write poetry. She has written about cattle ranching, horses, snow storms and Western landscapes. I purchased Georgie's book of poetry for the LS&Co. Archives. Georgie's life inspires others, especially women, to be authentic and original — just like a pair of Levi's® jeans. My favorite poem of hers? One with a Levi's® link titled Be Yourself.
BE YOURSELF
When I was young and foolish,
The women said to me,
"Take off those spurs and comb your hair
If a lady you will be.
"Forget about those cowboy ways
come and sit a while,
We will try to clue you in
On women's ways and wiles.
"Take off that Levi jumper
Put up those bat wing chaps.
Put on a little makeup and
We can get a date for you, 'perhaps.'
"Forget about that roping.
That will make calluses on your hands.
And you know it takes soft fingers
If you want to catch a man!
"Do away with that Stetson hat
For it will crush your curls.
And even a homely cowboy wouldn't
Date a straight-haired girl."
Now being young and foolish,
I went my merry way.
I guess I never wore a dress
Until my wedding day.
Now I tell my children,
No matter what you do,
stand up straight and tall,
Be you, and only you.
For if the Lord had meant us, all to be alike,
And the same rules to keep,
He would have bonded us all together,
Just like a band of sheep.
© Georgie Sicking
ABOUT THE AUTHOR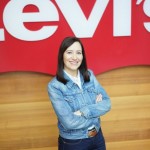 Tracey Panek is the Historian for Levi Strauss & Co. where she manages the day-to-day workings of the Levi Strauss & Co. Archives as a key corporate asset, answering historical questions, assisting designers, brand managers, executives and other employees whose work requires historical materials in the Archives.
Prior to joining LS&Co., Tracey spent 14 years as Historian and Archivist at AAA Northern California, Nevada & Utah where she managed a corporate history program for the 100+ year old company. She began her corporate history career at AirTouch Communications—today Verizon and Vodafone—a San Francisco based company that launched cellular service at the Los Angeles Olympics in 1984.
Like this story?
Sign up for the Unzipped newsletter to get the best of the Unzipped blog — company news and views, employee profiles, innovation and sustainability stories, behind-the-scenes and Archives highlights — sent straight to your inbox weekly.