September 28, 2015
Fall is a most idyllic time to gather family and friends and enjoy an afternoon outdoors, whether you're tailgating on game day (sporting your team colors) or picnicking in the park. Get your blood flowing and amp up the fun with this list of outdoor leisure games to play in parking lots, parks or your own backyard.
Here you'll find a variety of games, old and new. All have the potential to entertain kids and adults alike for hours on end, while keeping the low-stakes competitive vibe churning. Our advice as you prepare to toss, twist or spike your way to victory? Choose your playing clothes wisely, whether that's pants that are made for movement or active looks that are also stylish.
1. Bocce Ball
Bocce ball is one of the oldest of all yard games — its basics can be traced back to Egypt around 5000 BC, and records also show a bocce-like game was popular among Roman soldiers during the 3rd century BC. The present form of the game was developed in Italy. Initially it was played by Italian migrants, however, it has since become widely popular around the globe today. Bocce's rules are a bit more complex than some of our other games (here are some basic bocce rules). The gist? Each team gets four large balls, which they roll/toss/bounce in turns, trying to land as close as possible to a smaller, target ball.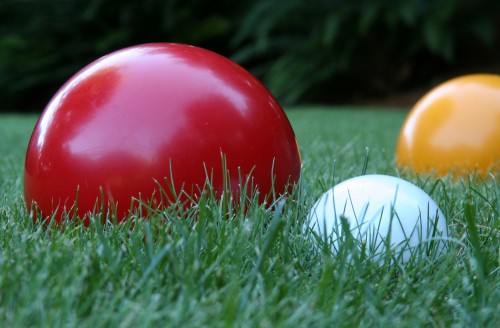 2. Horseshoes
Closely related to English pub game quoits, this classic is a game of luck and skill that can bring out the competitive streak in almost anyone. Tailgaters simply toss horseshoes (or plastic replicas) at a stake in the ground from varying distances to earn points and bragging rights.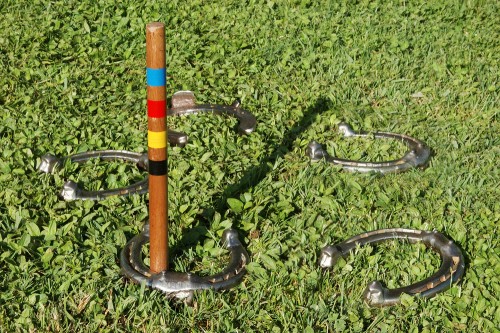 3. Cornhole
Regardless of what you choose to call it — cornhole, bean bag toss, doghouse, baggo, bags — this game is a perennial American favorite, particularly at tailgate events. The bag toss game involves two propped-up boards with holes cut in them. It's widely believed the game originated in America, and people everywhere seem to love it, from beachgoers who call it California Sandbag to serious Cornhole traditionalists (there's an American Cornhole Association). Plus, there are many fun corn-themed terms to learn as you improve. If you've never played, you'll be surprised at how satisfying the swish of a corn-filled sack flying straight through the hole can be, and you'll be hooked on throwing nothin' but corn from then. Bag on!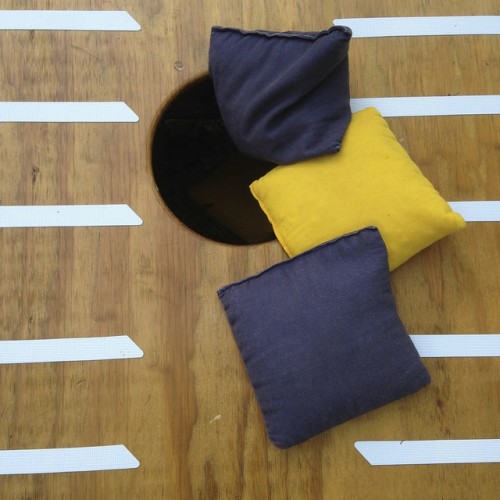 4. Giant Stacking Blocks
Why do you build me up? Stakes are raised when you super-size stacking blocks for outdoor fun. Buy them pre-made, or DIY using 2×4 boards. Take it to the next level and make sure you have a chair nearby for continued skyward stacking. Friendly heckling during your opponents' turns may also be a useful strategy. Just remember to stand clear when the tower falls!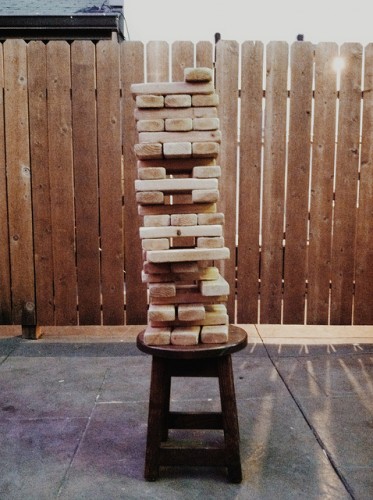 5. DIY Twister
This game requires only a few sticks of chalk or cans of eco-friendly spray paint, an optional spinner, and a few flexible friends to play. Paint rows of different colored dots on a patch of grass, or use chalk if you're playing on asphalt or concrete. Designate a Twister Commissioner to call out the directives – right hand red, left foot blue, etc. Probably a good idea to play before you load your belly full of burgers and brats!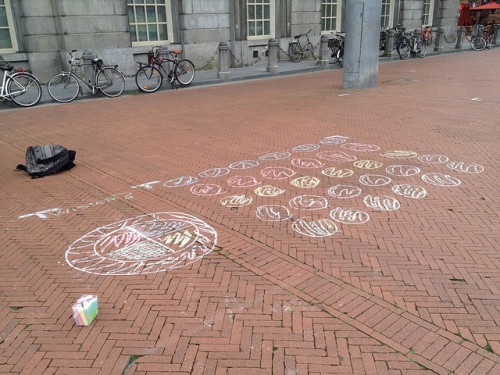 6. Trashcan Pong
Ping your friends ahead of time to be ready to play outdoor pong! Play a life-sized game of pong by using clean trashcans instead of cups and a soccer or beach ball as the ping-pong ball. For those reluctant to say goodbye to the original game's signature red cups, paint the trashcans red on the outside and white on the inside as a nod to more collegiate times.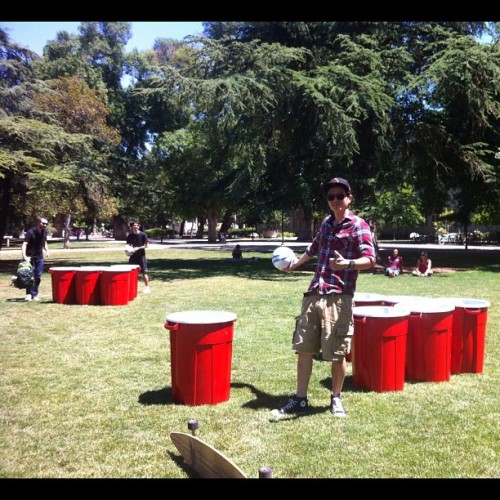 7. Ladder Toss
Ladder toss is a more modern pursuit, perhaps the younger cousin of horseshoes and cornhole. It is played by tossing a pair of golf balls attached to a nylon string (or "bolas") onto rungs of a ladder. The goal of the game is to earn points, and you get different amounts of points depending on the rung your bolas land on (the top rung is the highest-scoring). Once you get a handle on throwing, you can also work on knocking off your opponent's bolas as a defensive strategy.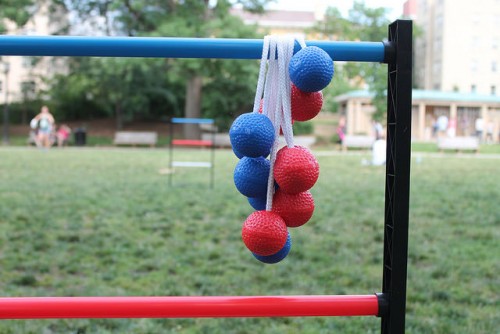 8. Polish Horseshoes
Depending on where you're located, you might also known this one by other names like Spanish Horseshoes, Frisbeener, French Darts and Beersbee. Regardless of what you call it, the goal is pretty simple: keep a glass bottle balanced on top of a stake in the ground while attempting to knock the opposing team's bottle down with a tossed frisbee. One more thing: players must be holding a drink in one hand at all times. Distance between the poles (and the type of beverage in hand) is determined by age of players and/or frisbee-throwing skill level. There's a range of DIY ways to set up the game, or you can purchase a ready-to-play set (drinks not included).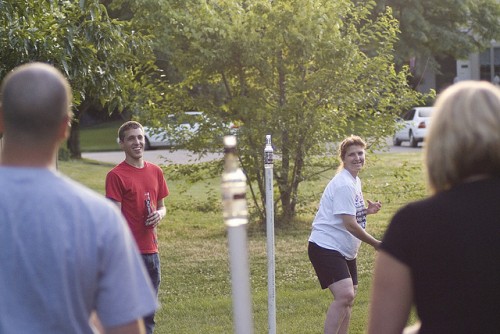 9. Spikeball
A new game on the market called Spikeball is easy to transport and play in spaces of all sizes. Players spike a ball volleyball-style at a net on the ground and opponents must return the serve by bouncing the ball back – kind of like souped-up four square. Fast-paced and engaging, this will keep tailgaters jockeying for a turn.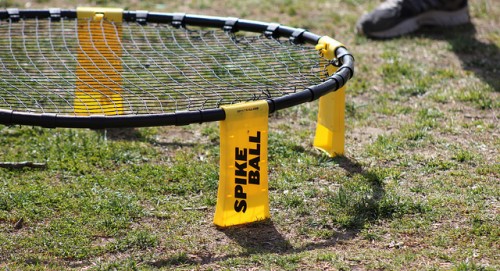 Like this story?
Sign up for the Unzipped newsletter to get the best of the Unzipped blog — company news and views, employee profiles, innovation and sustainability stories, behind-the-scenes and Archives highlights — sent straight to your inbox weekly.
Photo credits: Bart Everson via Flickr CC; Emma via Flickr CC; Ritzo Ten Cate via Flickr CC; dchantastic via Flickr CC; Elvert Barnes via Flickr CC; Ty Nigh via Flickr CC; Elvert Barnes via Flickr CC