September 10, 2015
American women joined the workforce in droves during World War II, replacing men who were serving as soldiers overseas. Known as Rosie the Riveters, these women worked as pipefitters, electricians, riggers and, of course, riveters. The shipyards at Richmond, California — just across the Bay from the Plaza — were abuzz with Rosies lending their labor to wartime industries.
Recently Richmond buzzed with activity of another sort — a Rosie the Riveter Rally designed to break a Guinness World Record by assembling 1,000 women dressed as Rosies — hair tied back in scarves and outfitted in workwear, including Levi's® jeans. For many women, wartime work was their first time wearing pants. For Phyllis Gould (below left), one of the first welders at Richmond's Kaiser shipyards, it was her first time wearing Levi's® jeans. I met Phyllis and her sister Marian (below right), another wartime worker, at the Rosie Rally. The event combined history and dress to create a pride-filled affair for the original Rosies alongside a new generation of women.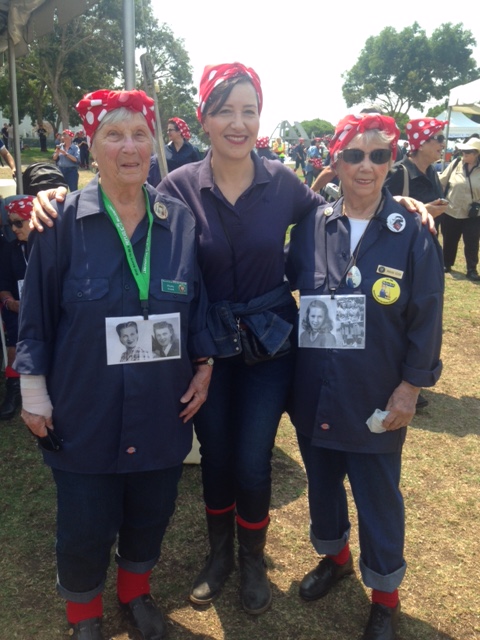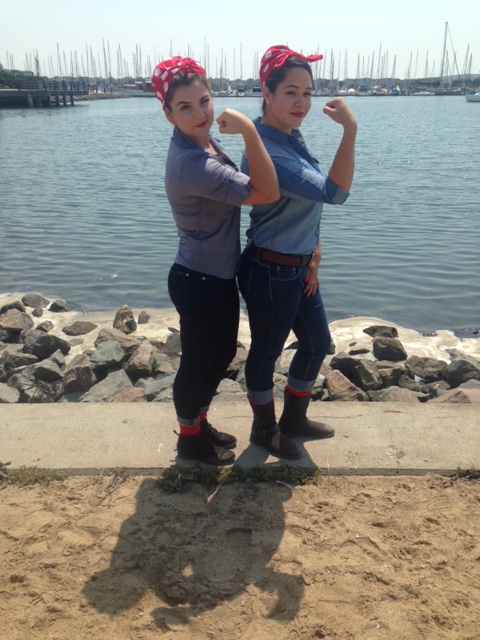 I dressed in Levi's® jeans, red socks and a red polka dot scarf and drove to the event on a sunny Saturday afternoon. Turning onto Richmond's Regatta Boulevard in search of Rosie the Riveter National Park, I spotted a car full of women in red scarves. I smiled from across the roadway and then broke out into the signature Rosie arm pump — a surprisingly empowering gesture. I noticed a woman on a bicycle pedaling nearby with a red scarf peeking out from a helmet, and a woman riding a motorcycle in denim overalls and red socks rolled in behind me.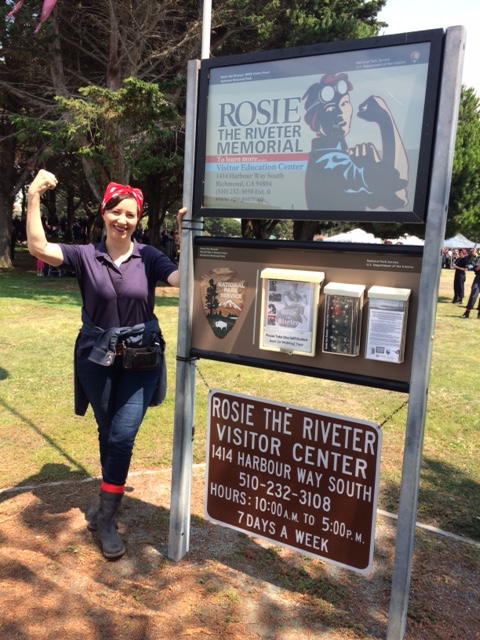 The sight of more than 1,000 women of all ages dressed in red scarves, jeans or coveralls and red socks was amazing. Rangers assisted with registration, handing me a ticket to indicate my row among the 1,000 empty chairs lined up on the grass — a systematic counting method for the Guinness World Record. Three women crooned wartime songs like "Boogie Woogie Bugle Boy" just as the Andrews Sisters had done decades earlier.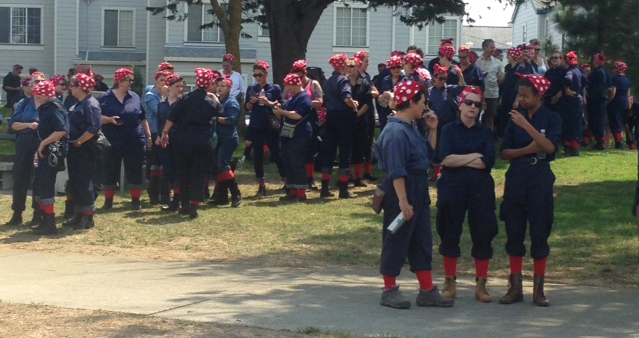 Speaking with Phyllis and Marian, who sat with other original Rosies beneath a tent, was even more inspiring than scanning the sea of assembled women. The sisters, both dressed in cuffed blue jeans for the rally, beamed when asked about their work. Now 93, Phyllis wore her Kaiser Metals photo badge from 70 years earlier pinned to her collar. Around her neck dangled a black-and-white photo of her in her twenties.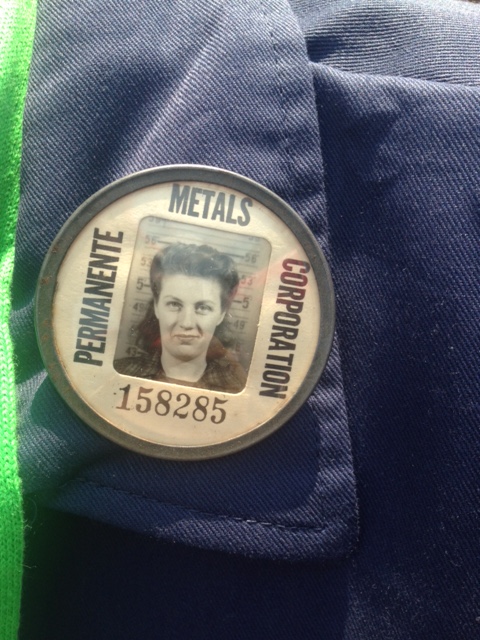 Phyllis has been instrumental in bringing attention to the key role that women played in World War II. In 2014 Phyllis and several other Rosies flew to Washington, D.C., to lunch with Vice President Joe Biden, who responded to Phyllis' letter describing the important work of the Rosies. A wartime photo of Phyllis dressed in cuffed Levi's® jeans and boots has appeared in papers across the country.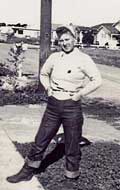 Phyllis' experience typifies the story of many Rosies who served during the war. Phyllis grew up in a logging community in Oregon and later moved to the San Francisco Bay Area. Following the December 1941 attack on Pearl Harbor, America transformed into the "homefront" with a swelling industrial workforce. Phyllis decided to join the women entering the defense industry by attending welding school. After being turned away by senior male officers several times, Phyllis eventually became one of the first women accepted into the boilermakers union.
Phyllis worked at the shipyards in Richmond, dressing every workday in Levi's® jeans — which had proven to be the perfect protective pant for working men since Levi Strauss & Co. manufactured the world's first blue jeans in 1873. "Levi's® jeans protected me from the welding sparks," said Phyllis. "I was never burned wearing Levi's®." As a journeywoman welder, Phyllis earned $1.25 an hour. Gould and other Rosies put their mettle to the metal mass-producing ships sent to the Pacific theater.
Seventy years later, Phyllis and the other Rosies stand as examples that women can accomplish anything with hard work, determination and the right pair of pants. "My son's friend attempted to work as a welder in Alaska and failed the test multiple times," said Phyllis. "I passed after my first try. My welds were often better than the men's."
Phyllis and her sister now share their stories to inspire future female workers while also demonstrating that today's women are free to "wear the pants"— figuratively and literally. Exchanging her skirt for a pair of Levi's® jeans was the first step in Phyllis supporting herself after an early divorce. Phyllis and other Rosies broke down many "work and wear" barriers that today's women often take for granted.
"We wear sunglasses because we're famous," kidded Marian as she posed in her jeans for a photo. With the first female Army rangers graduating recently, a glimpse back to a time when women were a rarity at work (or in the military) reminds us that Marian's words ring true. These early heroines made history in their work and their dress — thanks in small part to Levi's® jeans.
ABOUT THE AUTHOR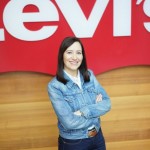 Tracey Panek is the Historian for Levi Strauss & Co. where she manages the day-to-day workings of the Levi Strauss & Co. Archives as a key corporate asset, answering historical questions, assisting designers, brand managers, executives and other employees whose work requires historical materials in the Archives.
Prior to joining LS&Co., Tracey spent 14 years as Historian and Archivist at AAA Northern California, Nevada & Utah where she managed a corporate history program for the 100+ year old company. She began her corporate history career at AirTouch Communications—today Verizon and Vodafone—a San Francisco based company that launched cellular service at the Los Angeles Olympics in 1984.
Like this story?
Sign up for the Unzipped newsletter to get the best of the Unzipped blog — company news and views, employee profiles, innovation and sustainability stories, behind-the-scenes and Archives highlights — sent straight to your inbox weekly.