May 27, 2015
The following article was originally published on LinkedIn, where LS&Co. leaders periodically share their perspectives and expertise on business trends, industry issues, careers and the workplace. Have thoughts or reactions to this piece? Head on over to LinkedIn to share them.
Great brands stand for something bigger than the products they sell. They drive a point of view based on their attitudes, values and company culture. These are brands worthy of our attention.
Today's consumers want to experience products they feel are connecting to something more meaningful. They want to support brands with values that align with their own. For example, Nike embodies the idea of achieving one's personal best, and its loyal following aspires to that aspiration. In my experience, most people have a brand they relate to on a personal level. The brands we love make that emotional connection.
At Levi Strauss & Co. (LS&Co.), we understand that apparel is more than a reflection of the current trend. What we wear is an essential form of self-expression. We believe our apparel is also a representation of the longstanding commitment towards making progress — as a business, a community, a culture — in critical areas such as sustainability, innovation and human rights.
Over the course of our history, we've stood for equality for all people in a number of ways. From being one of the first factories to desegregate in the country (before it was mandated to do so) to addressing economic equality through the Levi Strauss Foundation's involvement in the asset building movement. And this year, during this historic time, we wanted to step up our support for LGBTQ equality in an even bigger and more visible way. Levi's is once again showing our commitment to progress with a limited distribution of Pride 2015 product, the net proceeds of which will support Stonewall Community Foundation.
The collection, an expansion of our Pride 2014 product line, includes our icons and essentials including tees, our 511TM jean short and a collectible limited-run trucker jacket with patches and buttons that celebrate the early moments of LGBTQ history.
For 2015, the design team looked at the history of the gay rights movement and created a timeline that depicts critical times of change in LGBTQ communities. Ultimately, we decided to emphasize the Stonewall riots of 1969 — the first gay rights protest and the event that laid the foundation for the gay rights organizations of today.
The Stonewall Inn — the site of the Stonewall riots — still stands in New York's Greenwich Village and is a National Historic Landmark. As the pinnacle representation of the fight for equality, Stonewall was the right choice to begin this legacy for the Levi's® brand. We were on the streets then and now standing up for equality.
One of the most exciting aspects of the line is the rainbow tab we placed on the shorts and limited-run trucker jacket. Because the red tab is a major symbol of our iconic brand, we were challenged with how to do it in a way that maintains our brand identity. The rainbow tab is the first time we've introduced a new version of the tab in many years – and it's only been done a few times throughout our history. This design element exhibits how Levi's is incorporating equality into our products.
Since joining Levi's two years ago, I've continued to drive the philosophy that companies can be real harbingers of change. Their platform and the number of people they can influence are often unmatched. Over the years, we stood up for what we believe in, even when it wasn't the most popular stance.
We stand for equality for all people, but given our history in San Francisco, LGBTQ equality has always been near and dear to our hearts. In 1982, leaders and employees at the company came together to raise awareness about HIV and AIDS. Back in 1992, we were the first Fortune 500 company to grant domestic partnership health benefits — a practice now followed by many corporations and public agencies.
We've also pushed legislation in support of marriage equality. We filed an amicus curiae (friend of the court) brief with the California Supreme Court in 2007, and LS&Co. was proud to join the broad coalition of marriage equality supporters in 2013 urging the U.S. Supreme Court to recognize fundamental right of all Americans to marry. The effort proved successful.
This year, we've signed on to several marriage equality amicus briefs at the state level. We have also been advocating for the passage of the Tax Equity for Domestic Partner and Health Plan Beneficiaries Act, which would provide uniform tax treatment for all U.S employees. This is only the beginning of our push for marriage equality.
Our Pride 2015 line is the physical representation of our belief in equality for all people, and we'll continue to amplify our vision through our products, because apparel is as much about expression for individuals as it is for us.
ABOUT THE AUTHOR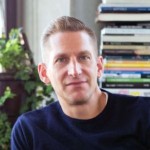 Grant Barth is Chief Merchandising Officer (CMO) at Levi Strauss & Co. He has a proven 20-year career in global brand and business development in the apparel and footwear industry. Grant joined the company in early 2013 from Nike, Inc. where he was a leader in global merchandising across many categories including sportswear, running and technical outerwear. During his 16 years at Nike, Grant spent a significant amount of time in Asia leading product development in emerging markets.