March 25, 2015
For Paul O'Neill, Head of Design at Levi's Vintage Clothing, thinking forward means looking backwards. By way of Dublin and Amsterdam, Paul recently continued his tenure at Levi's HQ in San Francisco, where he's just a quick elevator ride away from the 20,000 piece collection of historic denim garments that comprise the Levi Strauss & Co. Archives. Each season, he selects a handful of historical pieces from the comprehensive library to reissue for the Levi's® Vintage Clothing collection.
Replicating the past — as opposed to predicting what's next — is the main goal of LVC. The line was created to tell the many rich stories embedded in the 161-year old history of the Levi's brand. Therefore, maintaining the authenticity and integrity of each iconic Levi's piece is paramount.
Each collection begins with inspiration and a decision about which concept LVC will focus on. Past collections' topics have ranged from the architects and workers who constructed New York City in 1930s to the underground music scene of 1960s Detroit. As an avid record collector, Paul connects music to many of his projects. Recently, the season's theme was tied to mid-1950s Memphis, and the birth of rock 'n' roll. An inspiration trip involved visiting old recording studios and bowling alleys in the area, and the collection's color palette was created by matching vintage cars from the era.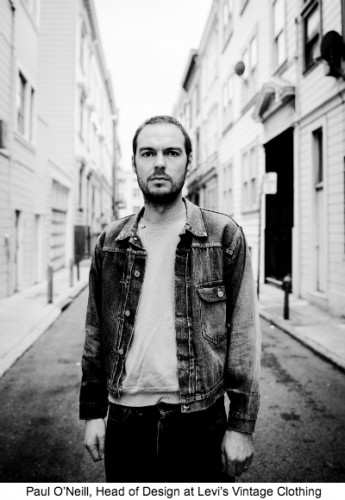 Paul views the archive's 20,000 pieces — which span from the 1880s to the mid-1980s — with a fresh perspective every season. After he has determined the garments that might shape the collection, the only alterations conducted are to grade the selected piece to create a full size spectrum. No further adjustments are made.
"Ideally, when someone comes into a Levi's store and picks up a pair of 1890 jeans, we want them to feel as if they're picking up exactly the same product as someone 100 or so years ago," he said. And the characteristics of a vintage garment — a boxy fit for instance — might actually be its main selling point. Updating or changing the piece to coincide with today's fashions would diminish the beauty.
While LVC focuses more on past styles than future fashion, its authentic vintage-inspired has earned the line a reputation as a trendsetter. Case in point: Paul was recently interviewed by cutting-edge lifestyle sites Cool Hunting and Highsnobiety.
The mission of preserving history is something that LVC will continue to build on.
"At Levi Strauss & Co., we have the duty and the capability to tell these rich stories through our products. There is no other denim company that can say that," said Paul. "In the process, we're constantly learning new things about the history of the Levi's brand and American culture. We'll continue to dig and try to uncover new stories and amazing product to revive and put back out there for others to enjoy."
Now, sit back and enjoy a few images from the LVC 2015 Spring/Summer "Bowl-O-Rama" Lookbook: