February 5, 2015
Levi Strauss & Co. CEO Chip Bergh created a news sensation when he challenged the notion that blue jeans should be washed and admitted to wearing a pair that hadn't been washed for a year. Cowboy Shawn Edwards came to the same conclusion about washing jeans during his career in the rodeo—albeit for different reasons.
"When you ride, you ride in the same jeans," Edwards explained, "You don't wash them. They adhere. They stick. They get slick." This was just one fact that I uncovered during my interview with a former bull rider who recently turned over an unusual item to the LS&Co. Archives.
Shawn Edwards grew up around rough stock. Born in Colorado, Edwards enjoyed summers on ranches owned by friends in his home state and in South Dakota where he kept busy bucking bales. A self-proclaimed "adrenaline junkie," Edwards eventually tested his mettle on the rodeo circuit. After college and a short stint at a dive shop in the Caribbean, Edwards moved to New Mexico to become the foreman on a horse ranch.
One day Edwards called a buddy and said, "Let's go ride bulls." Edwards showed up at a small rodeo where the cowboys helped him out—one eventually becoming his coach. "I would ride three nights a week, riding three to four bulls a night and then two to three rodeos a weekend."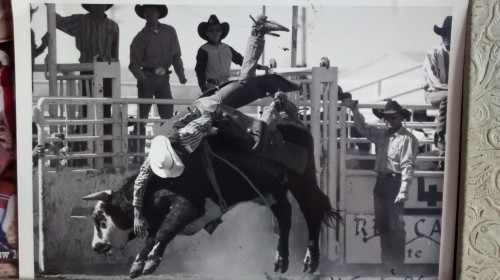 Edwards spent eight years riding bulls until one final ride sent him to the hospital where he lay for a week in a coma.
Two constants followed Edwards on the rodeo circuit—the thrill of the ride and his love of Levi's® trucker jackets. "[A] Levi jacket becomes my best friend," said Edwards. "It absorbs the adrenaline behind the bucking chutes 'til I take it off to mount my bull. It is used to keep my bull rope—that is rosined and tied—dry behind the bucking chutes 'til my bull is loaded; to wipe the blood off from a ride gone bad."
According to Edwards, bull riders dress in unwashed blue jeans as part of their tried-and-true method.
"Over time cowboys in the chute change[d] their pants right there in the chute," said Edwards. "All the good riders did." The reason? Unwashed jeans get sticky, helping riders create a surface that betters sticks to a bull—something especially important for bull riders who ride without a saddle.
Edwards follows a long-tradition of cowboys clad in denim. Since the 1873 invention of blue jeans by Levi Strauss & Co., laboring men from miners to ranchers were among the first to wear the hard-wearing pants. Cowboys were also among the earliest wearers, but the company did not foresee how iconic the image of the American cowboy would prove to be. Nor could they foresee how the cowboy would take Levi's 501® jeans—and Levi's trucker jackets—and make them into Western icons all their own.
Edwards' Sherpa-lined jacket, well-worn from his rodeo days, is the latest addition to the Levi Strauss & Co. Archives. The jacket will become part of the Levi's jacket collection that includes the world's oldest denim jacket, called a three-pleat blouse, that dates from 1880. Every item in the collection is a source of inspiration for designers and other Archives visitors who learn the history of a company symbolized for many years by the image of American cowboys like Shawn Edwards.