December 17, 2014
The word 'embroidery' brings back fond memories for all of us. Whether it's your Great Aunt Margaret's piano shawl, an inscription on your most cherished quilt from a family friend, or a colorful design gracing your favorite pair of Levi's®, the hands-on customization of this medium has brought life to textiles and artwork alike for centuries.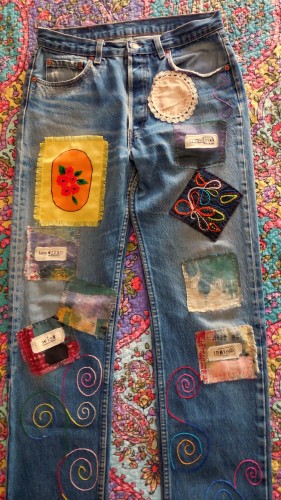 The technique is said to date back to 5th century BC. Originally, stiches served as a means to repair and reinforce textiles. It wasn't until the 16th century that this tedious art form gained widespread recognition for its aesthetics. Adopted by royalty for its intricate beauty, the needlecraft's precise touch adorned everything from tapestries and tunics to handkerchiefs and flags. And it was during the bohemian era of the '60s and '70s that embroidery found its home in denim, as artists and hippies gave new life to their trusty pair of Levi's with a little help from some colorful thread.
That customization of denim continues today in a community of embroiderers who choose jeans as their canvas. "I re-purpose Levi's specifically because of their iconic quality," explained Mary Daly of vintage Etsy boutique Babylon Sisters. "Old 501's are my favorite, and I clearly remember wearing mine in high school and beyond. Being a teenager in the '70s, our Levi's were our most prized possession. We would keep them forever."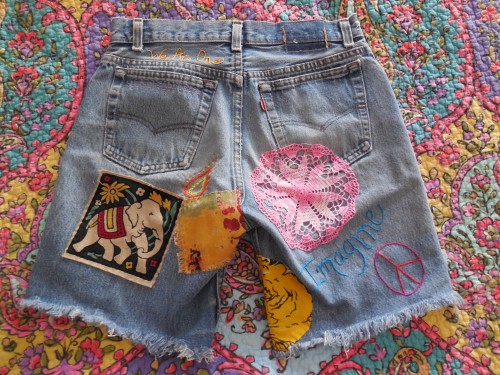 According to Daly, denim's sturdy yet forgiving qualities, specifically the weave of the fabric, are why it lends itself so well to the handcrafted touch of embroidery. But its physical advantages aren't the only reason the pair go hand in hand. The philosophy behind the fabric – a blue that knows no generational barrier – allows for the perfect personal touch.
"I find people are attracted to embellished jeans for a few reasons. The first is nostalgia. 'I had those,' and 'I remember patching my boyfriend's Levi's!'" said Daly. "Then there's the younger generation who is trying to get back into the peaceful hippie vibe. Long live Woodstock!" This free-spirited era brought us multicolored daisies, patchwork hearts and elaborate arabesques on bell-bottom flares and denim jackets. Back then, a pop of color and labor of love was all it took to translate your denim into a storyteller.
Recently, mixed media artists, such as acclaimed Irish designer Inge Jacobsen, have swapped paintbrushes for a needle and thread to breathe new life into old fabrics. Known for her ability to re purpose iconic fashion magazine covers, Jacobsen finds a modern twist on this traditional technique.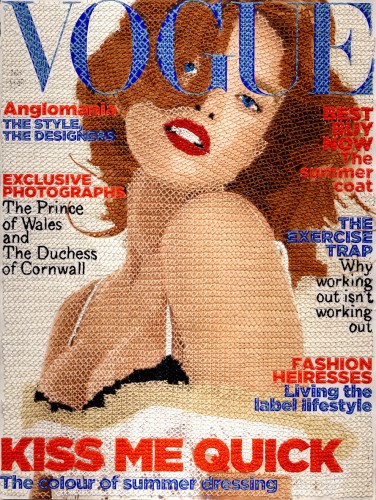 "It literally gets under the skin, and physically changes the images I work over.  The image not only ends up with a beautiful tactile surface, but the embroidery also reflects everything on the back of the image," explained Jacobsen. "It's like creating two works of art in the time it takes to make one – except the version on the back tends to be a deconstructed version of the front."
This innate ability to get "under a fabric's skin" along with the tactile interest the stitches add to garments may be the reason fashion designers such as Isabel Marant, Jeremy Scott and Dolce & Gabbana have been dishing out decorated denim on spring runways, in the form of flowing dresses, re imagined peasant blouses and of course, blue jeans.
Vogue.com's Market Editor Kelly Connor recently attributed this trend to customized denim's ability to make the "lived-in" quality of vintage jeans your own with embroidery, pins, and patches. Check out their recently featured kitschy spin on our orange tab women's 1970 trucker jacket.
Whether or not this trend is here to stay, we know for certain that embroideries marriage to denim is timeless. So, next time you have a free afternoon, why not grab a needle, thread, and a pair of Levi's, and see how the fabric speaks to you? You might even become as denim-obsessed as Daly, who told Unzipped, "I have a pile of old Levi's next to me anytime I sit down!"
Follow  Mary Daly and her embroidery @babylonsisters3 or visit her Etsy shop.