September 2, 2014
A profile of Chad Hinson, Levi Strauss & Co. Creative Services
Chad Hinson is no stranger to the business of design, from assisting clients to making mood and inspiration boards to creating presentations—and that was all well before he was even old enough to drive.
You see, Chad's mom was an interior designer, and growing up he often volunteered to help with her business. This introduction to the industry made him acutely aware of the role environments play in making spaces look great. It also sparked what would become a life-long passion: transforming an idea into something beautiful.
As Senior Director for Global Creative Services at Levi Strauss & Co., Chad has the opportunity to indulge this passion daily. His team serves as a creative agency for the company, bringing the Levi's® brand look and feel to life through 2-D and 3-D components. Whether it's in stores through signage, marketing, imagery, art, décor, window fixtures and mannequin styling, at events or in showrooms, Chad's team strives to consistently tell the Levi's story around the globe.
"Levi's is such an iconic brand, and I take that really seriously," Chad explained. "When you have a story that no one else has, you need to protect it, and that's really important to me."
Designing the Ideal Career
Chad has always known he wanted to be a creative. Initially planning to study architecture as undergraduate, he quickly realized he was much more interested in conceptualizing spaces than he was in honing the mathematics and science skills required to make them a reality.
He ultimately landed on a major in fashion design with a minor in environmental design.  But as he began to consider career options in fashion design, he ran into trouble: he found thrill in creating garments, but really hated to sew.
A Retail Tour of Duty
Chad spent his years after college in visual merchandising and environmental design positions for several retailers including Gap, Guess, and Esprit, finally landing at LS&Co., where he worked on a Retail Environment & Design team. He left for another retailer in 2004, but returned in 2012 to take his current role.
"Each job I've left for has been to learn a different part of the business. Now, I have the opportunity to apply everything I've learned about 2-D and 3-D design and put it together into one job," he said.
Uniquely Levi's
Chad's industry experiences and fashion design background not only give him credibility when working with design and merchandising, but also make him a smarter business person when it comes to designing creative solutions for the Levi's brand.
"I try to see the bigger picture and focus on making sure really great concepts make it to our consumers in all the right channels. It's cool to dream cool stuff up, but it's a drag if it just stays there."
This 10,000 foot-view also is critical in designing creative that captures the essence of the Levi's brand.
"The Levi's brand can't be defined by a single element," explained Chad. "It's about an ecosystem and the culmination of how all creative elements—from photography to music to models to materials—come together to tell an authentic story that is uniquely Levi's.
Living Life in Levi's
Chad's Levi's story is not about a single product or moment in time, rather it's about a lifetime spent living in his Levi's.
"The Levi's brand has been part of my life for as long as I can remember. Working here, I've been blessed to work with incredibly talented people from my team to crazy musicians and artists. I've been a part of things I'm really proud of that I think culturally meant something.
"The opportunity to work for such an iconic place means something. There's a lot of meaning behind what we do that's so much more than jeans—from how we're involved in the community to environmental issues to equality issues. My story is just being a part of the Levi's story at different points throughout its history."
Chad'a Levi's story may not revolve around a specific pair of jeans, but that doesn't mean he doesn't have a favorite. Here he is sporting his most beloved pair of Levi's 501® jeans.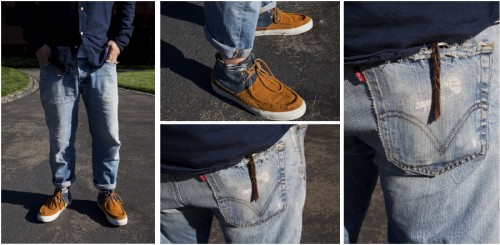 Here are a few examples of the stores that Chad and his team have had a hand in creating: