sustainability
innovative practices: planet
Our lifecycle studies show how essential water is to our business: every step of the process to create a garment requires water, from the cotton fields to manufacturing facilities. And in an era of increasing water scarcity, we recognize that water is essential for communities, agriculture, and many industries besides apparel. We have been reducing our water impact through an ever-growing assortment of Water<Less techniques, water quality requirements for suppliers, and an innovative standard to recycle water in factories. We intend to continue to drive the conversation on this essential resource.
Process
In 1994, we started our water efforts by releasing the industry's first discharge wastewater quality guidelines for our wet finishing laundries, our Global Effluent Requirements, and then scaled and made them mandatory for our worldwide suppliers several years later. With these guidelines, we limit the contaminant levels allowed in suppliers' wastewater from wet finishing and minimize the environmental impact to local water resources. In some countries our water quality guidelines are even more stringent than local regulations require. We shared our guidelines with other apparel brands because we recognized that working with competitors could multiply the effectiveness of our efforts.
In 2011, the company began using Water<Less™ techniques that reduce the amount of water used in garment finishing by up to 96 percent for certain products. Water<Less achieves these water savings through simple, innovative adjustments to our wet finishing processes. For instance, simply removing water from stone washes or combining multiple processes can have a big impact. Since launching the Levi's Water<Less platform, we have saved more than 770 million liters of water by making more than 62 million Water<Less products, and we continue to expand the scope and scale of the program.
In 2013, we developed the first standard for water recycling and reuse in the apparel industry and we worked with one of our suppliers in China to set up a system that can produce high quality products using 100% recycled water. At the first approved production location, we made 100,000 pairs of Levi's women jeans with recycled water and our goal is to scale this innovative process to many of our wet finishing suppliers and collections. For more explanation on the process, click on the infographic below, and read our recycled water blog post.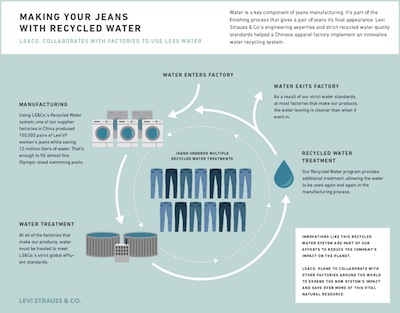 CEO Water Mandate
Levi Strauss & Co is one of the founding member signatories of the CEO Water Mandate. Established in July 2007, this unique public-private initiative, under the auspices of the United Nations Global Compact, assists companies in the development, implementation and disclosure of water sustainability policies and practices.  Our signature acknowledges that companies have a responsibility to make water-resources management a priority and to work with governments, UN agencies, non-governmental organizations and other stakeholders to address the global water challenge. Our commitment to the CEO Water Mandate is ongoing. Read our progress report to learn about new steps we have taken to improve water management.
Better Cotton Initiative
More than 50 percent of the water associated with our products stems from activities in our supply chain – from cotton production to retail sales. We are a committed and procuring Pioneer Member of the Better Cotton Initiative. BCI's goals include educating farmers to use water more efficiently in producing cotton and caring for the overall availability of water. Read more about our work with BCI.