May 15, 2023
Last week, Levi Strauss & Co. employees around the world celebrated Community Day, the company's annual day of service. More than 2,700 employees from retail, corporate and distribution centers joined forces to make a positive impact around the world. As LS&Co. commemorated its 170th anniversary and the 150th anniversary of the iconic 501® jean, this year's Community Day was yet another extraordinary moment in the company's history, allowing employees to come together, embody their values and create "The Greatest Volunteer Story Ever Told."
Community Day itself has a rich legacy stretching back 23 years. It started in 2000 as a Volunteer Day in San Francisco. Over time, guided by employee passion, it expanded to include sites across the U.S., Canada and Latin America — and by 2008, employees from every country where LS&Co. had a business presence were participating.
Community Day continued to endure even in hard times, like the 2018 wildfires in Northern California and the global pandemic, all because of the unwavering commitment of our employees. This resilience showcased the enduring strength of LS&Co.'s team and the commitment to the company's values that have guided us for 170 years.
And just last week, teams continued building Community Day's legacy. Thanks to the volunteer efforts of 2,713 employees in 117 different projects around the world, nonprofits received $164,000 in grants from the Levi Strauss Foundation in addition to the 10,860 hours of volunteer support.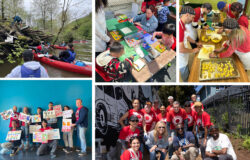 Some highlights include:
In San Francisco nearly 750 employees participated in volunteer activities supporting 24 different organizations, from hosting upcycling workshops for students and beautifying the Bayview district, to creating inclusive spaces for the LGBTQIA+ community. Down in Los Angeles, the Beyond Yoga team joined in for their first Community Day as part of the LS&Co. family to put together hygiene kits with the Westside Food Bank.
Dhaka, Kuala Lumpur, Paris, Prague and London helped prepare and distribute meals to seniors, students and communities experiencing hunger. Teams in the North Europe region hosted 17 different volunteer activations, including an HIV prevention project in Brussels for the 18th year!
Sao Paolo and Mexico City rolled up their sleeves to support kids with disabilities by beautifying support centers like the local Paralympic Center.
And this is just the beginning. More retail teams are hosting volunteer opportunities through the end of June, and teams that couldn't participate on May 11 are holding their Community Days in the weeks to come.
We are proud of the impact our employees continue to make as they embody our enduring commitment to profits through principles and continue giving back to the communities that have supported us for 170 years.