August 23, 2022
Last month, we opened Levi's® SPACE in the heart of Shanghai's stylish shopping district and popular Gen-Z hang-out, Yuyuan Road. Levi's® SPACE is designed as a six-month popup within the Yuyan Department Store and is infused with the spirit and DNA of the Levi's® brand. 
The building that houses Levi's® SPACE dates back to the early 20th century and embodies the stunning architecture of old Shanghai. Inside the two-story space, the modern design brings the Levi's® brand to life and creates an immersive experience for Chinese consumers through various events such as new product launches, craftsman workshops and network-based gatherings.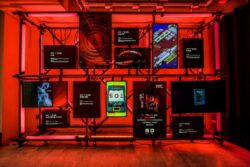 "As we seek to attract the young and experience-hungry Chinese consumers, we are excited to introduce Levi's® SPACE as the perfect platform for our fans, key opinion leaders and consumers to interact with our brand," said Amy Yang, Managing Director, Greater China. "From authentic 501® jeans to futuristic metaverse and NFTs, the SPACE offers an elevated and immersive experience that educates and entertains. It is a place where our fans are blown away by both the rich heritage of the Levi's® brand and how cool it is today at the center of culture!" 
The first activity held at Levi's® SPACE was the 501® project. As the company gets ready to celebrate the 150th anniversary of the iconic 501® jean next year, it was time to reintroduce it to a younger audience in China.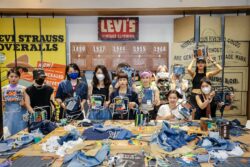 The 501® Artist Program launched this May, and local artists were invited to portray the richness and originality of denim. From a denim landscape that blends 501® jeans with traditional Chinese culture to digital artwork featuring the 501®, those unique pieces became the centerpieces of the Levi's® SPACE. At the heart of the SPACE there is also a 501® history wall that illustrates fun facts about the 501® jean. This is complemented by showrooms on the second floor that feature our special editions and vintage products as well as a guide on how to take care of jeans.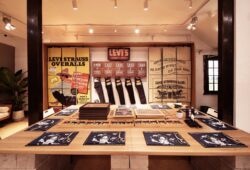 In addition to bringing the brand's history and values to life, Levi's® SPACE will also showcase our newest collections. To celebrate the launch of the Levi's® x HUMAN MADE collaboration, Levi's® SPACE turned into a historic Japanese setting with modern recreations, offering the newest product assortment to denimheads and collectors. An on-site Tailor Shop allowed shoppers to personalize their new Levi's® purchases.  
Levi's® SPACE will also seek to foster a strong sense of community — a key component of building connections with consumers — with special events throughout the year.