September 20, 2021
The creation of Levi's® Red Tab™ Sweats was almost like kismet, according to Dawn Vitale, vice president of Global Merchandising Men's, Collaborations, Collections, Footwear & Accessories.
As our design team was tracking trends like casualization, the resurgence of the nineties, nature and comfort, our global merchandising team was also finding that our Gen Z consumers were looking to Levi's® for gender-neutral sweatshirts and sweatpants. At the same time, our sales data was showing a shift away from graphics wear, signaling the opportunity to expand into more elevated fits and fabrics within the casualization product space.
With color optimism and lifestyle relevance top of mind, the brand teams threw out their typical go-to-market playbook and operated with next-level collaboration and speed. In a matter of weeks, and a less-is-more prototype approach, the team made sourcing and design decisions with record speed to launch a new collection – Levi's® Red Tab™ Sweats.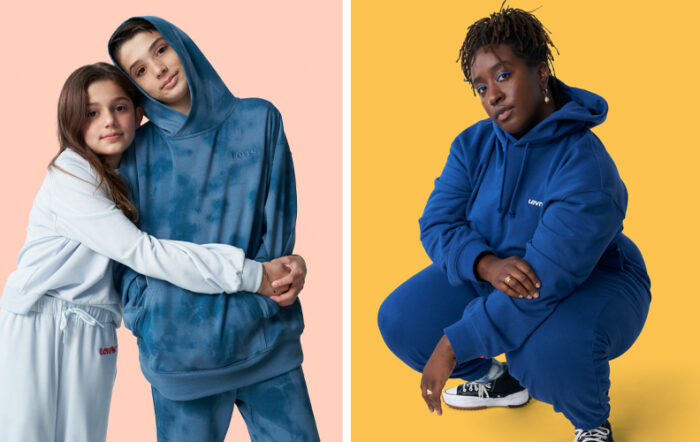 To showcase the collection, the brand turned to its own employees for the campaign launch, photographing team members wearing the collection at their homes. "Driving this initiative through given the unprecedented times made this a very personal success journey for all of us," Dawn said.
"The launch of our Red Tab Sweats represents a shift in how we identify and deliver new collections and seize opportunities quickly," Dawn added. "Taking a fashion idea from concept to market typically takes over a year in our business. We did it in 4 months!"
The effort paid off. The sweats collection, initially only available online in select markets (the U.S., Germany, Korea, China, Australia and Japan), sold out within weeks of its limited run.
From design to launch and expansion, the team believes authentic relevance has been key to their success. "When we have our finger on the pulse of trends and design with a deep understanding that fashion can reflect today's more gender fluid norms, we can create youthful lifestyle collections to help us reach people who maybe weren't looking at us in the past." Dawn said.
The success of the first Levi's® Red Tab™ Sweats pilot has driven demand beyond our direct-to-consumer channels. As we look to diversify our product assortment and capture a younger consumer, we've built upon the collection and expanded distribution of Red Tab Sweats to our wholesale partners like Kohl's and Macy's. And expect the brand to continue to move forward with that same creative agility and meaningful relevance. Stay tuned!