May 28, 2021
A few years ago, Levi's® Store Manager Marla Murbach didn't know where to turn. She had just married her high school sweetheart, a two-tour army veteran who had served in Iraq and Afghanistan and was now trying to readjust to civilian life. Neither of them was prepared for the challenges he'd face.
"Things were different when he came back," Marla said. "I knew something was wrong. I didn't know how to help; asking for help is a hard thing to do."
During this time, several veterans they knew committed suicide. Marla started doing her research and learned that 22 veterans succumb to suicide each day in the U.S. as a result of post-traumatic stress disorder (PTSD). "That hit home for me," she said. "I realized that this is bigger than me or him, and that it's nothing to do with us. It's PTSD, in all its ugliness — and I could lose my husband to it if I didn't do something."
Desperate, Marla reached out to her community looking for resources and eventually found the Wounded Heroes Fund, a service organization dedicated to helping veterans and their families in Kern County, California, as they transition to civilian life after active duty. Within a week, her husband was enrolled in the organization's service dog program and picking out his very own German Shepherd puppy.
"We named the puppy Doc, because he was a doctor for my husband," Marla said.
The Murbachs went on a shopping spree with other veterans in the program to get all the supplies they needed for Doc, all paid for in full by the Wounded Heroes Fund. Then her husband spent the next few months working with Wounded Heroes Fund to train the dog. By the end of the program, her husband was a changed man.
"The difference was night and day," Marla said. "To see him go from a really dark place and then have a dog come in and change all of that? The Wounded Heroes Fund doesn't just change lives, it saves lives. Doc saved my husband's life."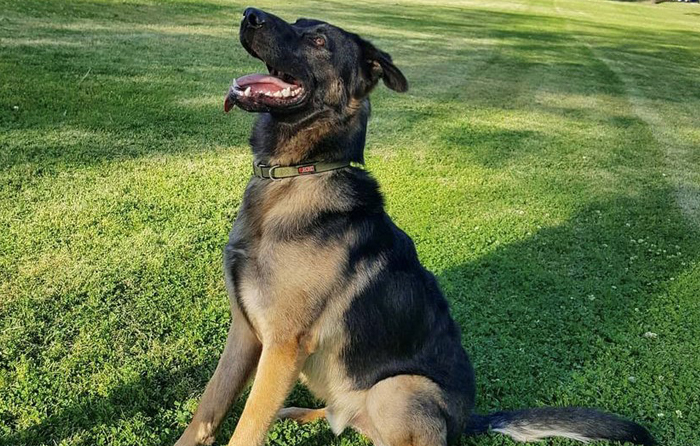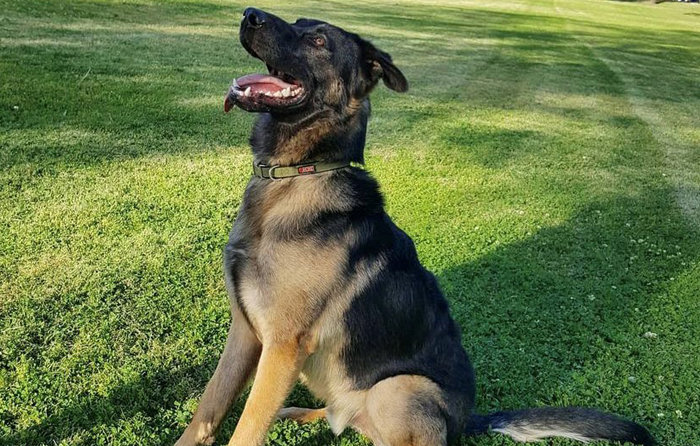 Her husband now safe, Marla got to work.
"One of the things I realized during that time was just how many other veteran spouses and families were going through the same things we were but weren't talking about it. It was too taboo," she said. "So I knew I had to make a difference."
Marla's philanthropic work to spread awareness of veteran suicide and PTSD began in earnest, starting with outreach to various veteran groups in Kern County and letting them know about different resources available to them. She ran for the Mrs. Kern County title and now holds the title as first runner-up Mrs. Kern County 2021 to further her reach in the community and advocate for veterans on that platform. She later became the community ambassador for the LA District, and seized upon the opportunity to create a fundraising campaign for the Wounded Heroes Fund.
"I was 100% supported all the way from the store team here all the way up to our district manager, Mirta Forrester," Marla said. "Knowing I had that support I felt like I could take this on. After all, I had my own mini Levi's® army behind me helping me do what I needed to do to make a difference."
Her goal was to raise $1,501 for the Wounded Heroes Fund. By the end of the fundraising campaign, she'd raised just shy of $2,000.
"Marc Rosen had visited our store a few months before and really inspired me. So, I decided to email him. I told him that I'm the store's community ambassador and gave him a brief overview of my story and the campaign. I didn't even really expect him to read the email," she admitted.
Not only did Marc write back — he made a personal donation to the campaign. "It was amazing he did that," said Marla. "To know you have that type of connection with your company is amazing."
Marla now has her sights set on working with an equal rights group, and hopes to take on a leadership role one day.
"I want to bring to light something that's so dark. That's the biggest piece of this," she said. "I want to make it household knowledge that we lose 22 veterans a day in this country. And if I can catch someone along the way, maybe even save a life, then I'll have done my job."