May 11, 2021
The following is a first-person account by Scott White, who is sharing his story in recognition of Mental Health Awareness Month. Scott has been with Levi Strauss & Co. since 2015 and leads People Operations and Rewards. His son, Connor White, will be a junior at UC Davis in the fall, majoring in Managerial Economics. This story is shared with Connor's permission.
Two years ago, the LS&Co. Benefits team did a deep dive on our U.S. health insurance design looking for ways to improve and enhance company benefits. As part of that work, we moved all mental health providers to "in-network." This was — and remains today — a significant step that reduced barriers to care like cost or a lack of providers.
I knew this would help many employees of all different backgrounds and situations. I didn't know that  just a few months later, I'd be one of those employees.
My son Connor grew up pretty much like everybody else's kids around him. Through his eyes I saw the many more complex emotional challenges kids face today compared to my own adolescence. Connor did fine academically and played basketball and football. He seemed to be navigating his high school experience with all the struggles for independence and healthy rebellions that I expected – albeit with some unhealthy ones.
As parents, we know that even our best-behaved, "least likely to throw a party while you're on a business trip" kids will test whatever line is drawn and cross over it occasionally. Connor tried to ride the line, too often ending up on the other side. It took a few years, but then finally he blew through it and couldn't get back, at least not on his own.
While attending the University of Kansas, Connor joined a fraternity. I honestly thought that meeting its academic requirements and being part of the group could help him moderate the things I already knew he was going to do. It didn't.
Connor attended classes and earned good grades, but the severity of his bad nights escalated. I found it impossible to steer him, maybe because he couldn't steer himself. Psychologists, medications, altercations, limitations … nothing worked. It was like the proverbial train wreck with someone you love on the tracks.
Alcohol and drugs began as the way Connor got through the difficulties of young adulthood but became the way he got through every day, and on the toughest days were a blackout. After a friend's overdose, the pain finally became so strong he couldn't numb it any longer, his tolerance was too great. At that point, he had to choose whether to live or die.
"I need help."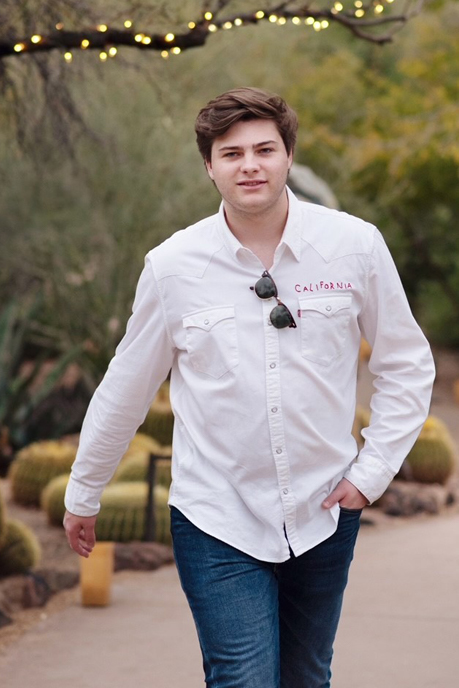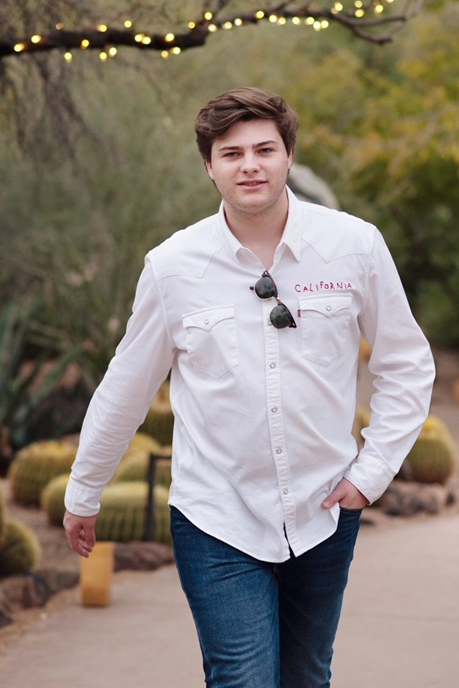 Connor's call to me that day was remarkably brave, because he knew it was the immediate destruction of the Instagram-worthy façade he'd struggled so hard to create and maintain. No more trying to downplay the situation, no more trying to deny responsibility, no more trying to mitigate the consequences. That moment, when it all came crashing down, that feeling of surrender, was the single healthiest moment we've had as father and son. It suspended time and stopped the train.
We moved quickly to get Connor help. By that evening, we found a facility that seemed to be right. They specialized in "dual diagnosis," where addiction is tied to other aspects of mental health and treatment involves both traditional methods and cognitive behavioral therapy. The next morning, he boarded a plane to Oakland, California. My wife picked him up at the airport and drove him to where he'd spend the next 45 days.
Connor left virtually everything, and other than family, most everyone behind. He unenrolled from school and never returned to the fraternity. The life he'd known was gone, and no matter how terrible the worst of it was, there'd also been plenty of good. Now it was all to be replaced by an abrupt and uncertain future. Plenty of second thoughts arose. Pushing through those was a lot harder than making the initial call for help, but he did.
On Mondays, when talking with colleagues about the previous weekend's activities, my having been in Napa County visiting my son in rehab was often met with expressions of empathy and some awkwardness. This makes sense, but only up to a point. For a gruesome knee injury, it's normal and hopeful to see the patient receiving the right care and doing the work to get stronger. Honestly this is the same.
Even with my background in health benefits, we've learned how important some things are on this journey:
Nothing kills a decision for radical change like failing to act on it. Looking back, I firmly believe that moving fast and seizing that opening when Connor called made all the difference.
Asking for help is always the first step, and along with it, accepting who you are — that you have tremendous worth but also faults.
Honesty. Addiction is built on lies. A lot of trust is destroyed, and it takes a long time to build back. The time to start is now and it must be 100%.
The single most important day in your life is just another Tuesday to essentially everyone you'll encounter in the health care system. That's just a fact, not a criticism. Despite their commitment, they're human and they do this every day. You can help health care providers best help you: Be informed, be understanding and be persistent.
Unconditional love, with conditional support. There's plenty I could have done differently that might have helped Connor sooner, and I'm committed to not make those mistakes again. Yet through it all, the strength of our relationship was key to him feeling he could open up and ask for help — and that he wasn't alone in this lonely process.
Connor and I wanted to share our experience in the hope that it might help you or someone you care about, whether it's to moving past the initial fear of (necessary) change, getting the right care or being inspired to have faith in yourself.
This is not a success story. We know that life is lived, particularly in recovery, one day at a time, with its accompanying challenges, growth, failures and achievements. This is, however, a hopeful story full of possibilities — and, most importantly, it's a story that Connor now has the chance to write.