February 20, 2019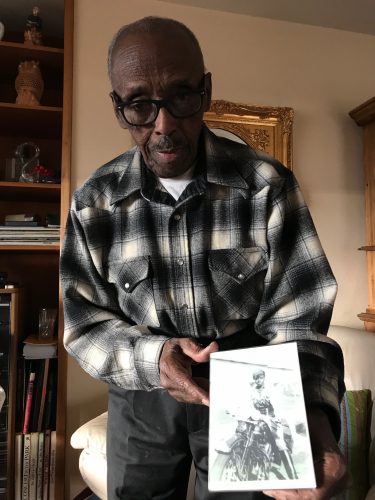 Leo Hopkins began wearing Levi's® in the 1940s when he purchased his first Harley-Davidson. A member of the Berkeley Tigers, an African American motorcycle club, Leo and his fellow bikers raced, climbed hills, and rode around the streets of Oakland, California. The Tigers also adopted a distinctive dress style: club jackets, Harley hats, boots, and cuffed Levi's® 501® jeans.
Born in Tulsa, Oklahoma in 1926, Leo developed an interest in motorcycles in high school. On his way to church every week, he passed a garage with windows that had a motorcycle inside. "I kept looking at that motorcycle," said Leo. "I just had to look at it, but I loved it from then on." Leo joined the Navy in World War II, eventually purchasing a Harley-Davidson once he settled into a new home in the San Francisco Bay Area in between time at sea. Thinking back on when he saw his first pair of Levi's® jeans, Leo answers quickly, "when I bought my first motorcycle."
Once Leo purchased his first pair of 501® jeans, they became synonymous with his bike. "In those days we wore three-quarter length boots," he recalled. "And Levi's were the thing to go with them. And we could roll the Levi's up on over." Leo's Levi's® were the perfect contrast to his bright yellow and green Berkeley Tigers jacket.
At 5'2" tall, Leo had to cuff his Levi's® with or without boots. And large cuffs became a signature for all the Tigers, who had set up club headquarters on 36th Avenue and San Pablo in Oakland. Lined up on the street before pulling out for a drive, spectators could instantly spot the dark jeans and contrasting light cuffs of the riders. Women would also sometimes join social club rides wearing their own Levi's® jeans.
Film footage is courtesy of Leo Hopkins and the Harley-Davidson Museum.
Despite his smaller stature, Leo developed lots of biking skills that were all the more difficult as motorcycles in this era were much heavier than those today. Smiling as he tells the story, Leo just shrugs my amazement off. "Yes," he replies, "I did a lot of the tricks, including riding my bike and laying back on the bike . . . and the bike's going this way and that." Leo and the Tigers also practiced precision drills at the Oakland Auditorium parking lot, and when there were no horse races, sped around the Golden Gate Fields track.
Leo continued to ride in his Levi's® through the 1960s. He served in the Navy for almost 30 years, becoming an electrician and making a "first class, E-6" rank. Later, Leo became an Oakland police officer for 21 years, serving in the city where he loved to ride his motorcycle.
Today, at 92, Leo and his wife Elaine still live in the San Francisco Bay Area. While the Harley is long gone, Leo still reflects fondly on his club life and style. "I wore Levi's® until I no longer had a motorcycle."
Keep up with the LS&Co. Archives and other cool LS&Co. heritage news by following Tracey on Twitter, @TraceyPanek, and stay tuned to Unzipped!