March 1, 2018
Welcome to our winter 2018 issue of From the Archives, a behind-the-scenes look at the ins and outs of the work we do here, and the unusual, amazing and always-interesting fun facts and tidbits we discover along the way.
Over the last few months, we took the Albert Einstein jacket on the road for the first time, went sleuthing for scholarly links to LS&Co., and researched our early Gold Rush history. We also hosted a variety of guests like Designer Diane von Furstenberg. Here's a peek at LS&Co.'s latest heritage happenings.
-Tracey Panek, Levi Strauss & Co. Historian
Now Showing
University of California, Berkeley 150th Anniversary
U.C. Berkeley Campus
January-December, 2018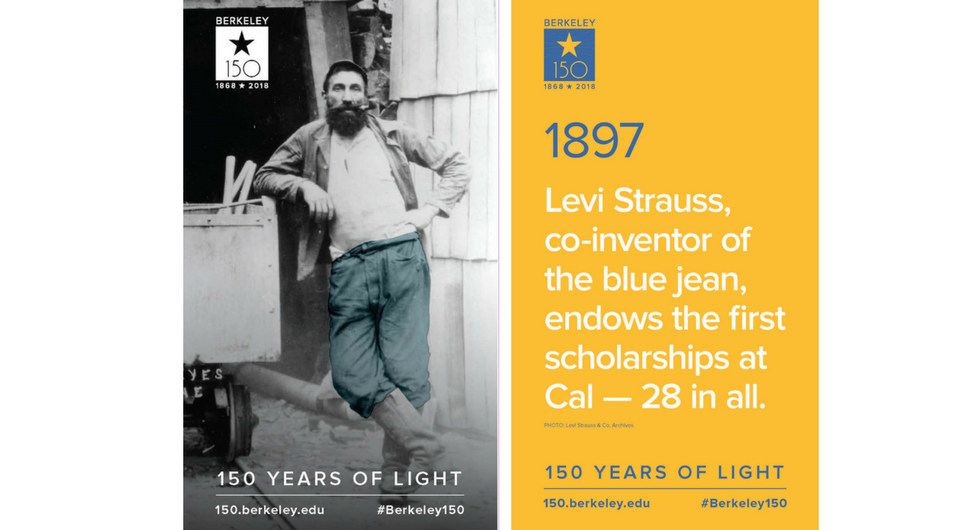 This year marks the 150th anniversary of the University of California, Berkeley. To celebrate, the school installed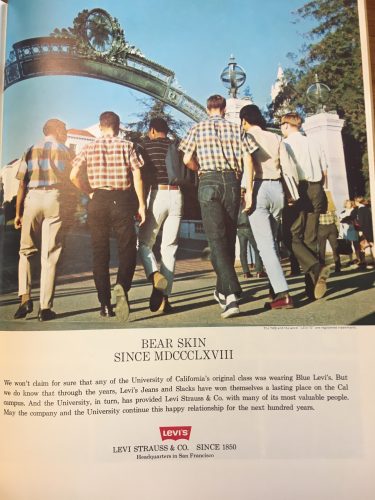 banners around campus noting key milestones like the school's first scholarships, including the one granted by our founder, Levi Strauss, in 1897.
This isn't our first Cal anniversary connection. For the school's 100th anniversary back in 1968, LS&Co. created a special advertisement for Cal coeds that focused on "Bear Skin," aka Levi's® jeans, a reference to their beloved bear mascot. The ad was a fun way to connect with the alma mater of many an LS&Co. employee, including members of the Haas family. "My father and uncle were heading the company at that time," Bob Haas, great-great-grandnephew of Levi Strauss, and Former CEO said. "Both were UC Berkeley graduates (as were their father and uncle). Consequently, they were partial to hiring graduates of their alma mater. Many senior managers from that era were Golden Bears."
Look Who Stopped By…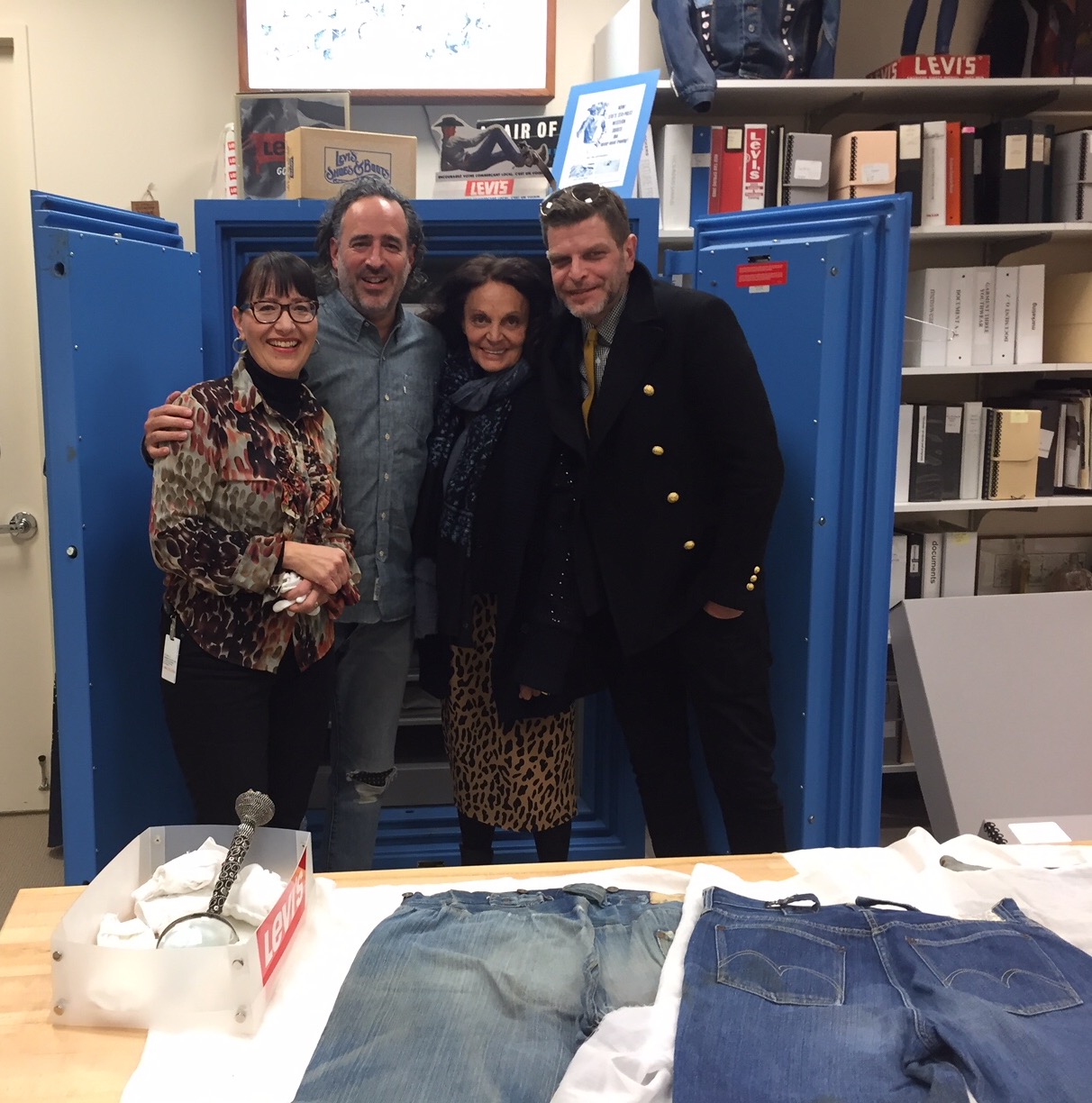 LS&Co. Archives hosts a variety of VIPs and guests, from journalists and musicians to sports stars and celebrities. This month, Designer Diane von Furstenberg stopped by for a peek at the denim gems inside our fireproof safe. Her wrap dresses may not be as old as our 1800s blue jeans, but they are definitely as iconic.
Albert Einstein's Jacket Makes Its Way to 'Inspiration LA'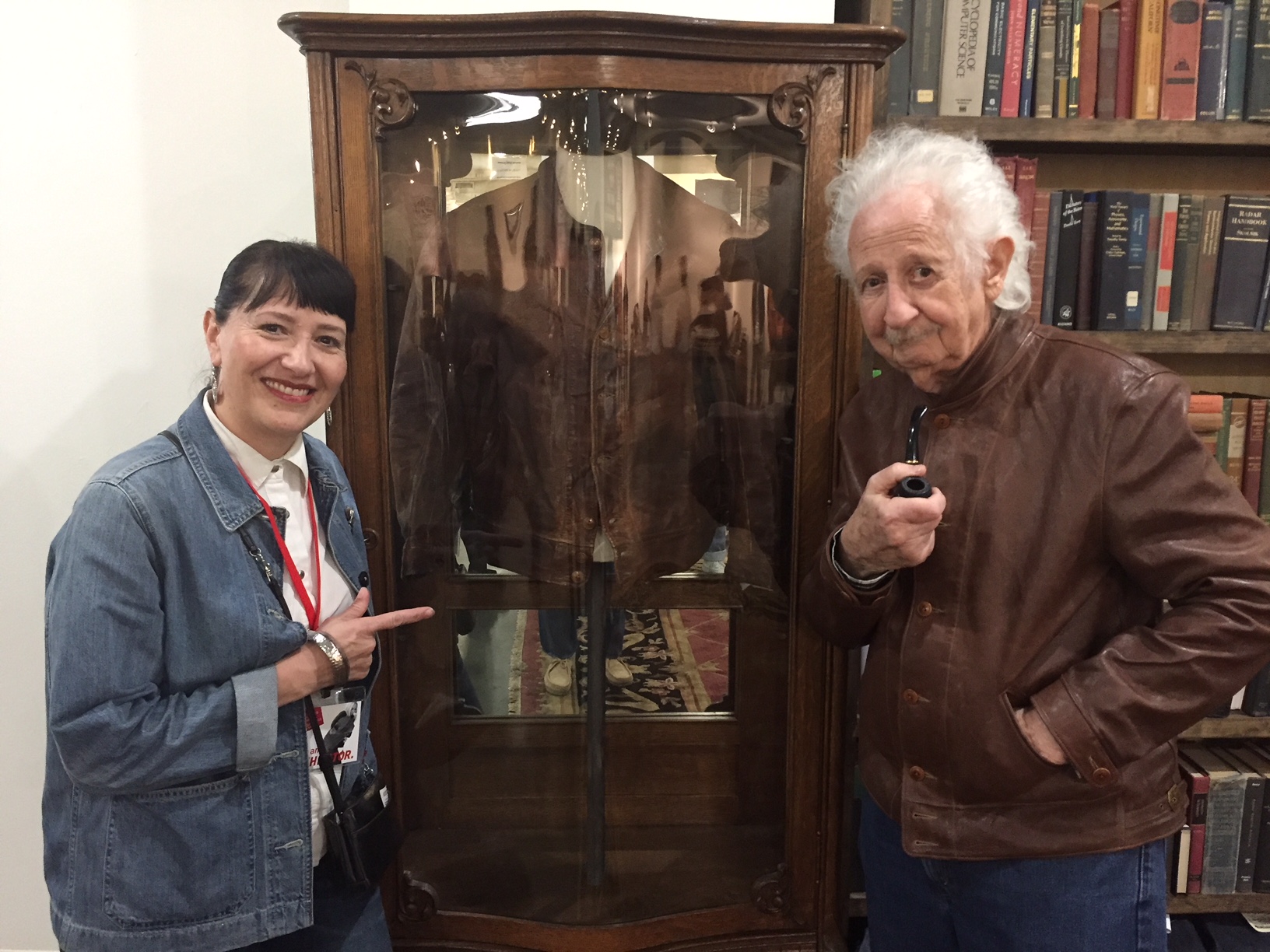 Albert Einstein's leather jacket, manufactured by Levi Strauss & Co. in the 1930s, went on display for the first time at Inspiration LA—a major vintage clothing show for collectors and sellers in Los Angeles. Levi's® Vintage Clothing recently reproduced the jacket and showcased it at Inspiration LA through a one-of-a-kind exhibit which included hired Einstein look-alike, Benny Weissman, portraying the late genius in his favorite frock.
Heritage Spotlight:  Levi Strauss & Co. Lithograph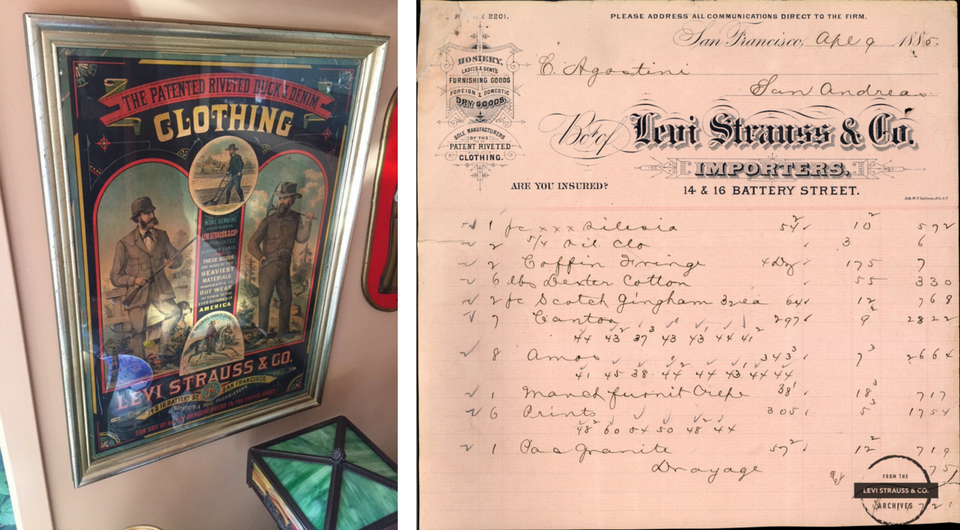 This Levi Strauss & Co. lithograph by W. T. Galloway & Co. of San Francisco was owned by the Agostinis, a California Gold Rush family who lived in San Andreas. It hung near the ceiling of their general store until the store closed. The tiny store was typical of the small mom and pop shops that LS&Co. supplied with dry goods and riveted clothing in the late 1800s. The LS&Co. Archives has an 1885 invoice for the Agostini family that lists "Scotch gingham" and "coffin fringe" among other items.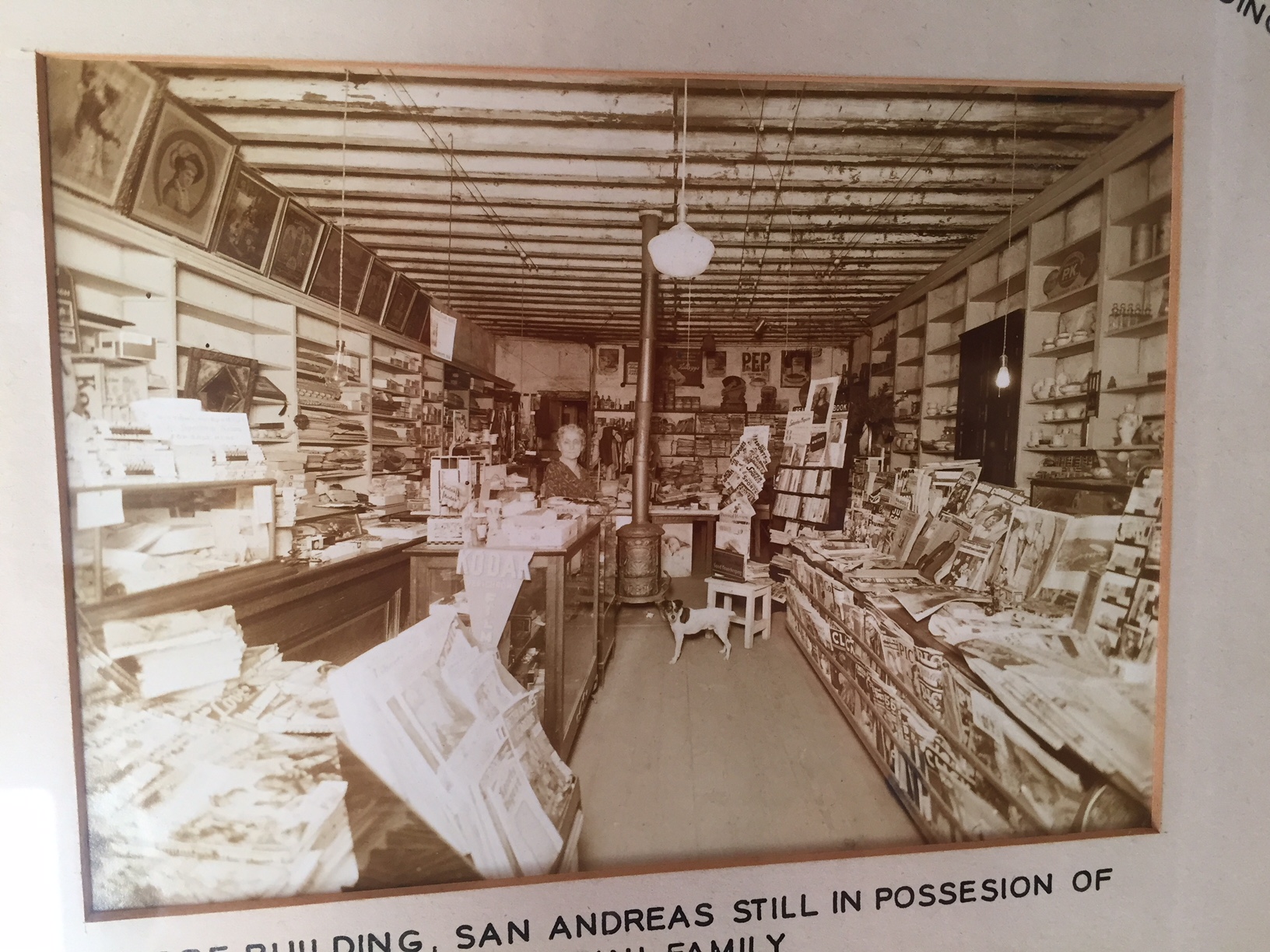 New Arrivals
Thrift Shop Find at a Buddhist Temple. This 1950s deadstock 501® was purchased at a Japanese Buddhist Temple in San Jose, California and likely belonged to a farm worker from the local community. It still has the $3.75 price tag from Hart's, a San Jose department store. The Guarantee Ticket and pocket flasher on the right back pocket were damaged when the buyer tried on the pants.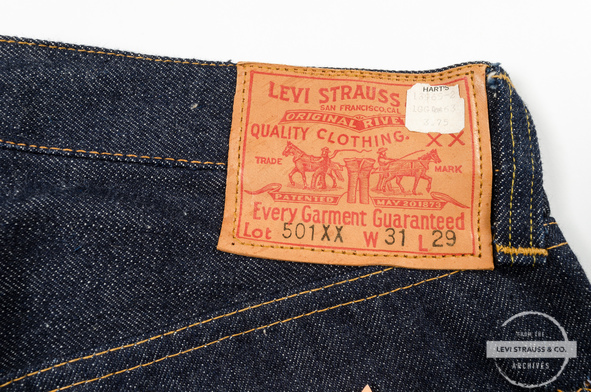 You Asked, We Investigated…
Q: I'm Virginie, Master Tailor from Levi's® Paris. I have a specific ask from one of our consumers – do you know if Levi's® has ever done sailor pants?
A: Yes, Levi Strauss & Co. has done a few sailor or sailor-inspired pants in the past, some dating back as early as the 1930s. Here's a look at one of our sailor pants from the 1970s called "Shipmates."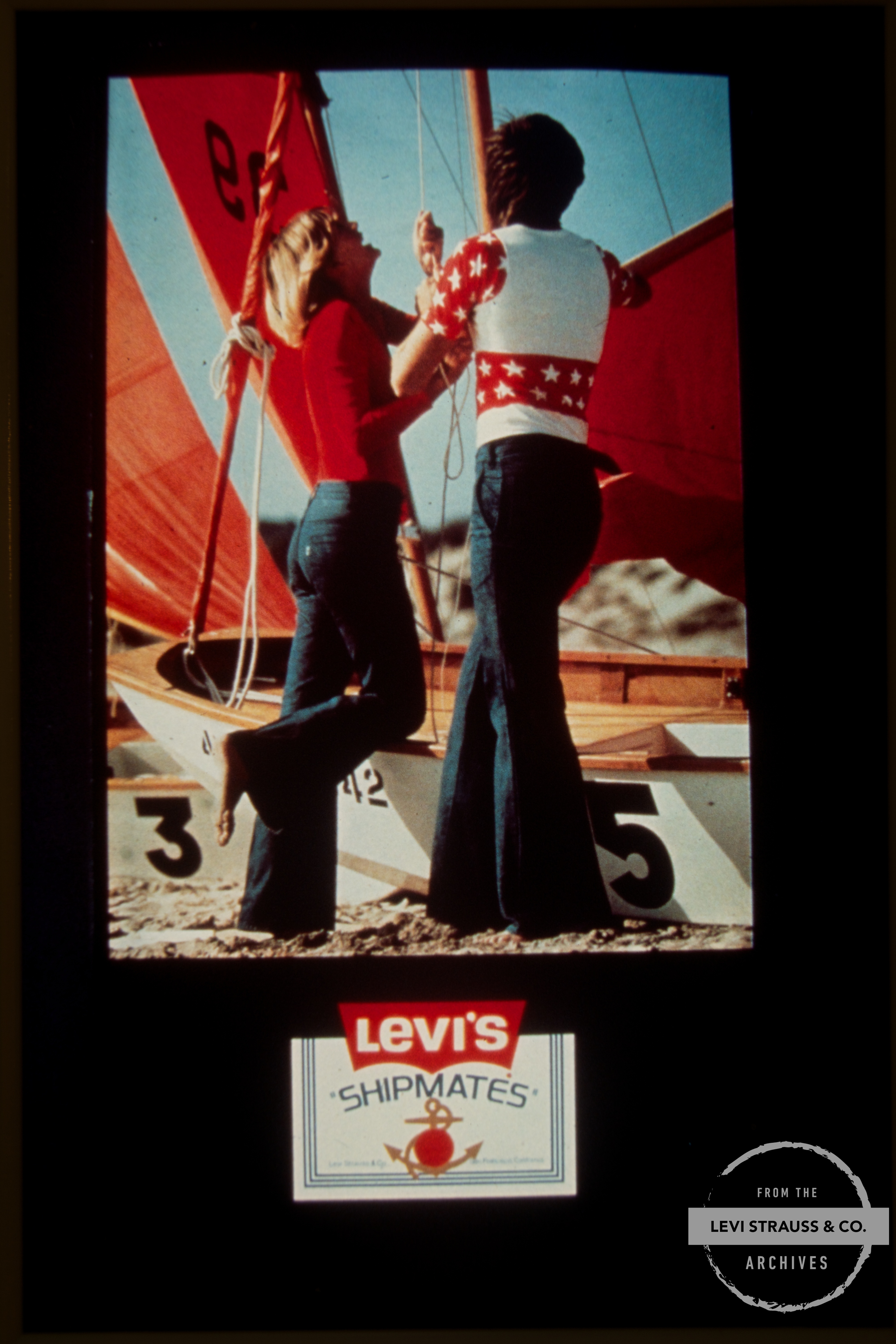 Want to keep up with the LS&Co. Archives and other cool LS&Co. heritage news? Follow Tracey on Twitter, @TraceyPanek, and stay tuned to Unzipped!