January 24, 2018
"What are you doing in our jeans?"
That's the question we asked Levi's® fans just over 25 years ago. And if you were "up to something strange, unusual or amazing" in Levi's® 501® jeans, you might have been interviewed by Spike Lee for a television spot.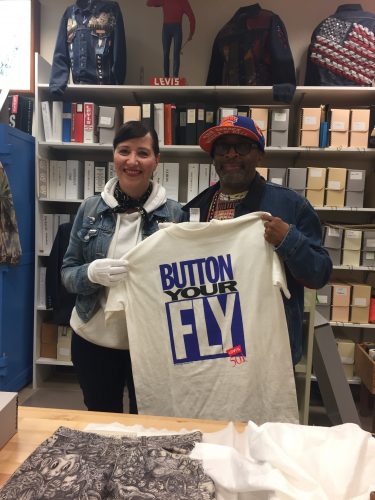 Spike recently visited the Levi Strauss & Co. Archives and reflected on his work directing our Button Your Fly advertisements. Why a media campaign about the button fly? Here's the back story.
The button fly has been a key element of the 501® jean since its introduction in 1873. But after WWII, when we expanded to a national market, sales lagged on the East Coast, where customers considered the button fly old fashioned.
LS&Co. tried to appease customers by introducing the 501Z, a zippered version of the 501® jean, in 1954. Still, not all fans were satisfied. "It's like peeing into the jaws of an alligator," wrote one critic. With the 1967 introduction of the 505® — a preshrunk jean with a zipper — fans had the option of a 501® button fly or a 505® zipper fly jean.
In 1990, the fly debate took to the airwaves when LS&Co. announced a campaign to educate the public about the button fly while building national excitement for the 501® jean. LS&Co. issued a toll-free number that youth could call to share what they did in their 501® jeans — with the chance to star in a Spike Lee-directed commercial airing on MTV or during Beverly Hills 90210 or Arsenio Hall. The campaign was overwhelmingly successful, with the company receiving more than 800,000 calls in the first year of the campaign.
Once the finalists were chosen, Spike traveled the country filming select Levi's® fans. "Why did you call?" he'd ask them. Each commercial ended with a final question from Spike: "Do you button your fly?"
"We went to a cave in Texas," he said of a spot with 501®-clad spelunkers. "And there was this kid in Chicago that caught home runs that flew over the wall in Wrigley Field," he said. Spike also remembered a cartoonist, "a big Marvel guy who was just a kid then."
Other Button Your Fly spots included 501® fans in Brooklyn, the Backward Boys who spoke back to front, a fish market in Seattle, a dairy farmer who milked cows in his Levi's® jeans and a lighting technician setting up at a rock and roll concert. "It was fun," said Spike.
The most memorable spot featured Spike himself in his 501® jeans and Button Your Fly tee. "I considered where in the world I wanted to go and chose Pamplona," said Spike who joined crowds running with the bulls in Spain. "That was before I was married and had a family," he joked.