June 14, 2017
School's out, the sun's up and it's the season for summer blockbusters. Next time you head to the theater to catch the latest movie, like Wonder Woman or the latest installment of Pirates of the Caribbean, consider the costumes. They're almost as important as the characters portrayed, and the Levi's® brand has played a riveting role in some of your favorite flicks. Here's a look back at the best blockbuster movies with leads in Levi's®.
Rebel Wear
Marlon Brando fixed the future of rebel wear when he portrayed Johnny, the head of a motorcycle gang, in the 1953 film The Wild One. Dressed in 501® Levi's® jeans, a white T-shirt and leather jacket, Brando's bad boy look oozed cool.  Two years later, James Dean copied the denim and leather look in Rebel Without a Cause. Even Fonzie in the classic television-series, Happy Days, took a cue from Brando's blue jeans.
Signature Sex Appeal
While Brando oozed cool, Marilyn Monroe seeped sensuality. In her final movie, The Misfits (1961), a film shot in Nevada, she wears a Western ensemble. On an open plain, Marilyn jumps out of a pickup truck in curve-hugging Levi's® jeans to plead with co-star Clark Gable to free a wild horse. Marilyn paired her Levi's® with a crisp white collared shirt—a classic look.
'Back to the Future' of Fashion
Michael J. Fox wore Levi's® 501® jeans for his lead role as Marty McFly in the 1985 blockbuster, Back to the Future. McFly, a 17-year-old high school student, is accidentally sent 30 years into the past in a time-traveling DeLorean machine. Four years later, McFly dons denim 501® jeans one more time for Back to the Future II. Fun fact – in the popular sequel, McFly's Levi's® are paired with futuristic self-tying Nike Mag sneakers.
Trekkie Gear
In Star Trek V: The Final Frontier (1989), Captain James T. Kirk and the crew of the USS Enterprise face off with a renegade Vulcan. Spock, the Captain, Engineer Scotty and Doctor McCoy go to a planet at the center of the galaxy. Fans follow the crew as they trek around an Earth-like environment (part of the filming occurred at Yosemite National Park) in familiar gear—Levi's® blue jeans, flannel plaid shirts and sherpa-lined Levi's® trucker jackets.  LS&Co. treated the entire film crew to Levi's® jackets just like the one that is now part of the collection at the Levi Strauss & Co. Archives.
Even the Force is with Levi's®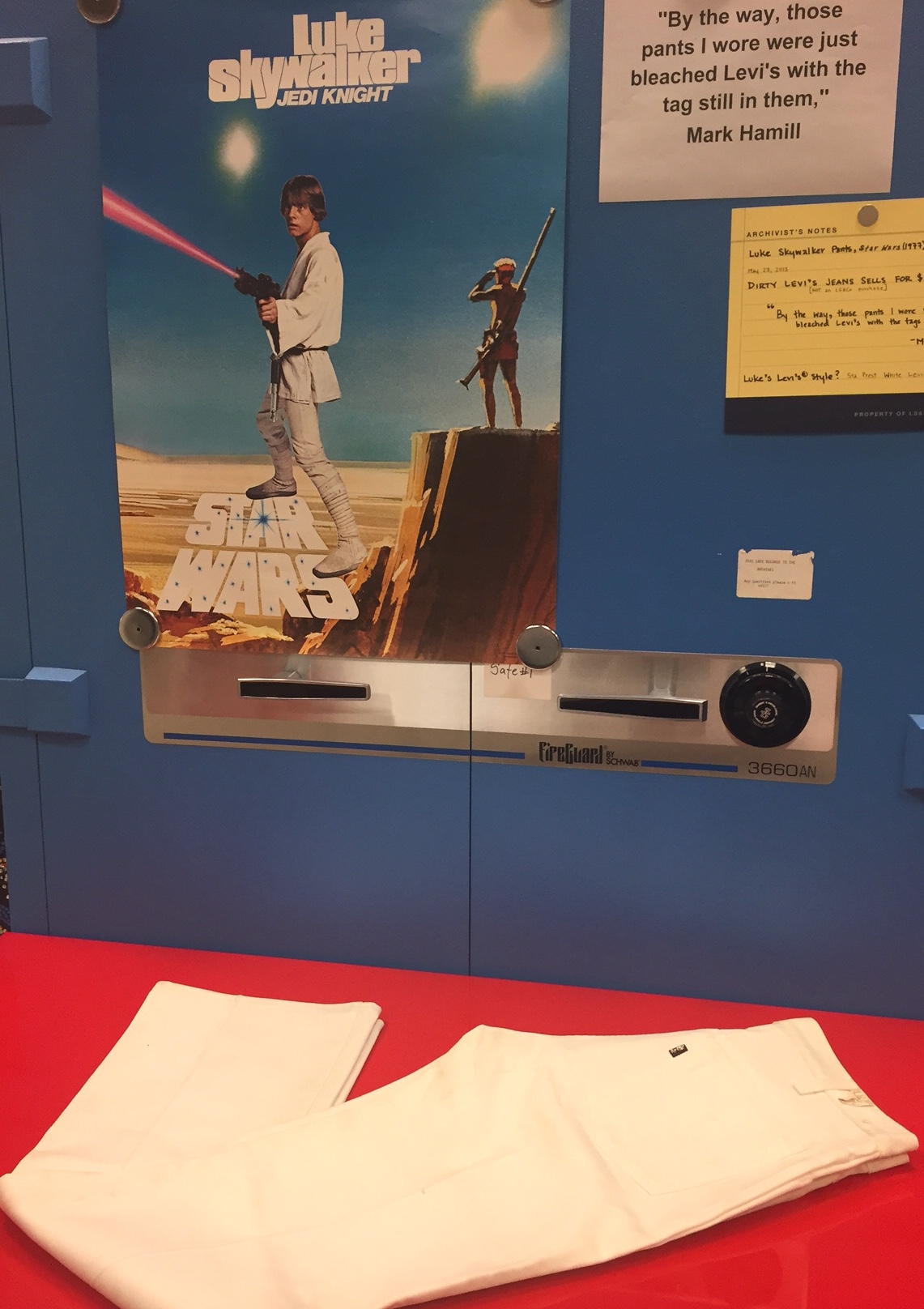 Forty years ago, George Lucas mesmerized fans with a science fiction film that put the work of costume designers front and center—Star Wars. For Luke Skywalker's intergalactic outfit—plain white bottoms with a wrap-around top that looked like karate clothes—designers modified a pair of Sta-Prest white Levi's® jeans. They tapered the hem of the pants to fit inside Luke's boots and removed the Arcuate-stitched back pockets to obliterate any unwanted connections to Planet Earth. Luke's Levi's® were auctioned off in 2013.
Want to keep up with the LS&Co. Archives and other cool LS&Co. heritage news? Follow Tracey on Twitter, @TraceyPanek, and stay tuned to Unzipped!