June 6, 2017
Levi Strauss & Co. encourages employees to take five hours a month of paid time to volunteer in their communities. Here's how one employee, Drew Cottrell, uses that time.
During the work week, Drew Cottrell is on the e-commerce IT team at Levi Strauss & Co., managing all e-commerce operations across our global business. But when he gets a chance to step away from the computer, he's usually heading over to the San Francisco SPCA, working with animals on behavior training.
Drew had been volunteering with the SF SPCA shortly before he joined LS&Co. But on his first day at work last year, while he received the customary HR discussion about benefits and company history, he was also delighted to learn on day one that volunteering holds a firm place here as well.
SF SPCA holds its own special place in Drew's heart, having adopted his dog, Beulah, from there in 2014. He learned that many dogs come through the SPCA's doors with behavior issues, which led him to seek out more information about dogs and dog behavior. He was not only able to claim five paid hours a month toward his volunteer hours, he was able to take advantage of matching donations for the SF SPCA.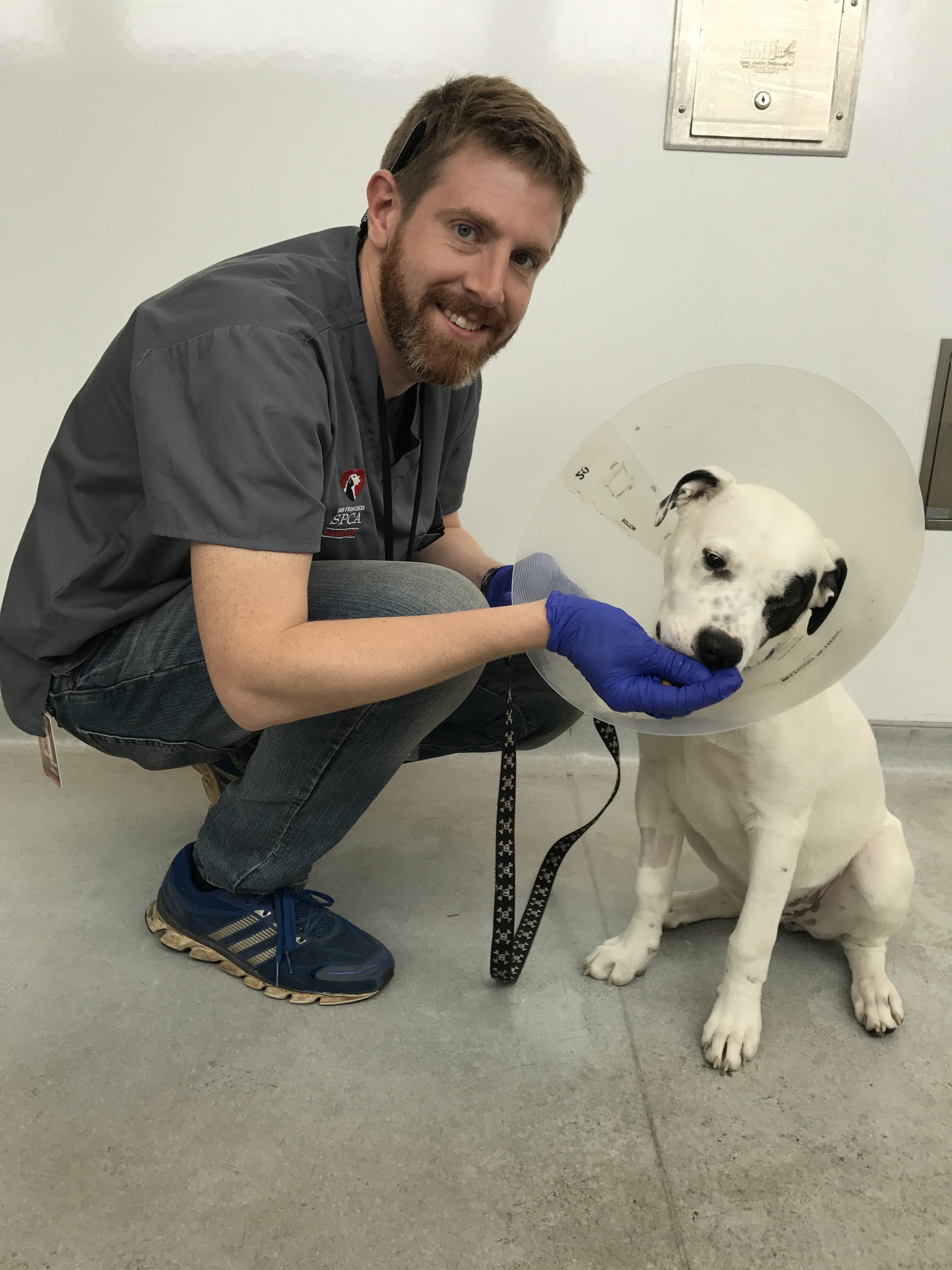 "One thing led to another, and even though I always knew I loved dogs, I became passionate about dog behavior and training," Drew said.
Drew wears a few hats at SF SPCA: primarily, he works with dogs with behavior issues or bite histories, many of which need to be quarantined before they're adoptable. He trains the dogs on acceptable behaviors that led previous adopters to surrender them in the first place; behavior issues are one of the most common reasons dogs are surrendered or returned to shelters, Drew says.
He is also on the shelter medicine volunteering team, administering basic treatments for cats and dogs if they have surgery. As if that wasn't enough, he also teaches volunteer classes to onboard new recruits.
"I've volunteered on weekends and evenings, but because LS&Co. is so supportive, and because my coworkers are so supportive as well, that's what enabled me to do shelter medicine every Thursday morning," Drew says. "Everyone on my team understands why I come in an hour late, and I never would have been able to take advantage of that opportunity if I didn't work for LS&Co."
As with many volunteer opportunities, our employees learn a lot during these offsite hours that often carry over into their work lives, as well. For Drew, he takes away a host of problem-solving skills and the ability to adapt to different ways in which people learn and work. He also finds himself more forgiving.
"When something isn't going according to plan," he said, "I'll find myself asking 'How can I adapt that plan and work with different individuals with different working styles?'"
See how other employees are spending their five volunteers hours: