March 22, 2017
5 Quick & Easy Tips to Save Water
• Wash clothes less often, and when you do wash, use cold water and line dry.
• Take shorter showers and turn off the tap while lathering hands or brushing your teeth.
• Water grass and plants in the morning or evening when temperatures are cooler. Also, bathe pets on the lawn.
• Recycle or donate clothing you no longer wear.
• Spot clean clothes if they have a stain.

-Source: "Our Watery World" program lessons.
At Levi Strauss & Co., we know that water is a gift, not a guarantee.
So, we're serious about making every drop count.
LS&Co. has invested in a broad slate of initiatives to help reduce our water footprint – including a pledge to the White House on last year's World Water Day – to train all of our corporate employees to become water ambassadors through Project WET.
One year later, we have trained 26 percent of our employees in this hands-on curriculum that brings a game-filled approach to teaching kids about the importance of clean water.
By 2020, we aim to have all of our corporate employees fully trained.
"The games are fun and everyone gets to participate," said LS&Co. employee Nancy Lacsamana, who has introduced the curriculum to a number of San Francisco classrooms.
One example: The kids toss around a globe beach ball and use the number of times their thumbs land on water to calculate out the percentage of water on Earth (71 percent). Then they talk about the amount that is clean and drinkable (.03 percent).
"It really brings home the message – that we can't afford to waste water," Nancy said.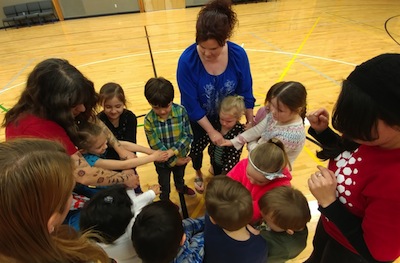 We've also taken the curriculum to schools around the world, from Brussels to Cambodia.
Water education isn't the only tool we are employing to affect water use:
For eight years now, every Levi's®, Dockers®, Denizen® and Signature by Levi Strauss & Co.™ product has contained a Care Tag for the Planet — instructions on how to care for our products in an environmentally friendly way.
In 2011, our designers challenged themselves to create the same styles our consumers love with far less water. Water<Less® products reduce the water used in the denim finishing process by up to 96 percent. To date, we've reduced our water use by nearly 2 billion liters.
We are a founding member of the Better Cotton Initiative, which uses 18 percent less water than standard cotton. Last year we sourced 21 percent of our cotton from the Better Cotton Initiative.
We are helping to educate factory workers who make our products about safe drinking water and hygiene through our Worker Well-being initiative.
We work closely with our supply chain to reduce water and chemical use, and we are working toward achieving zero discharge of hazardous chemicals by 2020.
Learn more about World Water Day, established by the United Nations in 1993 to draw attention to the critical importance of water conservation and access.