October 20, 2016
Dan van Liew had just started driving when his grandfather started taking him out on the road in his beloved 1978 Levi's® Jeep truck.
"I learned to drive in one of the coolest trucks available," Dan recalled as he reflected on the specially-designed model. It was one of several customized Jeeps featuring Levi's® interiors. Another was a CJ/5.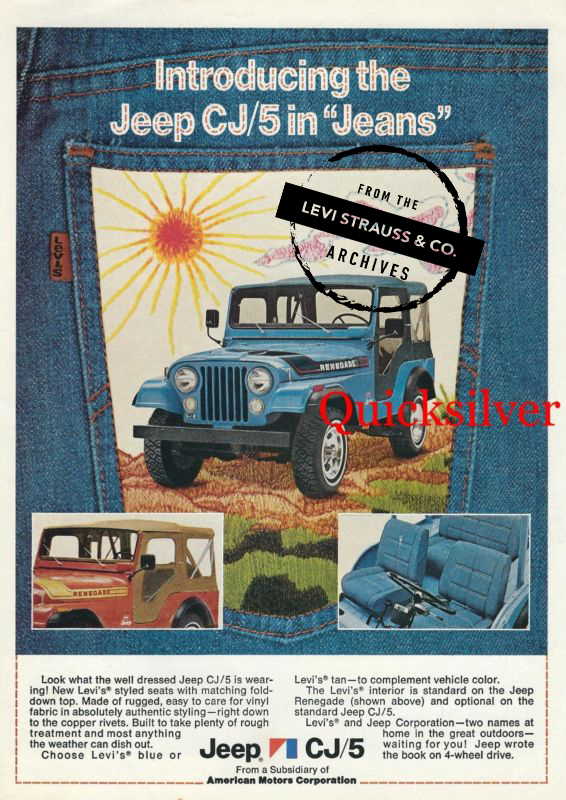 "Introducing the Jeep CJ/5 in 'Jeans'," announced one advertisement of a Jeep® Renegade in Levi's® — available in blue or tan and made of rugged fabric and authentic styling "right down to the copper rivets."
As the ad further extolled, "Two names at home in the great outdoors. Jeep wrote the book on 4-wheel drive."
Road Trip
To test the tagline, I headed to the Omix-ADA Jeep Museum near Atlanta for a rare ride. Sales Manager Dave Logan met me at the world's largest independent manufacturer of Jeep® parts and accessories and home to an impressive Jeep® collection.
We test drove a 1970s Levi's® Jeep truck—the same model Dan drove with his grandfather. Sitting in the denim-covered passenger seat that sported rivets and a Levi's® orange Tab, I experienced what Jeep® does best—sporty four-wheel driving.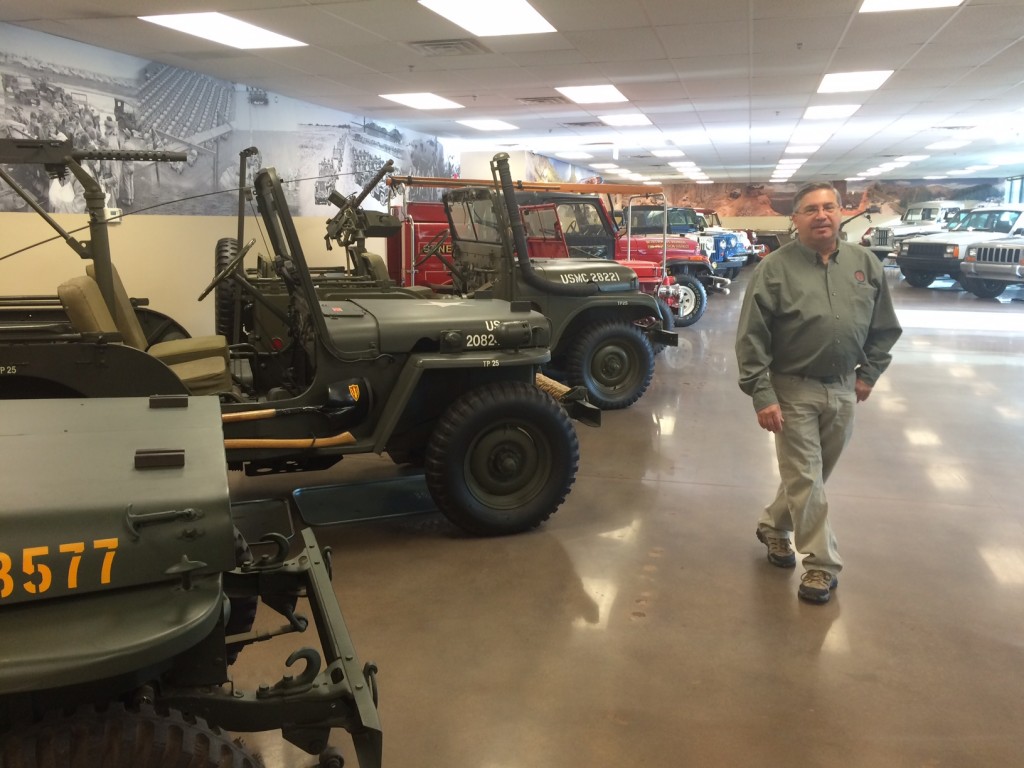 Back at the museum, Dave walked me through 35 Jeeps on display. The collection ranges from a 1941 Bantam BRC—a WWII prototype created following a 1939 government call for a lightweight vehicle with four-wheel drive –to current model years. Along with the Levi's® Jeep truck, I was excited to see a CJ/10 Jeep® Honcho truck with Levi's® interior. The models, in pristine condition, reminded me of another beautiful Jeep®–a white Renegade recently shown off for Levi's® Vintage Clothing.

The rare Levi's® Jeep truck I tested in Atlanta was just like the truck Dan and his grandfather drove when Dan started driving. Dan sought to rekindle one of his favorite memories by restoring a similar model of his grandfather's Jeep – with a little help from us. Following months of painstakingly refurbishing his find, we were able to supply him with the one missing key branding feature – orange Tabs. "I not only got a piece of my grandfather back, but a wonderful relationship with the Jeep's original owner," Dan said.
As Dan demonstrates, lifelong fans of Levi's® and Jeep® continue to inspire an enviable passion for their products today. "I have always worn Levi's® jeans," Dan admits, "I've tried many styles over the years, but always go back to 501®s."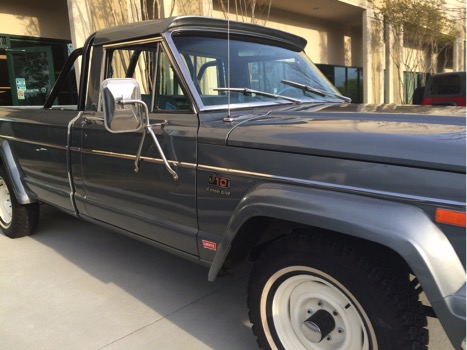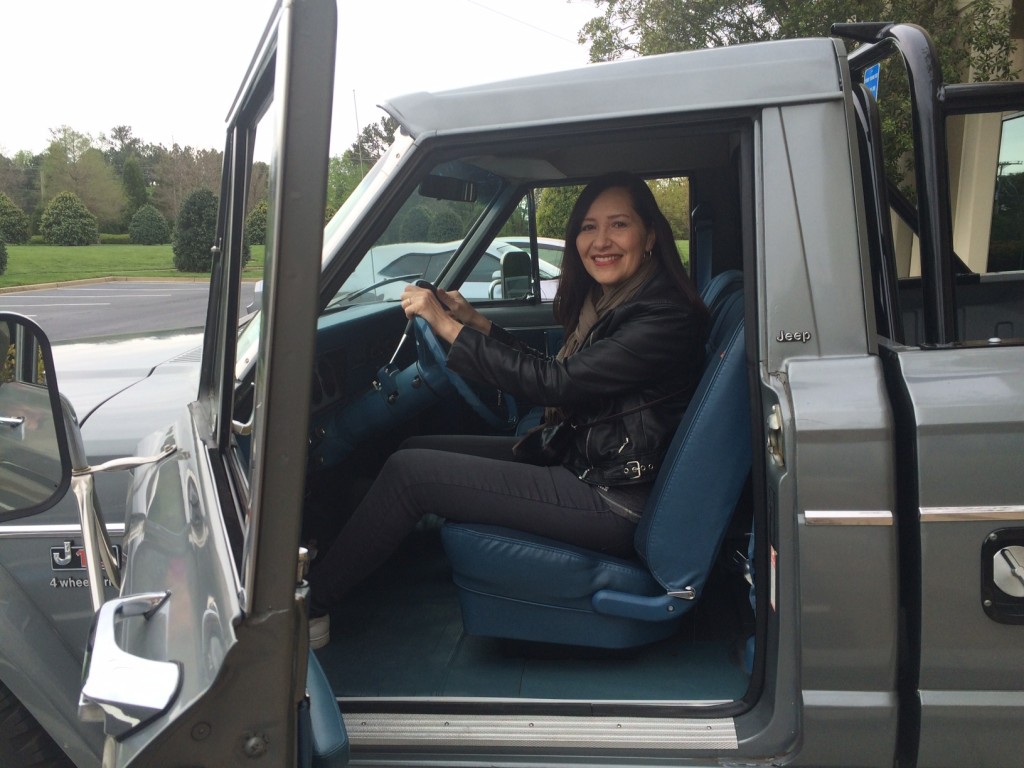 ABOUT THE AUTHOR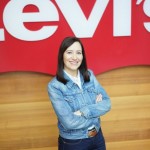 Tracey Panek is the Historian for Levi Strauss & Co. where she manages the day-to-day workings of the Levi Strauss & Co. Archives as a key corporate asset, answering historical questions, assisting designers, brand managers, executives and other employees whose work requires historical materials in the Archives.
Prior to joining LS&Co., Tracey spent 14 years as Historian and Archivist at AAA Northern California, Nevada & Utah where she managed a corporate history program for the 100+ year old company. She began her corporate history career at AirTouch Communications—today Verizon and Vodafone—a San Francisco based company that launched cellular service at the Los Angeles Olympics in 1984.
Like this story?
Sign up for the Unzipped newsletter to get the best of the Unzipped blog — company news and views, employee profiles, innovation and sustainability stories, behind-the-scenes and Archives highlights — sent straight to your inbox weekly. Also, be sure to follow @TraceyPanek on Twitter for exclusive vintage photos, historical tidbits and more!