July 7, 2016
The Levi Strauss & Co. San Francisco headquarters looks a lot different today than it did nine decades ago.
As a contemporary employee at Levi Strauss & Co., I work with a diverse group of employees from all over the world. We're a global company set in one of the greatest cities on the planet – San Francisco. Our headquarters boasts a café, showers, conference center, museum, store, and other amenities.
A century ago LS&Co. employees shared some similarities with my work experience. Most employees then worked in San Francisco—at our 98 Battery Street location or our Valencia Street factory. While there were no showers or a conference center, Valencia Street did boast a play area for children and a lunchroom.
Here's a rare look at two 1920s employee-related artifacts from LS&Co.'s Valencia Street factory. One is a recently digitized photograph featuring a group of factory workers standing outdoors. Women with bobbed hair and men in hats stand together. And unlike the blue jeans I call my work uniform, the women workers wear dresses—typical of the day.

The second artifact is a Levi Strauss & Co. lunch room ticket valued at 2 ½ cents. While a couple of pennies won't buy you anything today, back in the '20s LS&Co. workers could purchase a meal—a pretty sweet deal I wouldn't mind enjoying today.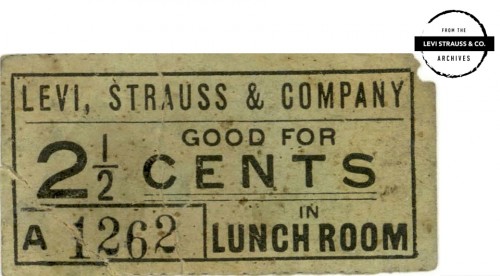 Check out this quick video for more detail of the group photo.

ABOUT THE AUTHOR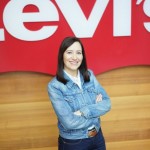 Tracey Panek is the Historian for Levi Strauss & Co. where she manages the day-to-day workings of the Levi Strauss & Co. Archives as a key corporate asset, answering historical questions, assisting designers, brand managers, executives and other employees whose work requires historical materials in the Archives.
Prior to joining LS&Co., Tracey spent 14 years as Historian and Archivist at AAA Northern California, Nevada & Utah where she managed a corporate history program for the 100+ year old company. She began her corporate history career at AirTouch Communications—today Verizon and Vodafone—a San Francisco based company that launched cellular service at the Los Angeles Olympics in 1984.
Like this story?
Sign up for the Unzipped newsletter to get the best of the Unzipped blog — company news and views, employee profiles, innovation and sustainability stories, behind-the-scenes and Archives highlights — sent straight to your inbox weekly. Also, be sure to follow @TraceyPanek on Twitter for exclusive vintage photos, historical tidbits and more!