June 16, 2016
In honor of Father's Day, I'm getting personal. Join me as I take a trip down memory lane to a notable moment in time when my blue-collar grandfather dressed up in khakis.
In one memorable photograph I recall from childhood—my grandfather, Hono Wihongi, looks unusually well-dressed and handsome. At 26 years old, he sports a shirt and tie, jacket, lace-up boots and jodhpur pants—similar to the khaki riding pants Levi Strauss & Co. manufactured in the 1910s.
He stares out from the black and white photo with a knowing smile. Dressed in his best, grandpa thought he was "the cat's whiskers," explains my Aunt Dolly who keeps our family's photographs. "Anyway, the cat thinks so," she says referring to the tom near grandpa's boots.

The photo is a stark contrast to most images of my grandpa that remain with me. Grandpa was born at the turn of the 20
th
century in the tiny village of Awarua, Bay of Islands, New Zealand. He was a manual laborer all his life, starting as a caretaker for a sheep ranch. Later, he worked at the backbreaking labor of a stone quarry. I picture him outdoors in his favorite pith helmet to protect against the sun.
Grandpa was a legendary gardener. In the photo, he seems pleased by the tomatoes he's holding—perhaps from a recent harvest. Upon immigrating to the United States late in his life, he tended a huge garden at my uncle's farm near San Diego.
I love the young and confident man pictured in this photo. It's apparent that his outfit gives him a boost of confidence and an air of authority. He is willing to engage with the photographer and with us, the viewers.
Grandpa's pants remind me of several pairs of khakis in the Levi Strauss & Co. Archives. Full at the top with lace-ups near the bottom. They are a heavy weight with double seat reinforcement and a beautiful
Levi Strauss Make
label—Lot 5038.
Clothes have a unique way of making a person feel self-assured and poised. They did for my grandpa in a brief moment now frozen in time—and continue to do so today.
ABOUT THE AUTHOR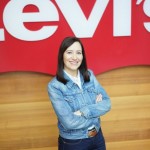 Tracey Panek is the Historian for Levi Strauss & Co. where she manages the day-to-day workings of the Levi Strauss & Co. Archives as a key corporate asset, answering historical questions, assisting designers, brand managers, executives and other employees whose work requires historical materials in the Archives.
Prior to joining LS&Co., Tracey spent 14 years as Historian and Archivist at AAA Northern California, Nevada & Utah where she managed a corporate history program for the 100+ year old company. She began her corporate history career at AirTouch Communications—today Verizon and Vodafone—a San Francisco based company that launched cellular service at the Los Angeles Olympics in 1984.
Like this story?
Sign up for the Unzipped newsletter to get the best of the Unzipped blog — company news and views, employee profiles, innovation and sustainability stories, behind-the-scenes and Archives highlights — sent straight to your inbox weekly.