June 2, 2016
A few months ago I was invited to speak at a conference with corporate historians and archivists about Levi Strauss & Co.'s new digital initiative in Zurich, just a short train ride from Levi Strauss's hometown of Buttenheim.
Anticipating a stopover at the Levi Strauss Museum, I got word that several of Central Europe's top store managers were also heading to Levi's childhood home so it became the perfect opportunity to coordinate a memorable—and moving—visit to Levi's birthplace.

Company founder Levi Strauss was born in 1829 in Buttenheim, in the Franconian region of the Bavarian province of Germany. In 1847 or 1848 Levi, his mother and two of his sisters left Germany for New York to live with their two older brothers. His father had died and the tiny village of Buttenheim offered few opportunities for young men and women. After spending time in New York, Levi moved for good in 1853, to gold rush San Francisco.
Buttenheim changed with the times, and many original homes and buildings dating to the 17
th
century or earlier crumbled or were demolished. But one structure survived into the 20
th
century: the house where Levi was born.
The city bought the ramshackle two-story dwelling in 1987 and proceeded to renovate and turn it into a museum, to celebrate the town's most famous citizen. In 2000, the Levi Strauss Museum was opened (with help from the LS&Co. Archives) and today the facility greets more than 15,000 visitors a year.
I arrived by late afternoon train in Buttenheim, a village of just 3,000 people, where I was greeted by Mayor Michael Karmann and Museum Director, Dr. Tanja Roppelt.
The Strauss Home has the same configuration that it did 180 years ago, though remodeled to accommodate exhibits and visitors. There are two floors, each with just three rooms. Levi, his parents and at least three older siblings lived on the bottom floor and another family lived above. The house is tall and narrow with the original low ceilings and doorways.
My first full day in Buttenheim began with time alone in Levi's home. The dark interior and small space on the ground floor where the family lived emphasized Levi's humble origins. The home is a stark contrast to Levi's "splendid home" on Leavenworth Street, the description San Francisco newspapers gave the family house where Levi died.
It was equally moving to visit the Jewish cemetery on a hill overlooking Buttenheim, where Levi's father, Hirsch Strauss, is buried.
Later that evening I was interviewed by Franconian Television. I showed off several pieces from the LS&Co. Archives including a pair of 1890 waist overalls. I spoke about the historical impact of LS&Co. and shared my thoughts on lessons we can learn about Levi's life—from hard work and humble beginnings to having passion for our products. I concluded by sharing several garments I had carried from the LS&Co. Archives: Spur Bites (1890), the Commodore 501s (1944), the Goodwill Jeans, customized 505® zippered jeans (1967) and a Justin Timberlake embellished denim vest (2001).
Adelheid Waschka, city archivist for the town of Reckendorf, about 90 miles away, attended the presentation. She shared some interesting photos of early clothing and fabric from the region, including a blue and white weave reminiscent of the denim Levi eventually used for his famous blue jeans.
The next day I enjoyed a tour of nearby Bamberg. The city is a Unesco World Heritage site and is also the place where the Strauss family filed for permission to emigrate to the United States. It was yet another poignant revelation for me in Levi's life story.
The next morning, I hopped a train for my final destination in Germany: Frankfurt. I arrived around noon and headed for the 25 Hours Hotel, which has an interior designed by LS&Co.. The company's offices are next door.
Visiting Levi's hometown was an important part of understanding the early life of Levi Strauss. It speaks to Levi's determination to transform his life and the life of his family while also creating a successful business that would eventually transform global fashion.
Follow @TraceyPanek on Twitter for more archival information and fun vintage tidbits. 
ABOUT THE AUTHOR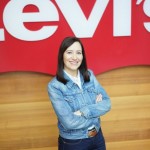 Tracey Panek is the Historian for Levi Strauss & Co. where she manages the day-to-day workings of the Levi Strauss & Co. Archives as a key corporate asset, answering historical questions, assisting designers, brand managers, executives and other employees whose work requires historical materials in the Archives.
Prior to joining LS&Co., Tracey spent 14 years as Historian and Archivist at AAA Northern California, Nevada & Utah where she managed a corporate history program for the 100+ year old company. She began her corporate history career at AirTouch Communications—today Verizon and Vodafone—a San Francisco based company that launched cellular service at the Los Angeles Olympics in 1984.
Like this story?
Sign up for the Unzipped newsletter to get the best of the Unzipped blog — company news and views, employee profiles, innovation and sustainability stories, behind-the-scenes and Archives highlights — sent straight to your inbox weekly.