May 5, 2016
Purchased behind a poker hall, these particular pair of pants have a storied past recounting 30 years of one man's life in prison.
From 1979 to 2013, an inmate in a Northern California prison illustrated his Levi's® jeans. The Sta-Prest White Levi's® pants include illustrations of forlorn faces, drug paraphernalia, and even a King Tut head with fingers representing hair. Other images show a clown face, a pack of cigarettes, a skull or images that make the pants look like a Hieronymus Bosch painting, a mix of the creepy and the curious.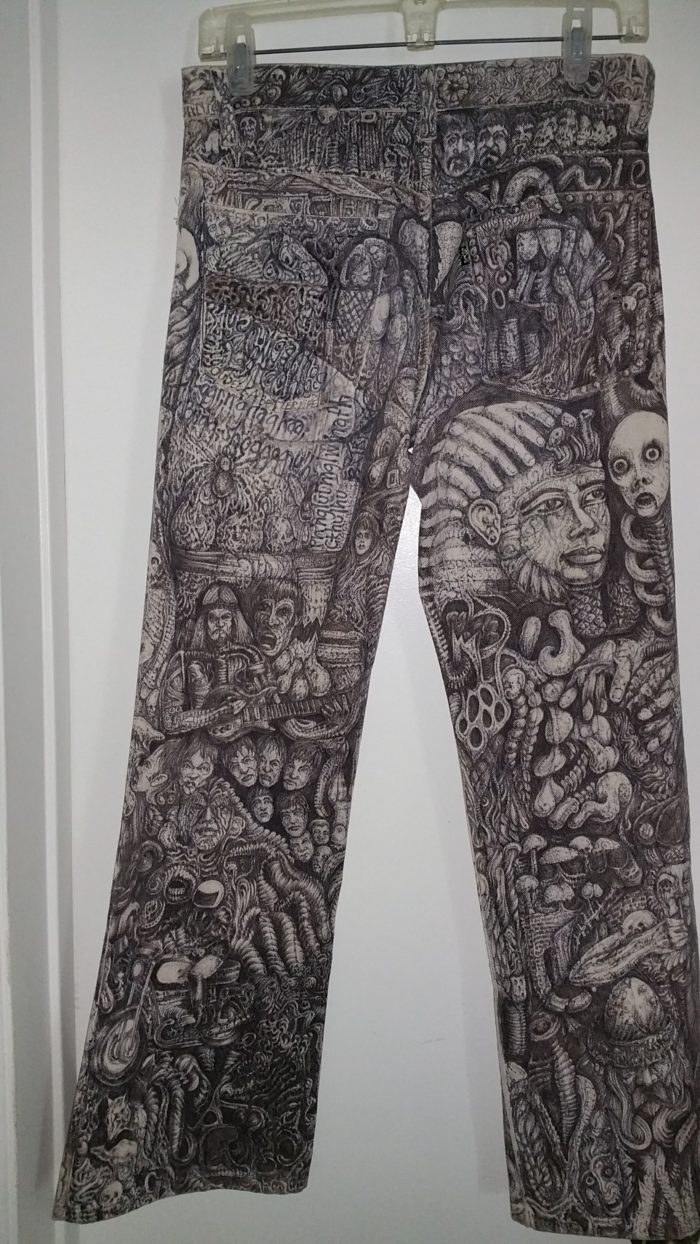 Instead of paint, the inmate used ballpoint pens and markers, and covered every inch outside the pants with drawings. The illustrations appear to depict a range of emotions, including images as dark as the black markers used to sketch the stories.
"Every time he talked about the pants he would share a story from the prison," said Edward, the man I bought the pants from, in describing a pair of White Levi's® awash in inked illustrations. Edward bought the pants from a guy playing a guitar who asked him for a cigarette. These pants have become the latest addition to the Levi Strauss & Co. Archives.

Criminal Connections
Although the new "Prison Pants" date to 1979, Levi Strauss & Co. has associations with penitentiaries that go back nearly 100 years earlier. In 1885, LS&Co. was awarded a contract to supply clothing to San Quentin Prison, 16 miles north of San Francisco. In 1890, the same year LS&Co. began identifying the first blue jeans as Lot 501®, the company was awarded the contract for striped flannel to Folsom Prison near Sacramento, California. In the succeeding decade, LS&Co. provided San Quentin with hickory shirting, coat canvas, and flannel. By 1898, LS&Co. had secured a contract to supply Folsom prison with "cassimere, striped, for convict suits, 58 inches, 82 ½ c."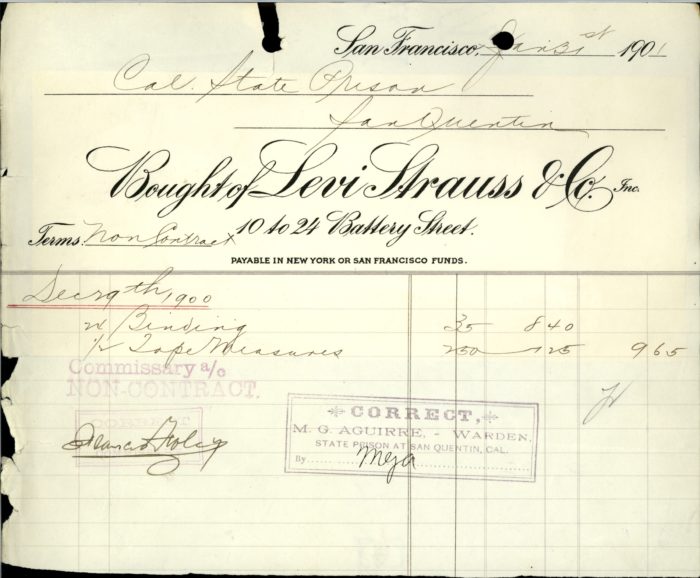 San Quentin Prison Invoice, 1901
Denim: Fashion's Frontier, a recent exhibit at the Museum at FIT (Fashion Institute of Technology) in New York, highlighted a historic connection between denim, the fabric for blue jeans, and prison wear. FIT displays a 1913 man's prisoner uniform from Sing Sing in New York. From hat and jacket to pants, the clothes are made entirely from a grey denim and linen. Curator Emma McClendon notes that using denim for prisoner uniforms was standard throughout the American correctional system through the 1950s.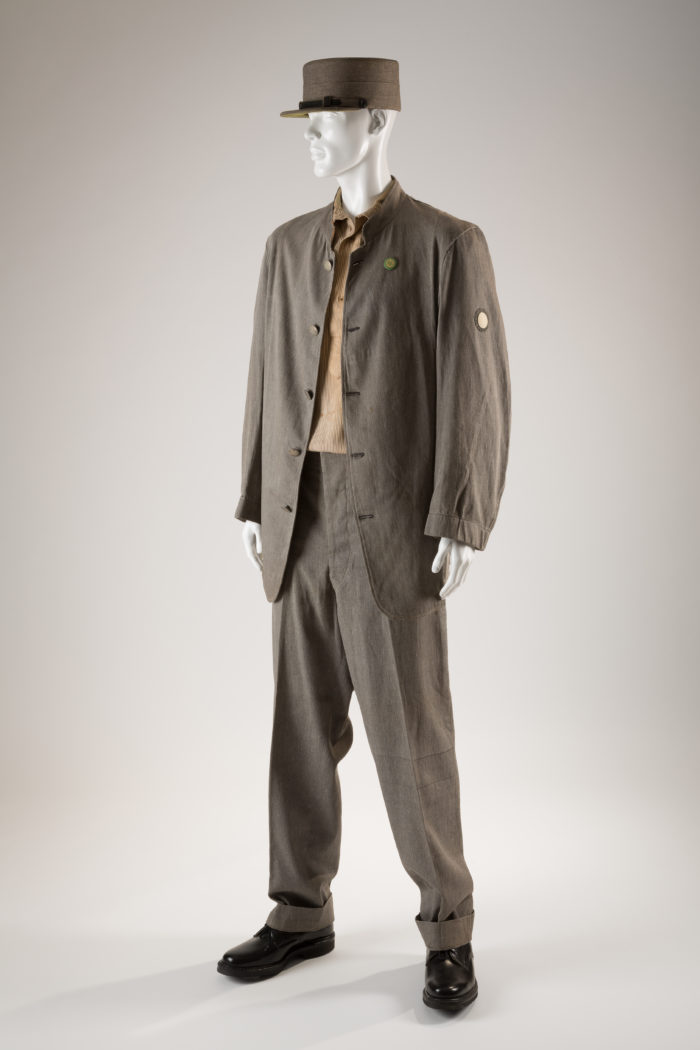 Man's prisoner uniform, grey denim and linen, 1913, USA. Photograph courtesy of The Museum at FIT.
This "criminal" connection may explain some of the backlash by schools that prohibited students from wearing blue jeans to classes during the same period. Hollywood perpetuated images of jean-clad rebels in films like The Wild One (1953). Marlon Brando's leather and Levi's® look as a motorcycle gang leader scared many parents who associated blue jeans with criminal behavior. Curator McClendon points out a second film from 1957 with another denim-clad "bad boy." In Jailhouse Rock, Elvis Presley sports a black denim ensemble—tighter, but strikingly similar—to the Sing Sing prisoner uniform.
Levi Strauss & Co. campaigned against bans on blue jeans by writing letters to school administrators through the 1960s, persuading them that blue jeans were acceptable school clothes. LS&Co. also advertised using slogans like "Right for School" or "Seats of Learning" that featured images of well-groomed students dressed in Levi's® jeans.
Thirty Years: From Blank Canvas to Intricate Illustrations
In contrast to prisoners or school students who donned denim, the inmate who created the "Prison Pants" never wore his jeans. The pants became a canvas for the inmate's art, becoming a journal that recounts his 30-year incarceration. They are a fascinating, artistic, and a dark look into the criminal mind.
ABOUT THE AUTHOR
Tracey Panek is the Historian for Levi Strauss & Co. where she manages the day-to-day workings of the Levi Strauss & Co. Archives as a key corporate asset, answering historical questions, assisting designers, brand managers, executives and other employees whose work requires historical materials in the Archives.
Prior to joining LS&Co., Tracey spent 14 years as Historian and Archivist at AAA Northern California, Nevada & Utah where she managed a corporate history program for the 100+ year old company. She began her corporate history career at AirTouch Communications—today Verizon and Vodafone—a San Francisco based company that launched cellular service at the Los Angeles Olympics in 1984.