April 21, 2016
Shortly after a radio interview about my work as the Levi Strauss & Co. Historian, the host sent me an unusual photo. It wasn't a picture of a beloved pet, a child, or even a recent family trip. Instead, she sent me an image of her tattered Levi's® cutoffs, photographed on the floor of a ladies' room at an airport in Costa Rica.
"They were just so beyond repair," Virginia explained "my bag was full." She was flying home to frigid temperatures on America's East Coast and changed into warmer pants. Sadly, she left her "well-worn beloved Levi's® shorts behind."
"Such good old friends," she said, "I had to take a picture!"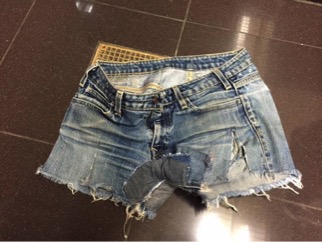 Virginia's story, and our love affair with Levi's® cutoffs, is nothing new. Generations of Levi's® fans have worn out their favorite jeans then cut them off for new seasons. Surprised? Don't be. The cutoff tradition at LS&Co. goes back to the late 1800s.
Vintage Cutoffs
Nineteenth Century waist overalls, the early name for blue jeans, were made for working men. These blue-collar customers made their pants last as long as possible; wearing them out, patching them up, and passing them on. When full pants had little wear left, these manual laborers reused portions, trimming off a leg piece here or a knee there.
Making clothes last as long as possible made sense and saved cents, but also started a tradition of shortening and cutting up pants for reuse. Take an historic example from the Levi Strauss & Co. Archives – one late 1800s pair of LS&Co. waist overalls shows a classic reuse pattern: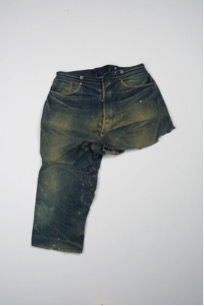 "Stumpy" was shortened, patched, and cut off—on one side. The practice of cutting off and reusing jeans was practical, extending the life of another pair of pants.
Chic Recycling
Fashion chic replaced practicality when a new generation began cutting off their pants in the 1960s and 1970s. Cutoffs were the perfect way to beat the heat of summer for teenagers and the young at heart. "Recycling" in one 1970s LS&Co. poster was all about youthful fun in a pair of frayed orange Tab cutoffs. By the 1980s, TV character Daisy Duke from the popular TV series Dukes of Hazzard gave the homemade shorts sex appeal.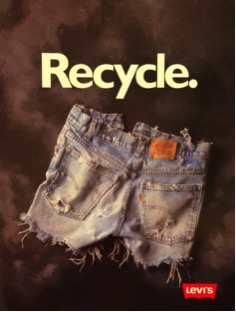 Celeb Stylin'
Twenty years later, LS&Co. continued embracing cutoff style by creating several pairs of shorts made for the everyday girl or the stylish celebrity. Here's a look at one pair from the Levi Strauss & Co. Archives.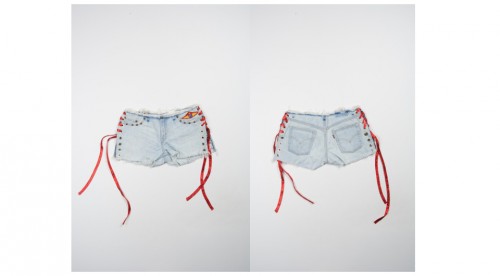 This customized cutoff was modeled by Brooke Burke for the cover of Stuff magazine in November 2001. The celeb shorts feature red ribbon side lace-ups and decorative pocket riveting.
Be A Part of LS&Co. Cutoff History!
Do you have a pair of beloved Levi's® cutoffs you'd care to share? We want to preserve your shorts—and your stories—in the Levi Strauss & Co. Archives. Send your worn-but-loved cutoffs to Call For Cutoffs, c/o LS&Co. Archives, 1155 Battery Street, San Francisco 94111. Along with your cutoffs, include your email and a brief "shorts story."
ABOUT THE AUTHOR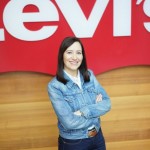 Tracey Panek is the Historian for Levi Strauss & Co. where she manages the day-to-day workings of the Levi Strauss & Co. Archives as a key corporate asset, answering historical questions, assisting designers, brand managers, executives and other employees whose work requires historical materials in the Archives.
Prior to joining LS&Co., Tracey spent 14 years as Historian and Archivist at AAA Northern California, Nevada & Utah where she managed a corporate history program for the 100+ year old company. She began her corporate history career at AirTouch Communications—today Verizon and Vodafone—a San Francisco based company that launched cellular service at the Los Angeles Olympics in 1984.
Like this story?
Sign up for the Unzipped newsletter to get the best of the Unzipped blog — company news and views, employee profiles, innovation and sustainability stories, behind-the-scenes and Archives highlights — sent straight to your inbox weekly.