April 15, 2016
Sometimes disruption can lead to greater good – and incredible recognition.
That approach has garnered Breakthrough, a global human rights organization and Levi Strauss Foundation grantee, the recognition of The Skoll Foundation. It has been named one of six recipients of Skoll's 2016 Social Entrepreneurship Award, bestowed upon organizations that are "disrupting the status quo, driving large-scale 'equilibrium' change, and are poised to create even greater impact on the world."
Breakthrough's mission is to prevent violence against women by transforming the norms and cultures that enable it.  Founded by attorney and human rights advocate, Mallika Dutt in 1999, the organization has built on its vision – informing, educating and encouraging people, especially men and boys, to be advocates of change. Its efforts have contributed to raising the average age of marriage by nearly a year in Bihar and Jharkland, India where the program operates. And through training and education, the organization has reached 15 million people in rural communities and 350 million through its media campaigns.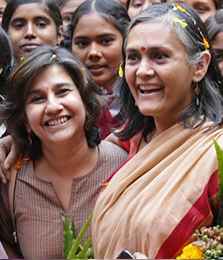 Mallika Dutt (left) is the founder, president and CEO of Breakthrough.
Breakthrough is also active in communities where apparel workers live in Bangalore, India. With support from the Levi Strauss Foundation, the organization is piloting creative approaches to advance gender equality and reduce gender-based violence through social media campaigns, blood bank drives, community theater productions.
As a Skoll Award recipient, Breakthrough's recognition comes with $1.2 million in support to help fund their programs and initiatives. Honorees were recognized this week at the Skoll World Forum  in Oxford, England, where Levi Strauss Foundation Executive Director Daniel Lee was also on hand helping to oversee a pre-forum event featuring our partnership with Ashoka Bangladesh "Ready Made Garment Consortium," a year-long effort to harness the expertise of Ashoka social entrepreneurs to research, map and identify solutions to key issues of living conditions, well-being and social-economic empowerment.
Jeff Skoll, Founder and Chairman of the Skoll Foundation, called out this year's honorees for their ability to "give voice and agency to the voiceless and marginalized, and give us good reason to believe in a radically better future."
Breakthrough – and Ashoka – are pioneering organizations pushing the boundaries of social change; and they are type of innovative community partner that the Levi Strauss Foundation has been supporting for over 60 years.
Follow @LeviStraussFdn for the latest from the Levi Strauss Foundation.