March 10, 2016
We're still on a sugar high thanks to last week's extra-special treat to commemorate the 30th anniversary of Dockers®.
Although the birthday cake is long gone, the celebration continues. Join us in toasting the brand's milestone year by checking out the collection of heritage khaki Dockers® items curated by LS&Co. Historian Tracey Panek, which will be on display in the Atrium at our San Francisco HQ through the summer.
We'll occasionally be featuring items from the exhibit here on Unzipped, including this pair of khakis unearthed in a most unexpected location—a cave!
Although khaki pants, shirts and outerwear from Levi Strauss & Co. was intended for office wear — for men making their mark at a desk — this pair of 1920s khakis remarkably made its way into a cave. The pants are unwashed, and dirt remains embedded in the fabric—the same condition as they were found.
This find is rare: It is more typical to find waist overalls, the early name for Levi Strauss & Co.'s blue jeans, in caves or mines — places where manual laborers may have worked. While the mystery remains about how these khakis ended up in a cave, we're delighted that we can share our discovery with you.
Stay tuned for more from our khaki exhibit in the coming weeks!
ABOUT THE AUTHOR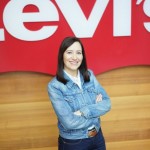 Tracey Panek is the Historian for Levi Strauss & Co. where she manages the day-to-day workings of the Levi Strauss & Co. Archives as a key corporate asset, answering historical questions, assisting designers, brand managers, executives and other employees whose work requires historical materials in the Archives.
Prior to joining LS&Co., Tracey spent 14 years as Historian and Archivist at AAA Northern California, Nevada & Utah where she managed a corporate history program for the 100+ year old company. She began her corporate history career at AirTouch Communications—today Verizon and Vodafone—a San Francisco based company that launched cellular service at the Los Angeles Olympics in 1984.
Like this story?
Sign up for the Unzipped newsletter to get the best of the Unzipped blog — company news and views, employee profiles, innovation and sustainability stories, behind-the-scenes and Archives highlights — sent straight to your inbox weekly.