February 1, 2016

Super Bowl 50 is upon us. But while the two teams will battle it out at Levi's® Stadium this Sunday, fifty community leaders across the Bay Area have already scored the honor of being recognized as a 50 Fund Playmaker.
Over the past fifty weeks, the 50 Fund – the philanthropic arm of the Super Bowl 50 Host Committee – has awarded a $10,000 grant each week to a Bay Area nonprofit as part of their Playmaker Program. This past fall, we teamed up with the 50 Fund to draft five Rookie Playmakers – young leaders who are the next generation of change makers. These five youth are taking action and making a difference in the Bay Area through their activism in their local community (and you get to know them here). From foster care advocacy to mentorship in STEM, the 50 Fund Playmakers represent a range of incredible work being done to fight for social justice and to make a difference.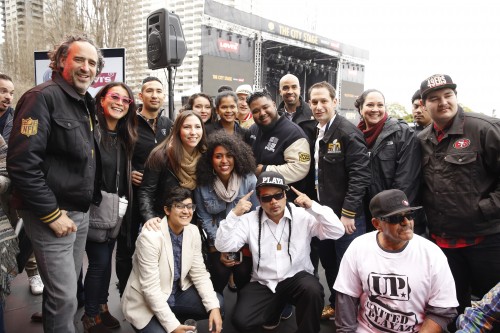 To celebrate the culmination of the 50 Fund Playmakers program, this past weekend we hosted a celebration in Super Bowl City at the Levi's® VIP Deck with all 50 Playmakers and their nonprofits, honoring the work that they have done to make a collective difference in our Bay Area communities.
On Saturday, Rookie Playmaker Ricardo Ramirez spoke to a crowd of peers, mentors, and friends: "I'm thankful to be selected as a Rookie Playmaker as it's really inspired me and ignited my passion to keep doing what I do for foster care youth."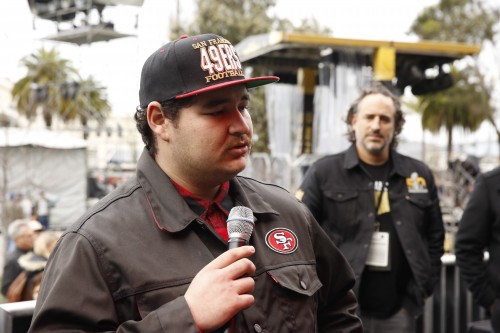 Ricardo was shaped by his experience growing up in 38 foster homes from the time he was 12 years old, and found himself labeled a bad kid. He found the California Youth Connection (CYC), which gave him the chance to take a leadership position and explore the issues of his past with other kids who went through the foster care system.
We've always believed in taking a "profits through principles" approach to business and empowering the people who are using their voice and actions to make our community a better place. Saturday's celebration of our hometown heroes honors the community where we got our start 160 years ago, and gives a platform to leaders who are making a real difference in the Bay Area.
Long after the halftime show, the final whistle, and the cleanup, the Bay Area will have a new record to boast: the most giving Super Bowl ever. And that's really something to cheer for.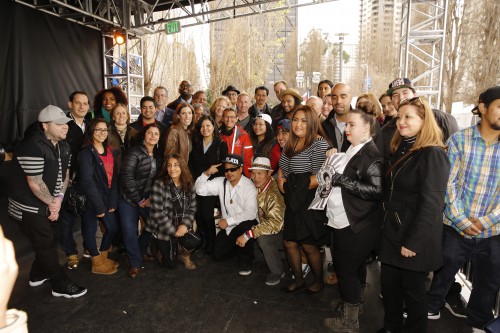 The video above, as well as all five Rookie Playmaker videos were created by another community MVP, media nonprofit social enterprise, BAYCAT, who creates access, education and employment to low-income youth in digital media.