December 3, 2015
At LS&Co., we are proud of our 30 years of progressive leadership in the fight against HIV/AIDS. And part of the reason this cause has been so important to our employees and leaders is that many of us have been personally touched by loss.
There is no more powerful visual reminder of the incredible toll this disease has taken than the AIDS Memorial Quilt. Today, more than 48,000 panels — most commemorating the life of someone who has died of AIDS — have been sewn together by friends, lovers and family members across the U.S.
But it began small, and in our hometown. In the mid-80s, San Francisco activists wanted to find a way to make sure that those who had lost their lives to HIV/AIDS were not forgotten. They founded the NAMES Project Foundation, and people in the cities most affected by the epidemic sent panels to the S.F. workshop, where volunteers worked tirelessly to sew the pieces together.
When it was displayed on the National Mall in Washington, D.C., in 1987, it covered a space larger than a football field and included 1,920 panels. The response to the quilt was overwhelming, resulting in a four-month, 20-city tour in 1988.
That same year, LS&Co. employees crafted our first panel to honor colleagues and loved ones affected by HIV/ AIDS.
And in July 2012, we unveiled our second AIDS Memorial Quilt panel on the National Mall. That panel — a patchwork of recycled Levi's® jeans with words from our retail store employees about what the end of HIV/AIDS would mean to them — represents our ongoing commitment to ending HIV/AIDS in our lifetime.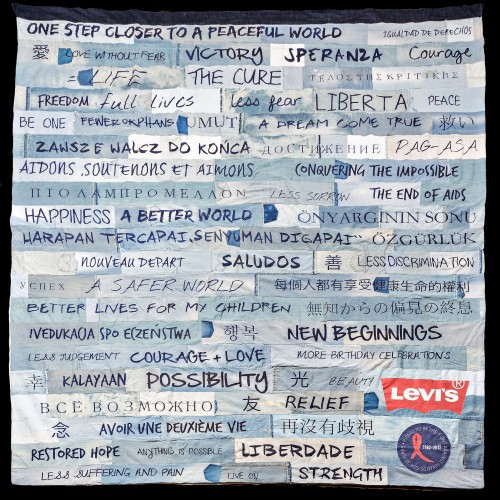 Find out if there is an AIDS Memorial Quilt display near you.
Like this story?
Sign up for the Unzipped newsletter to get the best of the Unzipped blog — company news and views, employee profiles, innovation and sustainability stories, behind-the-scenes and Archives highlights — sent straight to your inbox weekly.